The democratization of technology, as a consequence of the digital revolution, has made it possible for businesses – both large and small, to have access to a wide range of technological services and solutions. The rise in the software-as-a-service (SaaS) delivery model ensured that tools such as artificial intelligence (AI), big data analytics, and cloud computing, despite being deemed as expensive to own, have permeated into the mainstream industrial environments with ease. The "as-a-service" culture was initially popular in the software segment but with the introduction of software into the industrial environments, the business model is gaining traction in traditionally non-technological segments such as manufacturing, retail as well.

What is IoT-As-A-Service (IoTaaS)
Today industrial environments are increasingly software-driven, as software serves as a key competitive differentiator. Software-aided systems can customize functionalities over time and be scaled upon will. To achieve this, the products in the environment should be connected and network-native to allow for dynamic updates, support, maintenance, and repair.
IoTaaS refers to the ability to bring together the capabilities of the Internet of Things (IoT) and cloud computing technology stacks to bring forth value to the customer over an end-to-end service delivery mechanism.
Why IoTaaS?
Decisions Utilizing Data: The major advantage of IoT is the ability to extract critical, business-specific insights that enable organizations to make informed decisions using data from the devices operating within their ecosystem.
Automation for Efficiency: The increasing automation capabilities provided by service providers through IoT products not only help save cost and generate revenue but also allows organizations to free up critical resources.
Scalability and Large Scale Deployment: Industries that are looking to expand and those that are entering the IoT market are benefitted.
Exhibit 1: The Role and Transformational Benefits of IoTaaS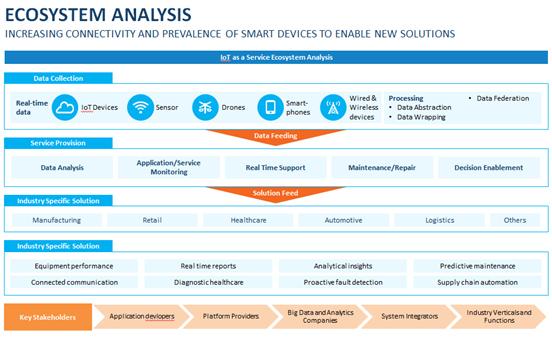 Source: Frost & Sullivan
The IoTaaS ecosystem consists of different stakeholders ranging from application developers to platform/solution providers and system integrators. The complexity of the IoT ecosystem is further exacerbated as services and solutions are delivered through multiple layers of technology sourced from different vendors, requiring varied skillsets for maintenance, support, and repair.
Smart Maintenance: In the IoTaaS ecosystem, physical assets can report status and usage metrics. It is instrumental during critical maintenance and repair scenarios. IoTaaS vendors aim to take the device owner out of the equation and provide software updates directly to the connected device. This enables the device manufacturer to analyze trends and identify issues that can potentially lead to increased warranty costs.
Service Value Addition: There is a significant shift in the way services are offered in the IoTaaS ecosystem. Providers are increasingly looking to offer services that can augment the product rather than merely improving the functionality. IoTaaS providers offer IoT-based services around the physical product in combination with other process information, such as visualization and analytics that can deliver actionable insights to improve the business.
Product as Service: IoTaaS offers a modern way in which physical assets are consumed in work environments. Along with maintenance and repair, compliance and regulatory norms are critical elements for the non-disruptive functioning of the industry. IoTaaS offers services that alleviate the concerns of organizations when it comes to cost surge relating to maintenance and compliance. Service providers, through defined Service Level Agreements (SLAs), offer a gamut of services that can address the unique requirements of organizations.
Data as Product: In today's connected environment, data is the new oil. With the increase in connected offerings, comes an abundance of data about how assets are being utilized and services are consumed. IoTaaS providers are increasingly looking at ways to monetize the opportunities brought by the data output. Successful organizations, through insightful information, will be able to leverage their IoT investments and optimize operations and differentiate their products and services.
Solution Segments in India with High Traction for IoTaaS
Healthcare: IoT adoption in healthcare is expected to grow tremendously reaching a market value of over $25 billion by 2025. There is expected to be an increased focus towards the adoption of AI-enabled IoT systems for preventive diagnostics.
Security: Security in the industrial environments will get decentralized, smart, and self-governing for security-related aspects. Monolithic computing models will break apart microservices in the connected landscape and provide an opportunity of $50-100 for IoT security in India by 2025.
Retail: Indoor, interactive maps of retail outlets and supermarkets will potentially enhance the shopping experience for users using IoTaaS. Smart shelves, automated checkouts, and bespoke customer experience can potentially increase profits up to 50%.
Manufacturing: The manufacturing sector will see widespread adoption of new-gen connected devices. There will be a shift from voice-controlled hand-held devices to a voice-controlled ecosystem that connects the immediate environment with the users. Voice-enabled data collection can add a layer of data over predictive behavioral analytics. Instead of "everything on the cloud", optimized IoT systems will connect to nearby local devices for storage. The optimization of storage and traffic reduction is expected to increase efficiency by 25%-30%.
The Road Ahead for IOTaaS
With increased volatility in industrial environments owing to changing consumer demands, many companies value flexibility over predictable asset amortization. Such a preference is reflected through organizations increasingly prioritizing operational costs over capital investments. The more connected devices are integrated into industrial environments, the more potential organizations have to change the business models using those connected products. As industrial environments become more connected and interactive, the analog systems of the past enter into the digital ecosystem. It will require a modern way of managing those technologies and the data that flows through them. IoTaaS ensures that organizations have the necessary means and expertise to extract the maximum benefit from their connected environment. In the context of the Indian industrial environment, the cost savings from procurement to maintenance and support will be a key factor in the adoption of IOTaaS.
To download your copy of the complimentary insight or to speak to our analyst, please visit: http://frost.ly/523