The chemical and materials industry is unique in that it depends on, and feeds into, every other downstream industry. As such, it prospers and fails in tandem with end-use industry activity. In the last 20 years, for many companies, it has been a constant battle to achieve decent market growth. There has been a cyclic trend of heavy market cutbacks every 10 years: 9/11 in 2001, the banking collapse in 2008 and now COVID-19 in 2020, not to mention overcapacity and plant problems in between. At best, chemical companies get a few years in the sun before the proverbial kick in the groin happens. And more often than not, it seems to come out of nowhere.
The question is: Does it really have to be like this? Does it have to be so hard to achieve stability and growth?
The short answer is "no." There are some notable chemical companies that history has shown are much more resilient to these spurious market dynamics. Croda has been noted as being "resilient" through the tough times. So how did it do it?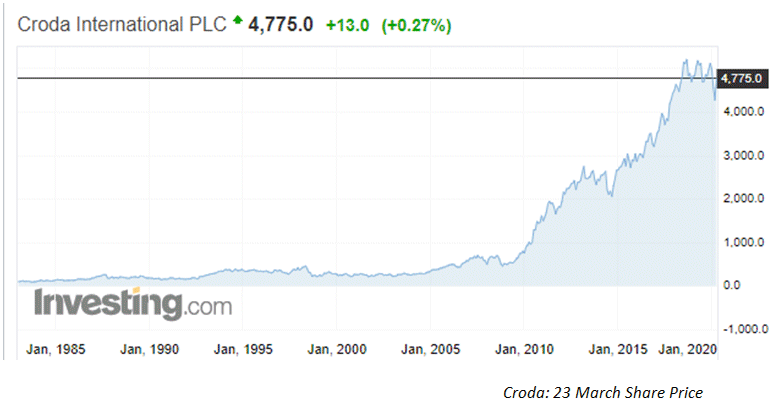 The answer lies in the markets it serves. In tough times we find out what really matters to consumers. Just like now, as we realize that nurses, teachers and care workers are more important than a footballer or reality TV star, there are pockets of the chemical supply chain that are too important to be hit hard. Roughly 60% of sales for the specialty chemicals producer come from the comparatively resilient health, agriculture and personal care sectors. Only 10% come from the more risky auto and energy markets. There are lessons to be learnt here by any chemical company. Obviously, a plastics producer isn't going to turn full circle and start making specialty surfactants, but it can refocus its exposure to problematic end markets and drive growth in better areas.
There are certainly key areas for sustainable growth in the chemicals sector, and not necessarily small niche applications or boring, low-profit, commodity markets.
Areas of High Stability and Opportunity
Personal Care – In times of economic crisis, people still need to wash and want to look and feel good. Indeed, people may put off a large purchase like buying a new family car, but data has shown that sales of personal care products can even peak in tough times. We may not buy that car, but it's acceptable to treat ourselves to that bottle of high-end shampoo instead. The feel-good factor is a strong driver, even in an economic crisis. Couple this with the likes of L'Oreal wanting to market the next best skin treatment or hair product to get a step up on the competition, and it's a recipe for a stable and profitable business.
Healthcare – People still get sick. Population numbers are also generally increasing. Medical equipment demand is always growing. Opportunities in protective personal equipment (PPE) are enormous currently. Masks, gowns, gloves and scrubs are all in short supply globally.
Nutrition – People always have to eat. Food ingredients are value-added and people will always want the best quality food they can afford. Food companies also want the best flavour ingredients and solutions. Natural food ingredients and flavours are also a huge growth area, not to mention key consumer trends like veganism driving market changes and opportunities. With people stockpiling for doomsday during 9/11 and the COVID-19 pandemic, food companies tend to get a cash injection during these events.
Packaging – Effective packaging material is always in demand. As discussed, people still need to eat. The move away from single-use plastics to more sustainable and recyclable solutions is still a path being trodden, with many opportunities to get in at the concept level. One has to wonder how long it will be until an antiviral packaging solution is put on the market, too! The circular economy is a key issue for FMCG companies, with huge companies like PepsiCo looking to use recycled snack packaging film in its future products. Understanding the world and trends surrounding the circular economy and the key players involved will be critical for chemicals businesses going forward – whether there is a global pandemic or not.
Telecoms – While we are all at home doing Zoom and Skype meetings, it has probably dawned on most people that connectivity is a key future trend and is a resilient industry. Indeed, the COVID-19 effect may have, to some degree, permanently changed the way we work and sell our products. Digital sales is one key area of growth, but there are also opportunities selling materials to the companies supplying the telecoms infrastructure. Wi-Fi and the internet are no longer regarded as optional. They are now a necessary utility for all.
There is lots to be positive about and lots of growth potential out there. It's clear, however, that some chemical companies need to mend the roof before another downpour happens.
If you'd like to talk to an industry expert about some of these key Mega Trends or discuss how to make your business more resilient, please email Robert.Outram@Frost.com