The pharmaceutical industry is burgeoning with data. Pharma manufacturers, research centres, pharma retailers, hospitals and other medical stakeholders are all collecting data like never before. The industrial Internet of things (IIoT) is facilitating this collection and analysis of data that is being generated within split seconds. Opportunities with such huge amount of data are immense and manufacturers are slowly beginning to implement and realize the benefits from IIoT implementation. In such a rapidly advancing manufacturing scenario, production of drugs is becoming increasingly personalized by taking into account an individual's differences in genetic makeup, environment, and lifestyle. Precision medicine is emerging as an important and more personalized alternative to the generic one-drug-fits-all.
What is precision medicine?
Precision medicine is a highly effective, modern process of medical diagnosis and treatment of diseases using relevant data around a patient's genetic make-up supported by environmental and behavioral data. The main objective is to develop effective and safe medications in dosages that are customized to a person's genes and living conditions. Currently, most medical treatments have been structured for an average patient. Moreover, precision medicine delivers treatments that match each patient with the treatments that would be the best fit for them. However, this is possible only with the super power of data that the pharma industry is being able to generate with the help of IIoT.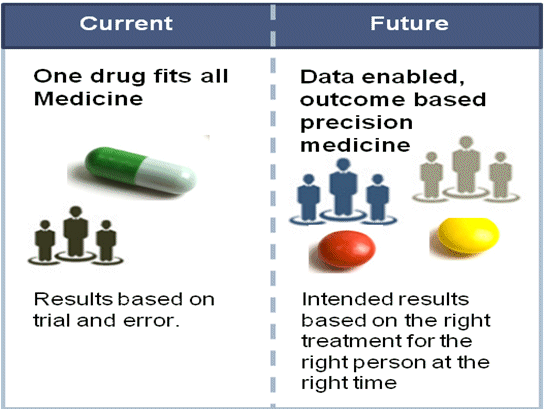 What are some of the benefits from precision medicine?
All through the history of modern medicine, treatment has always been reactive in nature. Physicians world over are required to wait until the onset of disease for taking any further action. Manufactured drugs are at first tested on a sample population and if proven effective are then administered to the rest of the population. As a result, what works for one may not work for the others. Precision medicine has a higher probability of success in treating a disease when compared to conventional medicines. Using this method of drug delivery, it is also possible to save costs with the focus being on right type of drug or treatment. Precision medicine can come a long way in predicting susceptibility to disease, improve disease detection, and preempt further progression. It can help healthcare providers eliminate inefficiencies that undermine patient health and inflate health costs. Thus precision medicine is starting to overcome the limitations of traditional medicine. Despite its benefits, there are still a lot of challenges that the industry is required to overcome before it can reap the benefits of precision medicine.
What are the challenges?
Precision medicine is still at a nascent stage of adoption. Several technologies required to support precision medicine are still in very early stages of development. First, there is a need to design infrastructure that can store the huge amount of data to be generated. The healthcare workforce will need to develop skill sets in order to cope with the ongoing developments in technology. There are also rising concerns around data sensitivity and what companies are doing to safeguard confidential patient information and there is still a lot to be understood in the field of medicine and human biology. It is therefore going to take quite a while before all these challenges can be overcome and before precision medicine can become mainstream.
What does the market look like?
In the past 5 years or so, leading pharma companies have doubled their investments in precision medicine. In 2016, China was the leading investor in precision medicine, investing close to 60 billion Yuan compared to $215 million invested by the United States. One can thus see a visible value added shift from one-drug-fits-all to targeted therapies.
What is shaping this transition in business model?
There is an ongoing and mounting pressure to decrease global pharma costs
There is a need for emergence of value-based medicine reimbursement models
The pharma industry is making a move toward a more digitalized approach
The side-effects caused by imprecise medicines will further accelerate the demand for precision medicine
Declining R&D productivity
Falling operating margins
Declining quality of healthcare
What will be the way forward?
Treatment strategies based on generalized demographics will soon be taken over by data enabled precision medicine approaches that provide a more personalized and outcome based treatment for individual patients. The use of data is thus not just restricted to sales and marketing alone. Pharmaceuticals industry is emerging as one industry where a large volume of data is generated from sources like patients, retailers, and R&D processes. These data allow manufacturers to understand their complex business processes much better, which in turn results in better risk management by pharma companies, increased patient safety, and enhanced collaboration between the different stakeholders of the pharma ecosystem.
The emerging applications and benefits of big data, as well as technological advancements in data analytics, are equipping pharmaceutical manufacturing companies with an opportunity to gain access to unique and business critical insights that can further enhance and accelerate the process of drug development. On one hand, these advancements are generating several new opportunities. On the other hand, however, they also face challenges such as poor resourcing and capability development. One of the biggest challenges is in figuring out how to make the transition from legacy systems and legacy analytical engines to more powerful analytical tools and engines. Data further come in a variety of different formats that are often unstructured. As a result, there is a very important need before data scientists are being able to separate the noise from data that are of real value. Moreover, this demands a deep knowledge of the industry, including its standard practices, regulations and so on, and a clear understanding of how the data were originally collected and how these can be best utilized to deliver the intended results.
It is certainly not easy to tap the full potential of the data that are available and manufacturers certainly have a long way to go. However, this is not impossible considering the potential to use that data to improve the conditions of various businesses and patients alike.