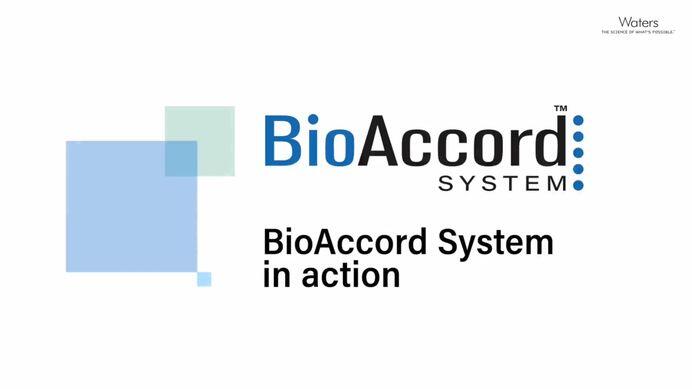 Waters Corporation has earned Frost & Sullivan's 2019 New Product Innovation Award by offering the BioAccord LC-MS System, the first SmartMS-enabled biopharmaceutical solution with intelligent software and application-focused chemistries.
The BioAccord LC-MS System is the first smart MS-enabled solution that makes LC-MS accessible for the analysis of biopharmaceuticals in development and QC. The system is a self-calibrating and self-optimizing tool that helps scientists to make informed decisions at the point of need. The system is the first to incorporate SmartMS that uses an intelligent health check capability to self-diagnose any issues with the instrument's status and either automatically make a correction or give the user a step-by-step guide for the remedy.
High resolution mass spectrometry is an indispensable tool in the analysis of peptide, protein and nucleic acid therapeutics, where the complexity of the molecules requires more comprehensive data to ensure product quality. There is a recognised knowledge gap in pharmaceutical development and QC that has restricted the adoption of traditional, more complex high resolution mass spectrometers. Scientists have had to rely on central analytical facilities within their companies or outsource to third parties for analytical data, which can lead to delays in the information required to make critical decisions. In the development of BioAccord, Waters Corporation have addressed these obstacles in several ways. The self-optimisation and healthcheck capabilities reduce the burden on the user and ensure that the system is always producing high quality data; the system is set up in the users laboratory using installation tests that are relevant to the user's applications so that the system is optimized for the intended use; Waters applications chemists follow up the installation with application-specific training on peptide mapping, intact mass analysis or glycan analysis using Waters developed methods and pre-packaged application kits.  Time to market  is a critical factor in the development of therapeutics; being able to deploy the  BioAccord LC-MS system at the point of need allows informed decisions to be made more quickly thus accelerating the development process.
The BioAccord system is controlled by waters_connect, a scientific information system that enables streamlined workflows and end-to-end compliance from sample to result. With this system, customers no longer have to rely on separate software for data acquisition and processing. By having all parts of the process in one package, the software itself tracks and leads the workflow process. Software also comes with pre-defined, compliance-ready workflows so customers can run the programs right away. The pre-defined workflows include intact mass analysis of proteins and oligonucleotides, monoclonal antibody (mAb) subunit analysis, released n-glycan analysis and peptide mapping/multi-attribute monitoring (MAM). The waters_connect software merges high performance LC and MS into a single system that incorporates data acquisition, processing, visualization, reporting and configurable compliance tools. It can be used as a workstation installation or within a networked laboratory environment.
Waters Corporation was founded in 1958, and in 2018 it hit $2.4 billion in revenues. The company's incredible customer service success hinges to its 7,200 employees, 54% of which are associated with sales and service roles, maintaining direct links with its global customer base. The company operates in 35 countries, including 15 manufacturing facilities, which speaks volumes about the superior service customers can access. Waters Corporation dedicates significant attention to customer service, which results in abundant brand loyalty. During the product development process Waters' product and market-focused teams actively elicit feedback, giving considerable attention to customer sentiment, in the design of new products.
The BioAccord LC-MS system was designed with productivity in mind, positioning the user to acquire and process data with a purpose-built LC-MS platform. Frost & Sullivan recognizes how this solution identifies and resolves issues more quickly and thereby improves system productivity. High-performance separations performed by Waters Corporation's UPLC technology are well-known across the industry. The system is integrated with ACQUITY UPLC I-Class PLUS System and UNIFI software to offer an attractive solution to customers. ACQUITY UPLC I Class PLUS System maximizes the sensitivity and resolution of customers' methods, while enhancing both data quality and productivity. The core of the system is the ACQUITY RDa mass detector which is designed with a small footprint for space-restricted laboratories but produces very high-quality accurate MS data.  The system is paired with application-specific chemistries and standards, allowing scientists to achieve new levels of resolution and consistency in chromatographic separations.
Waters Corporation has developed the industry's first-ever truly "smart" mass spectrometer that will allow non-mass spectrometrist customers to perform analysis independently with the capability of BioAccord LC-MS system. The system provides high levels of usability, reliability, sensitivity, and deteccompliance. The company's solutions have an incredibly positive impact on customers who laud the industry-leading separations achievable by ultra-high performance liquid chromatography. For the strong overall performance of the BioAccord LC-MS system, Waters Corporation has earned the 2019 Frost & Sullivan New Product Innovation Award.