Travel restrictions, border closures, and the fear of contracting the COVID-19 virus have significantly impacted the aviation industry. Airports and airlines are adopting passenger safety measures to regain travelers' confidence by adhering to regulatory compliance and investing in technologies. Speaking with industry participants, we observed that the airports are poised to change the operational procedures through short-term fixes such as face shields and sneeze-guards for staff to long-term solutions like UV disinfection and mass thermal screening. Gatwick Airport, for example, installed the Smiths Detection's UV light-enabled automatic tray disinfection system, becoming the first UK airport to treat its security trays with UV light energy to reduce the spread of COVID-19.
The post-COVID-19 objectives and priorities for airports and airlines are crucially dependent on the screening and detection industry's responsiveness and technological insights. Pre-COVID-19 screening and detection systems focused on traditional issues such as identifying prohibited and dangerous goods, which deterred the smuggling of items into an airport's sterile area. The technological innovations were dual-purposed,  firstly to address the traditional threats and, secondly, to counter the traditional threats without impacting the passenger experience or airport's performance metrics. Screening and detection checkpoints have always been a paradox in airport operations due to the necessity for airport security running up against the challenge of consequent bottlenecks in airport operations, resulting in a pain point in the passenger's air travel experience. COVID-19 brings in a new layer of challenge—delivering health regulatory checks and physical distancing compliance in an already cramped real estate.
Frost & Sullivan's research indicates that airports and airlines are concerned that these issues will create further challenges as the number of passengers reverts to pre-COVID-19 levels.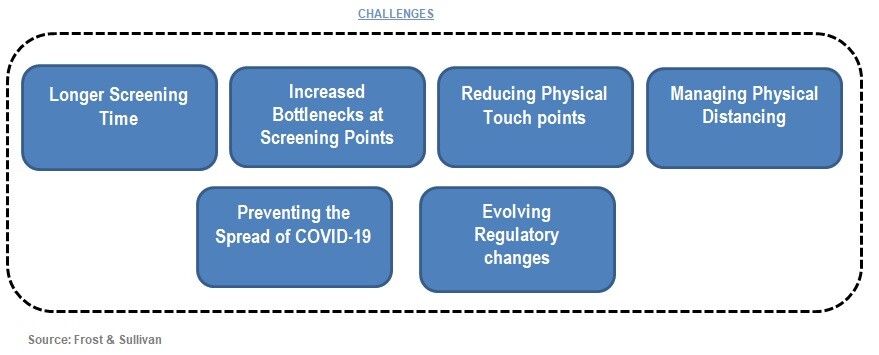 The Formula for Success: Agility and Scalability
The traveler's confidence in air travel is crucial for the resumption of air traffic to normalcy; thus, airports and airlines must create a safe and secure environment for travelers. Though the passenger numbers are still hovering around one-third of 2019 stats, and many countries are experiencing a second wave of the pandemic, there seems to be a degree of optimism (or exhausted realism) that the new norm will lead to a positive shift.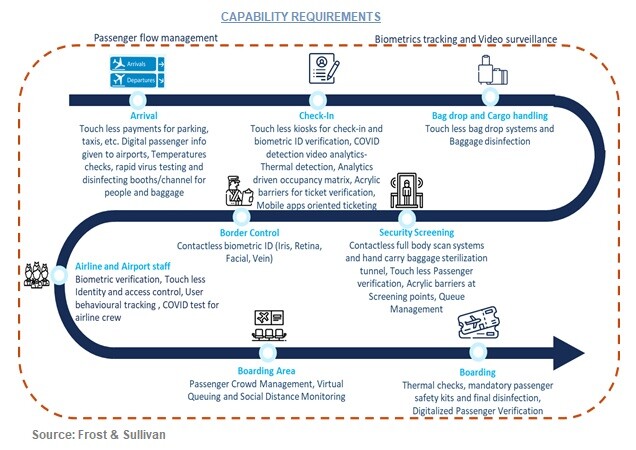 As this positive shift takes shape, Frost & Sullivan assesses that there will be a short-term demand shift in the airport security solutions market as airports look for COVID-19 prevention and mitigation solutions. The change will result in the diversion of budget allocation from purchasing large-scale security solutions to solutions that meet the evolving threat of COVID-19. The transition is already visible from the end-user and solution-provider perspectives: TSA awarded a 2.48 Million USD contract to Lavi Industries to install acrylic barriers for COVID-19 prevention at 37 USA priority airports, and Smith Detection has already started deploying its UV disinfection kits across airports globally. Airport operators will be looking to invest but not over-invest in COVID-19 mitigation solutions, so security solutions that are scalable to deal with COVID-19 in the near future and deal with traditional and emerging threats in the long term will be in demand.
The companies that are agile enough to re-orient their research and development to deal with the COVID-19 in the short run, and whose existing products are scalable to meet the evolving requirements of the aviation industry, will be ones that capitalize on opportunities presented by COVID-19. COVID-19 will result in the accelerated growth of touchless and seamless security at airports through artificial intelligence and big data-led advanced analytical solutions, increased use of biometrics, and stand-off security solutions minimizing the interaction between airport staff and passengers.
A successful COVID-19 vaccine is no good sitting in a lab. The next step in COVID-19 prevention will be vaccinating the global population, requiring delivery of shots worldwide. Securing the delivery of more than 20 billion COVID-19 vaccinations will create an unprecedented logistical challenge for governments and airport operators. Vaccines will be highly valuable commodities. Airport operators will have to make arrangements to keep shipments secure from tampering and theft and make storage arrangements to safeguard vaccines from spoilage.
Airport leadership should seize the opportunity of increased competitive intensity and adopt solutions that help them cope with this changing landscape. Although in many cases airport security budgets have taken a hit due to the COVID-19, airports, through the help of security consultants, airports can evaluate and install the most promising systems that deal with COVID-19 right now, and in a few years, are scalable to deal with increasing passenger flow and emerging threats.
Growth opportunities for vendors lie in creating solutions that prevent transmission of the virus and reduces screening time at the checkpoints. According to Frost & Sullivan's research, the Screening & Detection global market reached $7.6 billion in 2019, and the Aviation sector was the most significant revenue contributor. Also, the global Airport Security Solutions market is forecasted to reach USD 13.6 Billion by 2030.
Frost & Sullivan engages with airport operators to select the right technologies to enhance protection at their airports and assist solution providers in navigating these challenging times by identifying specific growth opportunities according to their portfolio.