Datameer Acclaimed by Frost & Sullivan for its Unified Data Preparation Platform that Resolves the Data Interoperability Issue among Analytics Technologies 
Datameer employs a combination of product development and partnerships to offer organizations world-class BDA services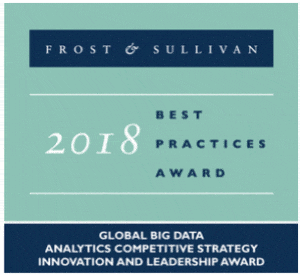 SANTA CLARA, Calif. — December 5, 2018 — Based on its recent analysis of the global big data analytics (BDA) market, Frost & Sullivan recognizes Datameer, Inc. with the 2018 Global Competitive Strategy Innovation and Leadership Award for evolving from a pure spreadsheet-style analytics platform to consolidating data from a variety of sources. Datameer's platform features more than 70 connectors to data sources, which helps companies build robust pipelines and manage data flow to business intelligence (BI) analysts. Its provision of unrestricted visual data exploration on datasets that have billions of records facilitates quick and easy self-service access to analytics data and enables faster, better-informed decisions.
"Organizations relient on data silos usually require multiple technology solutions that are not interoperable, making it difficult for them to have a unified data source to build a big data picture. Datameer's platform addresses this challenge with its advanced data integration, preparation, enrichment, and exploration features," said Deviki Gupta, industry analyst. "Its unique combination of self-service data preparation and unconstrained data exploration creates an agile iterative data preparation process that helps analysts transform and refine the data to create their own customized analytics datasets."
Home-grown solutions are Datameer's biggest competitors, as organizations are reluctant to abandon them for purpose-built analytics platforms. To encourage potential customers to invest in its solutions, Datameer has partnered with several key technology providers and helps customers integrate with their platform. For example, it recently achieved Advanced Technology Partner status in the Amazon Web Services (AWS) Partner Network (APN). Datameer tailored its enterprise offering to AWS, separating compute from storage (S3) as well as integrating with key AWS platform services to help numerous companies transition their big data to the cloud. Now, Datameer Express, a version of Datameer tailored for cloud-based workgroups, is available on the AWS Marketplace.
Datameer also recently partnered with the leading BDA vendor IBM. It was able to leverage its mature business data preparation and exploration platform to help IBM deliver an end-to-end data exploration, data workflow orchestration, and operationalization functionality as part of its new 'Cloud Private for Data' offering. Furthermore, the company partners with diverse industry leaders such as the business advisory firm Deloitte; systems integrator Fujitsu; solution providers Trace3 and pmOne; technology providers Microsoft and Tableau; and Hadoop distribution vendors Cloudera, Hortonworks, and MapR.
"Datameer supports multiple use cases including regulatory compliance in financial services, anti-money laundering, customer analytics, supply chain analytics, and operational analytics across industries," noted Gupta. "The effectiveness of its business strategy is evident in its constantly expanding clientele that includes major data-driven companies such as Citibank, RBC, Optum, Aetna, Anthem, National Instruments, and Vivint. Overall, its strategic partnerships and commitment to product development will continue to endow it with a significant competitive advantage in the BDA market."
Each year, Frost & Sullivan presents this award to the company that has leveraged competitive intelligence to successfully execute a strategy that results in stronger market share, competitive brand positioning, and customer satisfaction.
"Datameer is proud to accept the Frost & Sullivan's 2018 Competitive Strategy Innovation and Leadership Award", said Christian Rodatus, Datameer CEO.  "Although the advanced capabilities of our platform played a role in winning the award, the ability of our customers to implement best practices that drive a sustained, successful big data journey is truly the crowning achievement that led to this award.  And that is what Datameer prides itself upon – the success of our customers."
Frost & Sullivan Best Practices awards recognize companies in a variety of regional and global markets for demonstrating outstanding achievement and superior performance in areas such as leadership, technological innovation, customer service, and strategic product development. Industry analysts compare market participants and measure performance through in-depth interviews, analysis, and extensive secondary research to identify best practices in the industry.
About Datameer, Inc.
Datameer is an analytics data lifecycle platform that helps enterprises unlock all their raw data. The cloud-native platform was built for the complexity of large enterprises—yet it's so easy to use that everyone from business analysts to data scientists to data architects can collaborate on a centralized view of all their data. Without any code, teams can rapidly integrate, transform, discover, and operationalize datasets to their projects. Datameer breaks down data siloes, gets companies ahead of their data demands, and empowers everyone to discover insights. Datameer works with customers from every industry including Dell, Vodaphone, Citibank, UPS, and more. Learn more at datameer.com.
About Frost & Sullivan
Frost & Sullivan, the Growth Partnership Company, works in collaboration with clients to leverage visionary innovation that addresses the global challenges and related growth opportunities that will make or break today's market participants. For more than 50 years, we have been developing growth strategies for the global 1000, emerging businesses, the public sector, and the investment community. Contact us: Start the discussion.
Contact:
Estefany Ariza
P: 210.477.8469
F: 210.348.1003
E: estefany.ariza@frost.com