The push to reduce emissions and enhance fuel economy is among the key factors that are changing the mobility landscape. Such trends are driving OEMs to look beyond their existing ecosystem and disrupt traditional value chains through the adoption of altered powertrain strategies and investments in green technologies such as electrification. Mass market conceptual technologies introduce an unprecedented product mix and leverage innovative business models.  As the industry moves towards a future of CO2-neutral mobility, Frost & Sullivan analyses opportunities across a chain of sustainable and efficient powertrain technologies.
Global electrification is on its way
The global Electric Vehicles (EV) market is experiencing active growth and remains one of the hottest topics in the automotive industry. According to Frost & Sullivan, global EV sales breached the 1 million mark for the first time in history in 2017, reaching 1.2 million units. China maintained its position as market leader, accounting for 50% of global sales, while Europe, with sales of 308,000 units, represented 25% of the market.
Figure 1: Global EV Sales, 2011-2017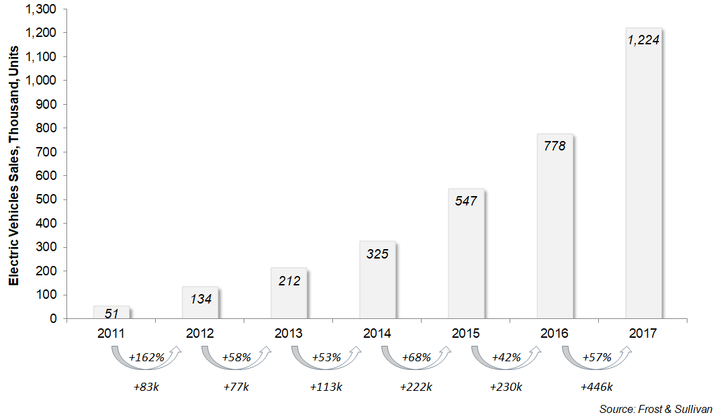 Frost & Sullivan predicts that EVs will continue to make a noise in 2018 as well, with global EV sales projected to hit 1.4 million this year. By 2025, EV sales are set to rev past the 9 million mark.
A step towards an electrified Poland
The Polish Government has defined electromobility as a critical element in achieving an innovative and sustainable future. This commitment was highlighted by Ustawa o elektromobilności i paliwach alternatywnych ("Electromobility and Alternative Fuels Act"), which came into effect on February 22 of this year following Government approval. The main goal of the Act is to create a supportive framework and encourage EV market growth by offering monetary benefits such as excise duty exemption, higher depreciation rates for company cars as well as non-monetary benefits such as free parking in public spaces and access to bus lanes.
In 2017, Poland recorded a historical milestone of EV sales crossing 1,000 units. About 1,068 EVs were sold in 2017 compared to 556 in 2016, representing a remarkable 92% YoY growth. Last year, customers could have their pick from about 35 EV models from different vehicle manufacturers, of which around 14 were fully electric (BEV). Nissan Leaf and BMW i3 were the leading BEV models sold in Poland in 2017. Fleet and business customers accounted for nearly 70% of all cars sold in Poland in 2017, and Frost & Sullivan believes that the Electromobility and Alternative Fuels Act could be a powerful engine to increase the penetration of EV sales in the short- to mid-term period.
Figure 2: Passenger car market in Poland, 2000-2017

Just the tip of the iceberg
Although there have been successful examples of similar Government support mechanisms driving EV sales in other countries, it is important to acknowledge that the growth of the EV market is, to a large extent, dependent on a combination of other variables, including customer awareness and education, the level of charging infrastructure development, the range of available EV models, and the price of these vehicles. In other words, the true success of electromobility is determined not only by the incentivizing actions taken by governments but also on efforts by the private sector to address these variables and push the concept to the next level.
Ignorance is not bliss
Customer education and awareness are crucial to promote EV uptake, especially in a country like Poland where the market is characterised by the significant number of used cars imported from other EU member states. The average age of these vehicles is about 12 years and their price hovers around 30,000 PLN. This highlights the need for concerted efforts that encourage consumers to shift from buying cheap and polluting vehicles to purchasing cleaner and newer EVs.
Given this context, Frost & Sullivan sees the recent electric taxi programmes from Elektrotaxi, Electric Taxi and iTaxi in Warsaw and Kraków, and the EV carsharing from Vozilla in Wrocław as enablers in fostering awareness among customers while providing them with the experience of riding in an EV. Although these companies will gain the first mover advantage, it is also important for a critical mass to develop and for more such EV-related businesses to emerge.
Frost & Sullivan has leveraged its strong domain expertise to advise global companies on EV carsharing and taxi services. Our experience shows that the success of such services is dependent not only on developing an attractive business model but also on ensuring an effective daily utilisation model, which comprises factors such as utilisation rate, mileage driven between charging intervals, charging time, availability of charging points, and the radius of operations.
Charge up
One of the key challenges in popularising EVs centres on removing range anxiety. This, in turn, is highly dependent on increasing the penetration of charging stations. According to the latest data of the European Alternative Fuels Observatory (EAFO), Poland currently has 552 publicly accessible charging points that, if Government plans prove successful, will exceed 6,400 points by 2020.
Companies such as Greenway Infrastructure Poland, PKN Orlen, and Lotos have aggressive plans to accelerate the development of charging infrastructure. For instance, Greenway Infrastructure Poland is focused on developing a fast charging network along the key TEN-T corridors and plans to install almost 200 stations throughout Poland. PKN Orlen has launched a pilot project and will start installing EV chargers in its fuel stations, targeting to have the first ones in operation by the end of 2018. Lotos has also initiated a project to install 12 stations on the way from Warsaw to Gdańsk and Gdynia.
Frost & Sullivan believes the private-public partnership model will be crucial to expanding the charging station network during the short- to mid-term period, beyond which private companies will take the lead, similar to the oil and gas sector. Frost & Sullivan also sees the Government playing an active role in supporting charging infrastructure development.
Unity in diversity
Building a successful EV ecosystem requires collaboration between public and private entities. The development of electromobility in many countries has been driven either by the Government or by vehicle manufacturers and energy utilities in the private sector. The ultimate aim of developing the EV sector is to monetise it. Poland, however, is yet to find optimal integrators in this regards.
Figure 3: EV Ecosystem in Poland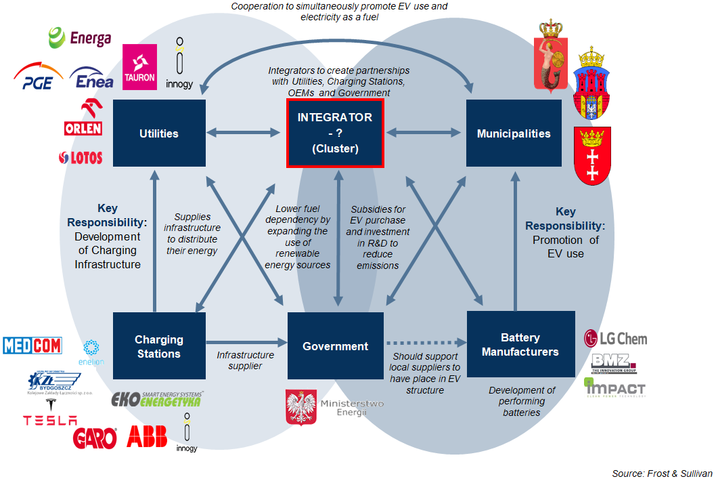 Nevertheless, in the area of electric bus production, OEMs like Solaris and Ursus have already started taking steps towards the consolidation of suppliers by creating dedicated clusters. It is important to note that the e-bus segment has high growth potential in Poland because of a combination of Government support (through the E-Bus programme), the interest of municipalities in modernising public transport fleets, and the efforts of local producers to actively develop their product portfolios.
Can Poland become the EV Detroit of Europe?
Beyond the development of EV charging point networks and the production of electric buses, companies from other sectors manufacturing charging points, lithium-ion batteries, and electric motors have also upped their involvement in the EV space. Global lithium-ion battery producer LG Chem has chosen Poland as a key European production base to supply its batteries to leading European EV OEMs. Impact Clean Power Technology, a domestic battery producer, is a major player in e-bus battery production in partnership with key bus OEMs, including Solaris, one of the leaders in electric bus production in Europe.
With over a decade's experience in monitoring the EV industry, Frost & Sullivan believes there are growth opportunities for companies in adjunct industries such as chemicals, electronics, IT and telecommunications.
Figure 4: Evolving electromobility players in Poland*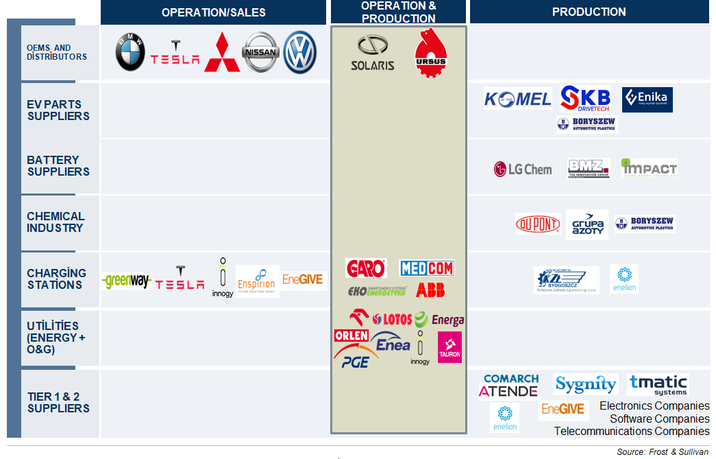 *The list of players is not exhaustive
Poland has a strong engineering knowledge base, educated specialists, a stable economic environment, and relatively low labour and business operational costs. Such factors have contributed to the creation of a strong automotive suppliers' network for ICE vehicles in Poland and have the potential to facilitate the electromobility revolution in the country.  To reinforce these trends and for Poland to emerge as a regional hub of the EV ecosystem, industry participants will need to adapt to hybridisation, electrification, and utilisation of alternative fuels.
Why not play for more?
Apart from promoting the development of the EV market, the Electromobility and Alternative Fuels Act also sets the scene for the commercial testing of autonomous vehicles. As the road to sustainable future through EVs has already started in developed countries decades ago and is rapidly becoming a today's reality, maybe the time has come to focus on next-generation technologies and emerging opportunities in the autonomous driving domain?
About Frost & Sullivan's Mobility Practice
Frost & Sullivan's Mobility Practice provides global market research, industry analysis, business research (including custom market research and consulting), market forecasts, management consulting (strategy consulting), and insights into emerging technologies that are designed to help clients address current trends and challenges, identify new technologies, and take advantage of opportunities to grow.
Powertrain and EV Programme
Frost & Sullivan's Global Automotive Powertrain and Electric Vehicle Programme area takes a 360◦ view of the industry, examining and analysing product, geographic, technological, and business trends covering the entirety of the market. Key areas that the Programme explores are:
Mega Trends and Emissions Regulations driving change in powertrain technology adoption
Emission Reduction and Fuel-efficient Gasoline and Diesel Engine Technology trends (downsizing, turbocharging, powertrain light weighting, direct injection, VVT, SCR, GPF, LNT and cylinder deactivation)
Drivetrain and Transmission Technology trends
Trends within electrification of powertrain (48V mild hybrid systems, full hybrids, battery electric cars, plug-in electric cars and fuel cell cars)
Electric Vehicle Technology research – batteries, motors and charging infrastructure
Issue-based research such as emission testing procedures and EV-related, innovative business model research
End consumer attitudes and perceptions of gasoline, diesel, hybrids, EVs and other powertrain technologies
We work closely with leading automotive OEMs, suppliers and technology firms to help them find the opportunities in this sea of change. Our holistic, yet substantial, research services enable us to stay at the forefront of change in this dynamic market and enable our clients to achieve the same.