Two separate collaborations, the merger of Wheels Inc – Donlen, and another potential collaboration of ALD Automotive and LeasePlan, best-in-class fleet management companies, to offer improved services and more effectively cater to the growing demand from corporates and individuals.
The global vehicle leasing and rental industry faced a tough 2020 due to the pandemic. The business declined by 16.6% YoY in overall contract sales. Leasing and rental companies faced multiple challenges, such as a decrease in business rentals, delays in lease payments and contract pre-closures, resulting in a serious dent in coffers. In 2020, for instance, LeasePlan's revenue declined by 2.6%, ALD's revenue fell by 3.6% and Hertz filed for bankruptcy, albeit reemerging with a bang 13 months later. This resulted in companies looking to restructure their financial and business setup. Hertz sold Donlen, its wholly-owned fleet management subsidiary, to Athene Holding, a leading financial services company for $875 million. Now come two big announcements – firstly, the merger of Wheels Inc and Donlen and, secondly, a possible collaboration of ALD Automotive and LeasePlan.
Collectively, Wheels Inc and Donlen will have a fleet size of more than 2.5 million vehicles and a sprawling global presence covering 59 and 9 countries respectively. Athene's investments in the Wheels Inc-Donlen combine are focused on building long-term stability and premier customer services. The new company plans to take a measured approach to integration and will retain both companies' best practices, while deploying capital across the sector. Expanding its scope, it plans to offer clients a new and enhanced set of solutions addressing many fleet and ancillary needs. The new entity will be led by the current CFO of Wheels, Shlomo Crandus who will take charge as the CEO.
Wheels Inc was ranked 21st and Donlen ranked 27th in Frost & Sullivan's market intelligence database published in 2019, based on global share of fleet vehicles managed. The combined business would position it among the top 15 global players in the fleet & leasing industry.
LeasePlan and ALD Automotive will have a combined fleet size of about 3.6 million vehicles and a global presence that spans 29 and 43 countries respectively.
The possible collaboration has been confirmed by both the parties although to quote LeasePlan, "There can be no certainty at this stage that these discussions will result in any agreement or transaction." Regardless, this potential new merger has created a lot of buzz within the industry as the resulting entity is set to become the No.1 player globally.  Moreover, there will be significant synergies as both companies are making strides in connectivity, electric vehicle leasing, used vehicle leasing, upping their focus on SMEs, B2C customers and are contemplating a foray into the shared mobility space.
LeasePlan's aim is to become the world's first, fully digital Car-as-a-Service company and ALD's ambitions are to become a fully integrated sustainable mobility provider and the global leader in the industry.
LeasePlan was ranked 2nd and Donlen ranked 4th in Frost & Sullivan's market intelligence database published in 2019, based on the global share of fleet vehicles managed. This potential new merger entity is set to become the No.1 player globally.
It's A Small World
It is interesting to note that Wheels Inc and ALD Automotive have been in a successful alliance since 2009. So this represents a third dimension from the above two partnerships discussed. There have been several such alliances emerging over the last few years across the globe. For instance, Donlen is in partnership with Athlon which is now a part of the Daimler Mobility, while Element Fleet acquired the fleet business of GE Capital. These consolidations of big players are shrinking the competition in the fleet and leasing industry. If this continues the whole leasing universe may integrate into one big alliance with a lot of small companies catering locally. But this is far-fetched and we expect the market structure to remain a Monopolistic Competition rather than a Monopoly or a Duopolistic one.  Regardless, it'll be interesting to see how these partnerships and alliances are going to transform the fleet management and leasing industry in the future.
Amidst the spurt of mergers, acquisitions and partnerships over the past two years, the question remains what advantages and disadvantages does the prospective merger present? What are the implications for both partners, their competitors and the overall market?
Advantages:
Bigger worldwide presence and better servicing of international clients since many of the big international companies, in any case, work with both companies
The option to choose from two diverse product and services portfolios and promote the best of each
Increase the number of top ranking fleet experts working for the new company
Become a bigger leasing company with increased fleet size, geographical scope, customer network and extended partnerships
Increase its negotiating power (due to its size) vis a vis both OEMs and fleet service providers while enabling it to provide highly competitive offerings
Disadvantages:
Possible integration issues given the complexity of each company's internal systems; this can require greater effort and additional investments in order to standardise internal processes
Some competitors might take advantage of this move to aggressively promote their products and services in the short to medium term; it might allow them to gain a competitive advantage, especially in the case of new markets or product areas
The internal decision making process might be impacted as due to its size and especially a lack of clarity after the takeover can impact the overall quality of service
Potential clash of company cultures which can lead to frustrated or under-performing employees
Given that ALD is listed in the stock market, any potential issues the company faces after the merger can lead to a decline in its stock price
Other Major Mergers, Acquisitions and Partnerships, 2019-2021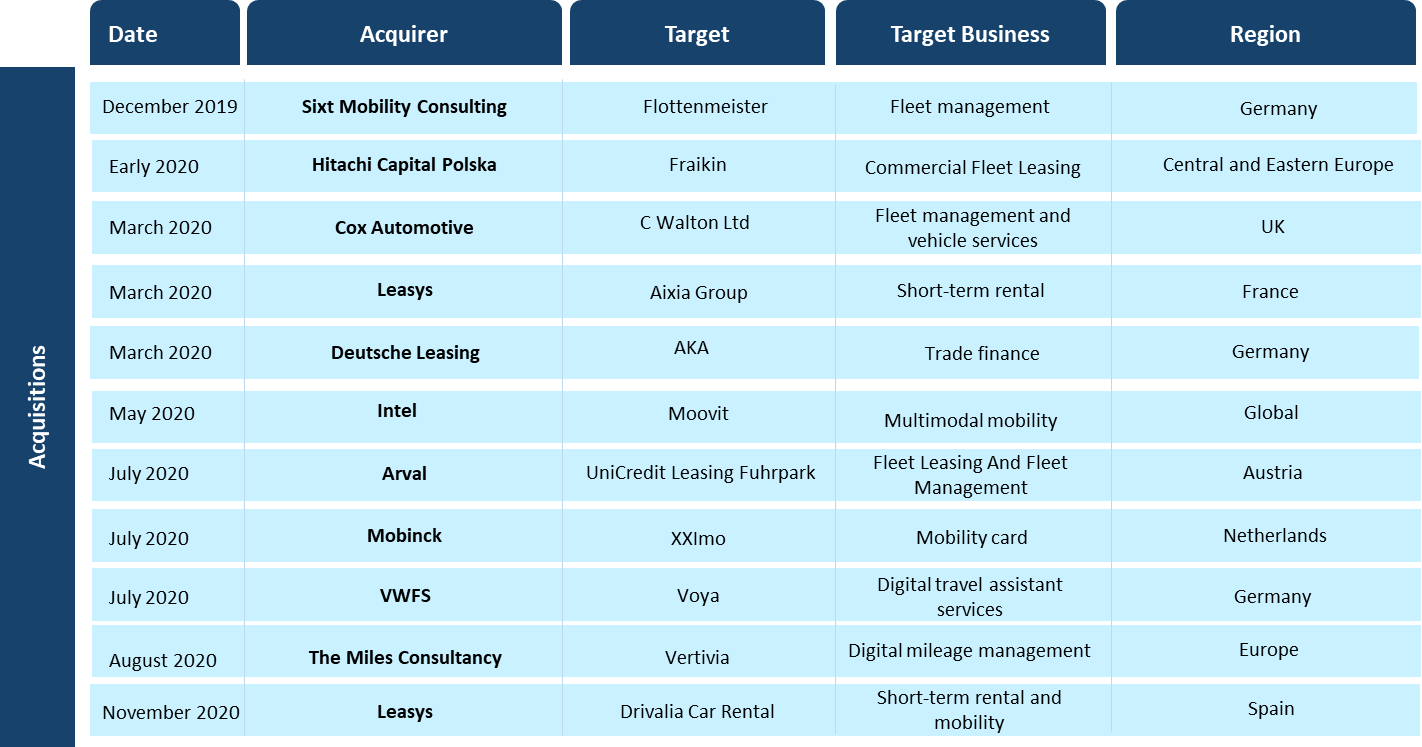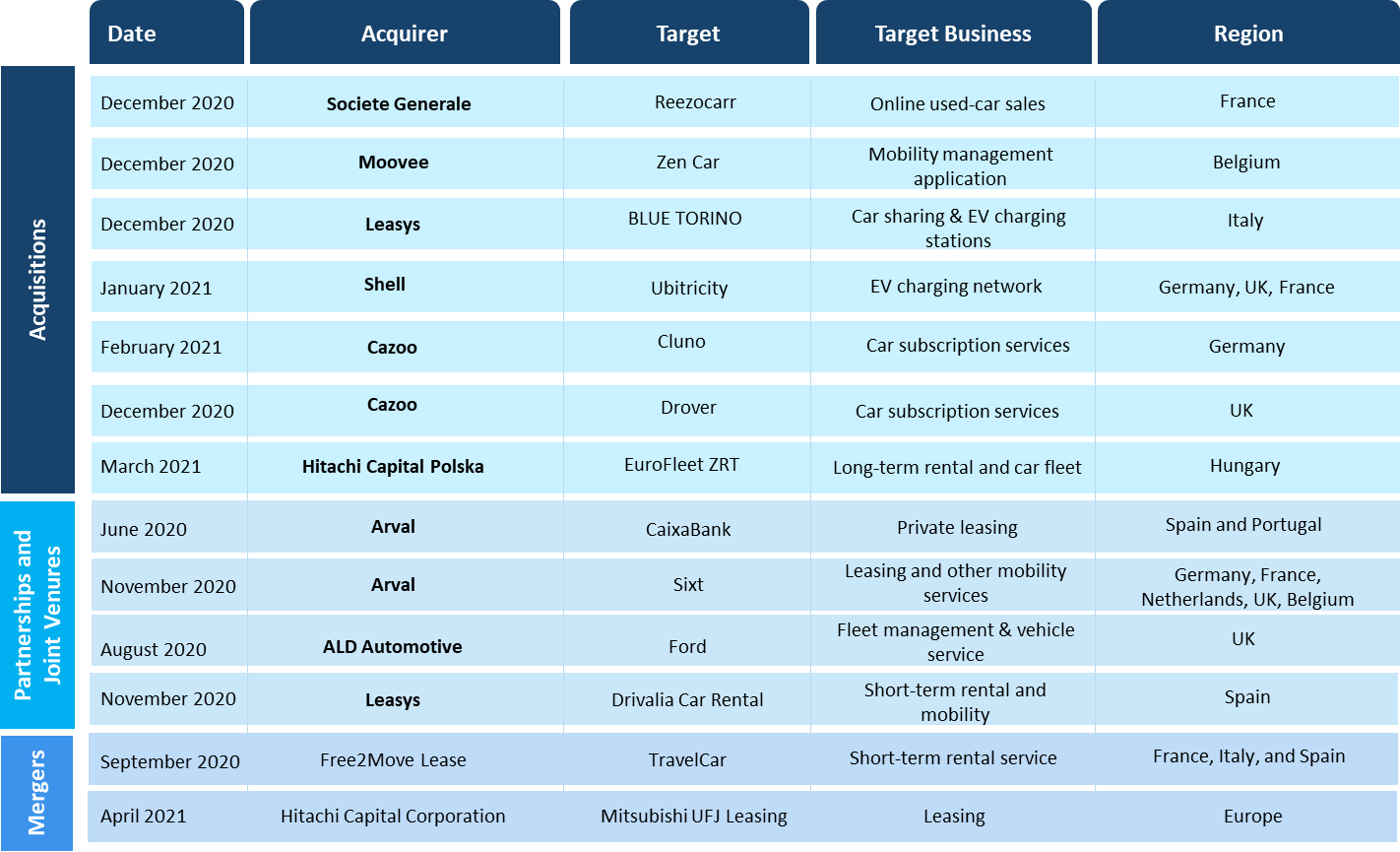 Source: Fleet & Leasing Data Intelligence Platform
An Overview on the Leasing and Rental Market
As per Frost & Sullivan's data intelligence database published in July 2021, an estimated 16.7 million light vehicles (cars and light commercial vehicles) will be registered under leasing and rental companies with 42.2 million vehicles under active management of these companies. The top 50 players in the leasing market alone account for 51.1% of total leased vehicles.
For more details on leasing market intelligence data and market forecast check out the Frost & Sullivan's Fleet & Leasing – Market Intelligence Database.