Frost & Sullivan Commends Rapid7 for Capturing Nearly a Quarter Share of the Global Vulnerability Management Market
The Company generated the highest new revenue at an above-average year-over-year growth rate of 28 percent in 2017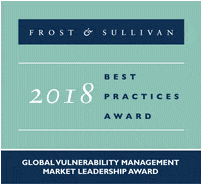 SANTA CLARA, Calif. — November 7, 2018 — Based on its recent analysis of the global vulnerability management market, Frost & Sullivan recognizes Rapid7 (NASDAQ: RPD) with the 2018 Global Market Leadership Award for achieving market share of 24 percent and a year-over-year (YoY) growth rate of 28 percent in 2017. The company sustained this pace in Q1 2018 at 29 percent YoY growth, ending the quarter with $58.2 million. Overall, Rapid7 reached $200 million in 2017 on the strength of a robust partnership strategy, its shared visibility, analytics and automation cloud.
Click here for the full multimedia experience of this release – http://best-practices.frost-multimedia-wire.com/Rapid7
"Rapid7 has one of the most extensive partner ecosystems with more than 80 platform integrations for data collaboration, data workflow, and data ingestion. Some of its partners include IBM, Splunk, FireEye, VMware, CyberArk, Salesforce, Cisco, and Amazon Web Services," said Tim McElligott, Senior Analyst at Frost & Sullivan. "The company also gained a huge boost by breaking down operational and technology silos,creating an alliance between Security, IT, and DevOps teams."
Rapid7's InsightVM solution centralizes vulnerability data from the network, endpoints, cloud instances, and containers, making it easier and more accurate to implement analytics for continuous, real-time vulnerability management. The implementation of InsightVM and other Rapid7 solutions is simplified by the company's partnership with ServiceNow, a cloud-based application provider that specializes in maximizing the human workforce by automating, digitizing, optimizing, and predicting business processes and tasks across numerous departments.
Rapid7 has more than 7,200 customers in 120 countries, including 54 percent of Fortune 1000 enterprises. The company has a strong portfolio of products with several use cases for real-time analytics that use log-data streams at various layers, including application, database, server, and cross-system analytics to predict vulnerabilities. Application layer testing in the development cycle, for example, cannot truly represent a production environment where small anomalies accumulate over time and do not present themselves as vulnerabilities right away. Real-time analytics can analyze these anomalies before they become potential threats.
"Overall, Rapid7 has emerged as an innovator that keeps pace with the changing requirements in cybersecurity," noted McElligott. "Its focus on integration across cybersecurity technologies, and on working with partners, has encouraged the market to increasingly adopt new methods to optimize security within the enterprise operational silos."
Each year, Frost & Sullivan bestows this award upon the company that demonstrates excellence in growth and customer value. Attaining loyal customers who became brand advocates allows the company to grow and achieve a market leadership position. By committing to its customers at each stage of the buying cycle and continually nurturing these relationships, the award-winning company's market share increases over time at an exemplary pace.
Frost & Sullivan Best Practices awards recognize companies in a variety of regional and global markets for demonstrating outstanding achievement and superior performance in areas such as leadership, technological innovation, customer service, and strategic product development. Industry analysts compare market participants and measure performance through in-depth interviews, analysis, and extensive secondary research to identify best practices in the industry.
About Rapid7
Rapid7 (NASDAQ:RPD) powers the practice of SecOps by delivering shared visibility, analytics, and automation that unites security, IT, and DevOps teams. The Rapid7 Insight platform empowers these teams to jointly manage and reduce risk, detect and contain attackers, and analyze and optimize operations. Rapid7 technology, services, and research drive vulnerability management, application security, incident detection and response, and log management for more than 7,200 organizations across more than 120 countries, including 54% of the Fortune 100.
About Frost & Sullivan
Frost & Sullivan, the Growth Partnership Company, works in collaboration with clients to leverage visionary innovation that addresses the global challenges and related growth opportunities that will make or break today's market participants. For more than 50 years, we have been developing growth strategies for the global 1000, emerging businesses, the public sector, and the investment community. Contact us: Start the discussion.
Contact:
Estefany Ariza
P: 210.477.8469
F: 210.348.1003
E: estefany.ariza@frost.com