The Geotab online fleet management platform can be expanded at any time to ensure added flexibility and integration with third-party providers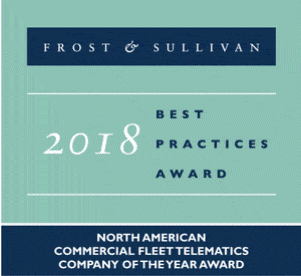 SANTA CLARA, Calif. — October 31, 2018 — Geotab was honored with the 2018 North American Company of the Year Award at Frost & Sullivan's annual Excellence in Best Practices Award gala, an annual black-tie event celebrating the achievements of the industry's best innovators, disruptors, and leaders. Frost & Sullivan bestowed this honor upon Geotab in the presence of its industry peers at a glittering ceremony at the Loews Vanderbilt on July 18th, 2018.
Click here to view the full multimedia release: http://best-practices.frost-multimedia-wire.com/geotab
"Geotab has stayed ahead of the curve due to its dedication to next-generation concepts such as smart cities, environmental stewardship, and strict data security protocols. Its comprehensive yet affordable data, delivered through its compact and fully open fleet management platform and software development kit, has helped the company expand its vertical and geographical footprint," said Krishna Chaithanya, industry analyst. "The high level of customization possible from this platform makes it one of the most scalable and expandable solutions available."
The main drivers of Geotab's year-on-year subscription growth of more than 30 percent in the last three years has been its exceptional price and performance value. The company serves end users across the spectrum—from very small operations to Fortune 500 companies—with provision of its highly secure platform. It achieves this by focusing on both engineering and minimizing solution development costs to price its products competitively. Furthermore, Geotab has forged strong networks and links with a variety of partners. It reaches out to more than 22,000 customers through its Authorized Geotab Reseller network of 200-plus trusted partners, including some of the world's largest cellular companies, such as AT&T and T-Mobile.
The GO device records vehicle identification numbers (VINs) and odometer readings, offers engine and battery health assessments, and supports communication among fleet operators, drivers, and vehicles on the Long-Term Evolution (LTE) network. It constantly updates fleet managers on driver patterns and helps them set benchmarks based on historical data from groups of drivers. Furthermore, it employs differentiated driver coaching solutions with its text-to-speech technology, GOTALK, wherein voice alerts are delivered to drivers when they violate a rule so they can take corrective action.
"While most competing solutions only send an email or desktop alert in the event of an accident, Geotab's portable GO device automatically uploads forensic data to aid the reconstruction of events, even if it only suspects an accident," noted Chaithanya. "The Geotab GO also has the unique ability to detect in-vehicle reverse collisions. The company's 25 patents and applications are a testament to its technological superiority."
Overall, Geotab has leveraged its data architecture and technology centricity to grow, and, ultimately, position itself as a future-proof company.
Each year, Frost & Sullivan presents a Company of the Year Award to the organization that demonstrates excellence in terms of growth strategy and implementation in its field. The award recognizes a high degree of innovation with products and technologies and the resulting leadership in terms of customer value and market penetration.
Frost & Sullivan Best Practices awards recognize companies in a variety of regional and global markets for demonstrating outstanding achievement and superior performance in areas such as leadership, technological innovation, customer service, and strategic product development. Industry analysts compare market participants and measure performance through in-depth interviews, analysis, and extensive secondary research to identify best practices in the industry.
About Geotab
Geotab is advancing security, connecting commercial vehicles to the internet and providing web-based analytics to help customers better manage their fleets. Geotab's open platform and Marketplace, offering hundreds of third-party solution options, allows both small and large businesses to automate operations by integrating vehicle data with their other data assets. As an IoT hub, the in-vehicle device provides additional functionality through IOX Add-Ons. Processing billions of data points a day, Geotab leverages data analytics and machine learning to help customers improve productivity, optimize fleets through the reduction of fuel consumption, enhance driver safety, and achieve strong compliance to regulatory changes. Geotab's products are represented and sold worldwide through Authorized Geotab Resellers. To learn more, please visit www.geotab.com and follow us @GEOTAB and on LinkedIn. 
About Frost & Sullivan
Frost & Sullivan, the Growth Partnership Company, works in collaboration with clients to leverage visionary innovation that addresses the global challenges and related growth opportunities that will make or break today's market participants. For more than 50 years, we have been developing growth strategies for the global 1000, emerging businesses, the public sector and the investment community. Contact us: Start the discussion.
Contact: 
Samantha Park
P: 210.247.2426
F: 210.348.1003
E: samantha.park@frost.com