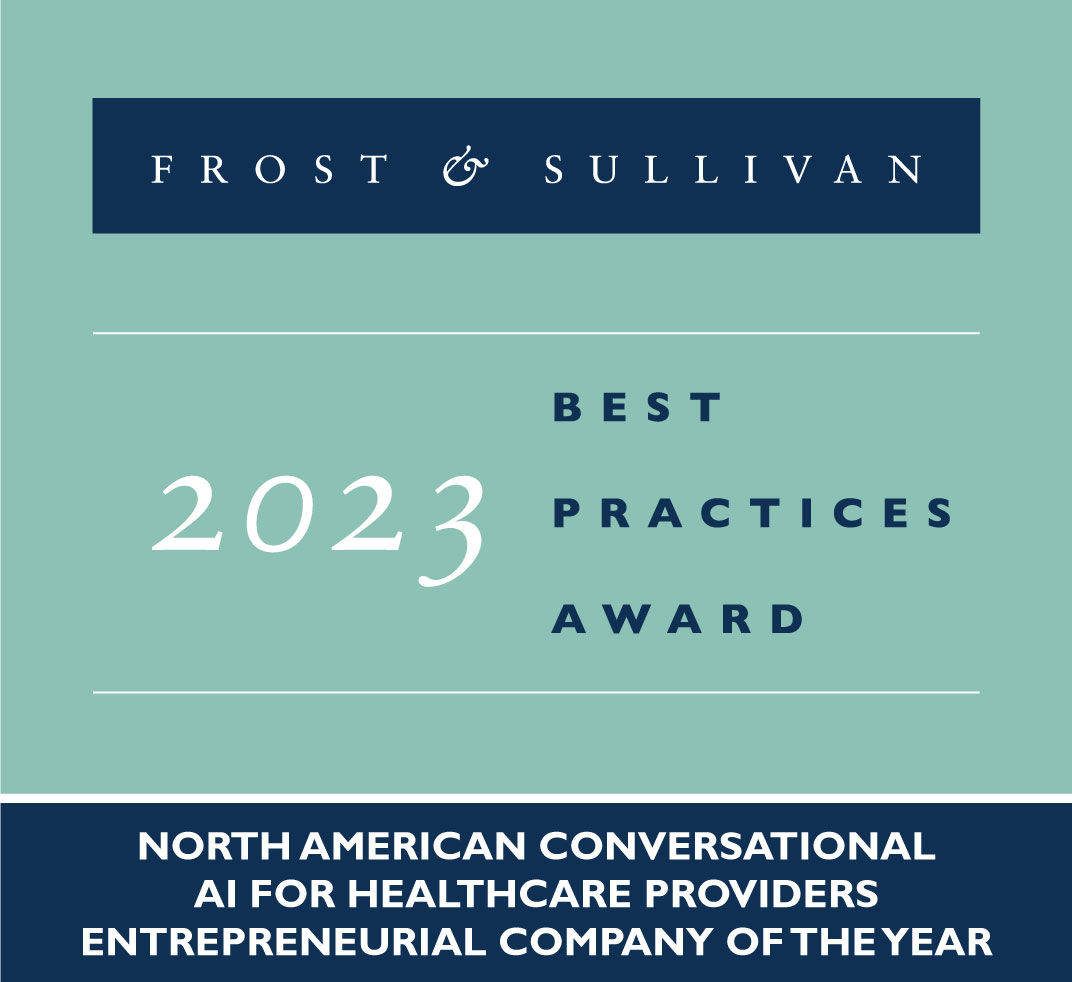 SAN ANTONIO, TX. – November 9, 2023 – Frost & Sullivan's recent assessment of conversational AI for healthcare providers resulted in it recognizing Suki AI with the 2023 North American Entrepreneurial Company of the Year Award. As a leader in voice AI technology for healthcare, the company is on a mission to lift the administrative burden from clinicians by providing them with the tools and resources needed to alleviate time spent on administrative tasks.
Each year, Frost & Sullivan honors the most promising and disruptive market participant with the award. Suki AI stands out with its innovative use of technology and quick response to market needs that bring forth groundbreaking solutions and redefine the competitive landscape.
Its flagship product, Suki Assistant, is the only AI voice assistant on the market that integrates with all major EHRs and encompasses ambient, command, and dictation modes in a single solution. It seamlessly works with clinicians' existing workflows to streamline interactions in healthcare, while simultaneously eliminating inefficiencies and enhancing patient care. Suki Assitant has already proven to reduce documentation time by 72 percent, which not only boosts productivity but is pivotal in combating burnout. It combines security, privacy, extensive datasets, and interoperability to secure wide clinician adoption.
Manuel Albornoz, Best Practices research analyst at Frost & Sullivan, noted, "Suki's solution allows clinicians to experience a remarkable 5 percent increase in encounter volumes, generating an impressive $21,600 incremental annual revenue for each user. In addition to expedited reimbursements, it delivers improved cash flow and an impressive metric of 12X customer investment return within its first year of use."
Suki AI offers its cutting-edge solution at a fraction of its competitor's prices, sometimes as low as one-third, and works across over 30 specialties. With more than 200 trusted healthcare provider partners, including some of the country's largest health systems and clinics, the company collaborates with influential organizations such as Google, Epic, and the American Academy of Family Physicians (AAFP). Suki AI has proven to be a leading force in health technology and is the first ambient solution commercially available on the market – showcasing its commitment to improving the clinician experience.
"Suki stands out, uniquely leveraging its technology to meet its customers' needs and positioning itself to capitalize on new growth opportunities. It incorporates customer-centric strategies, building substantial brand equity and elevating its market leadership status," added Delfina Huergo, Best Practices research analyst at Frost & Sullivan.
About Suki AI
Suki is a leading technology company that provides AI voice solutions for healthcare. Its mission is to reimagine the healthcare technology stack, making it invisible and assistive to lift the administrative burden from clinicians. Its flagship product is Suki Assistant, an AI voice assistant that uses generative AI to automatically create clinical documentation by ambiently listening to patient-clinician conversations. Suki helps clinicians complete notes and other administrative tasks 72% faster on average, and increases encounter volumes by 5%, generating incremental revenue. Suki also offers its proprietary voice platform, Suki Speech Platform (SSP), to partners who want to create a best-in-class voice experience for their solutions. SSP uses the latest in natural language processing and machine learning to provide industry-leading accuracy and natural and fast voice experience. Suki is backed by premier investors such as Venrock, First Round, Flare Capital Partners, March Capital, and Breyer Capital. To learn more, visit suki.ai, or follow us on LinkedIn and Twitter.