vXchnge Applauded by Frost & Sullivan for Its Advanced Data Center Services That Support Clients' Digital Transformation
vXchnge has designed its data centers with a focus on reliability and uptime, fitting them out with state-of-the-art design, infrastructure, and management technologies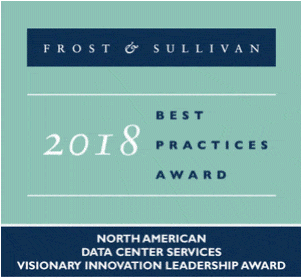 SANTA CLARA, Calif. — Dec. 4, 2018 — Based on its recent analysis of the North American data center services market, Frost & Sullivan recognizes vXchnge with the 2018 North American Visionary Innovation Leadership Award. vXchnge has rolled out an innovative Data Center-as-a-Service that leverages next-generation data center design and power/cooling systems, a sophisticated intelligence platform, and industry-leading best practices to help clients manage their infrastructure, applications, and overall business. Its offerings include co-location, network interconnects to more than 70 network service providers, and remote management of on-site client infrastructure.
Click here for the full multimedia experience of this release- http://best-practices.frost-multimedia-wire.com/vxchnge/
"vXchnge's services and data centers make it easier for resource-constrained IT organizations to support their business' most critical business goals," said Lynda Stadtmueller, Vice President of Cloud and Data Center Services. "Unlike competitors that simply provide power and space, vXchnge's unique services and technologies address clients' top digital transformation challenges, such as application availability and performance. Its intelligent management platform presents granular visibility into infrastructure performance, allowing clients to identify and correct potential app performance issues before they occur. For instance, it sends an alert when a server begins to consume excess power, as this is indicative of impending hardware failure."
vXchnge designs and operates its data centers with a high level of precision, resulting in operational excellence. vXchnge's attention to risk and compliance standards enables customers to mitigate and reduce total costs of ownership.  Furthermore, as human error is a top cause of data center failures, vXchnge has incorporated design and procedural elements aimed at making it easier for client technicians to perform their tasks without error.
vXchnge serves customers that range from the largest global German ERP provider to local and emerging brands with unmatched reliability, security and customer satisfaction.  Its competitive pricing and terms allows its services to also be adopted by small and mid-sized firms. vXchnge's flexible contract terms enable clients to reserve and pay only for the racks they need, and only for the timeframe they need them. Platform access can be customized according to the role or user with dashboards presenting relevant data, so that key stakeholders do not have to go through IT intermediaries for each request.
"vXchnge's data center services not only augment the premises, but also optimize the client's business. Its data centers have a downtime of less than 3 seconds per year, made possible through a combination of resilient design and meticulous processes," noted Stadtmueller. "These client-focused and competitive data center services are proving highly valuable to customers and have positioned vXchnge for rapid growth in the North American market."
Each year, Frost & Sullivan bestows this award upon the company that demonstrates excellence in growth and customer value. It recognizes the superiority of the product/service as well as the overall customer, purchase, ownership, and service experience offered, which has resulted in the recipient company seeing above-market growth and greater share of wallet. The award lauds the growth, diversification, and sustainability strategies of the company.
Frost & Sullivan Best Practices awards recognize companies in a variety of regional and global markets for demonstrating outstanding achievement and superior performance in areas such as leadership, technological innovation, customer service, and strategic product development. Industry analysts compare market participants and measure performance through in-depth interviews, analysis, and extensive secondary research to identify best practices in the industry.
About vXchnge
vXchnge is the leading data center-as-a-service provider dedicated to protecting global and emerging brands, while improving the business performance of its customers. Through its strategically sited, carrier-neutral colocation data centers across the US, vXchnge delivers unmatched reliability, scalability and security for its customers. vXchnge's broad geographic footprint puts its customers at "the Edge", where they can serve customers locally, and reach more businesses and more consumers in more markets. The company is headquartered in Tampa, Florida. For more information, visit http://www.vxchnge.com or connect on Twitter, LinkedIn, and Facebook.
About Frost & Sullivan
Frost & Sullivan, the Growth Partnership Company, works in collaboration with clients to leverage visionary innovation that addresses the global challenges and related growth opportunities that will make or break today's market participants. For more than 50 years, we have been developing growth strategies for the global 1000, emerging businesses, the public sector, and the investment community. Contact us: Start the discussion.
Contact:
Estefany Ariza
P: 210.477.8469
F: 210.348.1003
E: estefany.ariza@frost.com