Best Practices
Best Practices is an annual subscription program that supports the individual members of a CEO's executive team in achieving their company's top-line growth objectives. The membership includes career-focused events, implementation-oriented best practices research, and targeted services.
Through the membership, you receive unlimited access to growth process research, best practice implementation guides, growth-focused networking events, and growth-driving services—to name just a few deliverables—all focused on the demands of your career track and all for one fixed cost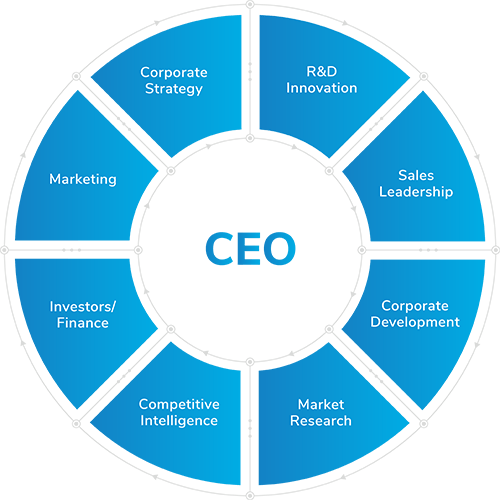 Frost & Sullivan created Best Practices to:
Frost & Sullivan's research has shown that CEO's most often rely on eight key executive roles to shape and execute their growth strategy.
Ensure
Ensure the CEO is supported by a team well-equipped to implement the company's growth strategy
Address
Address the unique implementation and career challenges faced by senior executives
Enable
Enable companies to achieve aggressive corporate growth targets
Best Practices Research
The Best Practices research team provides actionable strategies, processes and tools to help you address key growth-related challenges.
Best Practice Guidebooks – A step-by-step illustration of the specific activities performed by a profiled company to solve a pressing business challenge.
Growth Process Toolkits – Implementation manuals that synthesize Frost & Sullivan's best thinking on how to most effectively execute each of the 10 critical growth processes.
Executive Briefings – Can't make an event? This is the executive summary of the best ideas exchanged at our live sessions
Career Insights – Annual executive surveys that help define priorities of each member of the Best Practices Team. These survey results uncover the top business environment factors influencing planning and the top functional challenges
Speed the design and implementation of your growth initiatives (avoid reinventing the wheel)
Instead of reinventing the wheel each time you embark on a new growth initiative, the Best Practices program gives you access to a resource of proven, growth-focused tools and techniques to employ immediately, speeding the design and implementation of your initiatives.
Reduce risk by avoiding pitfalls encountered by peers
You probably will not be the first person in your functional area to encounter a particular challenge. The Best Practices program will give you many opportunities to learn from the successes (and failures) of others so that you are able to reduce your decision-making risk and improve your performance.
Stimulate problem-solving through a cross-industry perspective
The Best Practices program gives you access to peers who have similar job responsibilities, but may be operating in a completely different industry. Through one-on-one networking and virtual interaction with your counterparts, you can uncover new perspectives on your role, new strategies or best practices that can be applied in your situation, and recommendations to overcome challenges in your own career.
Improve your contribution to the CEO's growth agenda
Remove yourself from the "barrier to growth" category in your CEO's mind and become noted as a leader in driving your CEO's growth agenda.
Accelerate your professional and career development
Get better at your job and find pleasure in doing it well; feel the satisfaction of making a positive impact on the growth of your organization; impress the CEO; and gain formal certification in your field.
According to the Frost & Sullivan CEO Survey, growth is the top priority for 90 percent of CEO's, yet two-thirds are dissatisfied with their progress against top-line goals. The job of driving growth is far too complex for the CEO alone. Accordingly, most CEOs rely on a "Growth Team" of senior executives to identify opportunities, develop a pipeline, evaluate prospects, and implement strategy in a way that achieves real growth.
Unfortunately, most CEOs are dissatisfied with the capabilities of their Growth Team™ executives and attribute much of their failure to hit growth goals to "insufficient bench strength." In response to this CEO-stated challenge, Frost & Sullivan developed Best Practices.
Best Practices arm each member of the CEO's Growth Team™ with the function-specific tools, practices, processes, and network to efficiently implement growth strategy and accelerate their career trajectories.
Below you will find a list of the eight career tracks:
Corporate Strategy
Corporate Development
Sales Management
Research & Development
Marketing
Market Research
Competitive Intelligence
Investors
Why Frost & Sullivan's Best Practices?
Delivers insight backed by four decades of global, growth-focused market knowledge and consulting experience
Provides a fixed-cost solution to help you meet your CEO's growth agenda
Includes career-focused events, implementation-oriented best practices research, and targeted services
Develops individual executives into higher performing contributors to the CEO's Growth Team™
Who benefits from Best Practices?
In progressive organizations, CEO Growth Teams™ are made up of top performing executives from Marketing, Sales Management, Corporate Strategy, Corporate Development, Market Research, Research & Development, Competitive Intelligence, and Investors. These leaders need to collaborate effectively, and possess the best-in-class tools and resources to rapidly and comprehensively implement the CEO's growth strategy; therefore, they would greatly benefit from Best Practices.
What are the benefits of Best Practices?
Membership in Best Practices will: 1) speed the design and implementation of your growth initiatives (avoid reinventing the wheel); 2) reduce risk by avoiding pitfalls encountered by peers; 3) stimulate problem-solving through a cross-industry perspective; 4) improve your contribution to the CEO's growth agenda; and 5) accelerate your professional and career development.
With whom will I interact on the Frost & Sullivan Team?
Each member relationship is coordinated by a dedicated team consisting of an Account Executive and Client Value Enhancement Executive. This team reaches out across each membership year to anticipate and respond to your individual needs. This team is "on call" to respond to any requests or requirements that may arise.
Can I really attend all the events for a year?
Yes, your membership includes access to all events within your subscription period.
Can someone attend an event in my place?
Your membership is a seat license which is non-transferable; however, many companies purchase subscriptions for multiple members of the Best Practices Team.
I have direct subordinates; can they partake in my membership?
Your membership is a non-transferable seat license; however, FrostPaks are available, and offer multiple seats to our Executive MindXchange events that anyone in your company can use.
Are there any incremental costs?
There is only one incremental cost. On the first day of each live event (typically Sunday), there is a social networking session that may include golfing, wine tasting, horse back riding, sailing, etc. These activities are not included in the membership price. Participation in these activities requires a modest incremental fee.
What is the expected level of membership participation?
There is no required level of participation, but in order to get the maximum value from your membership, we recommend attending at least one live event (and preferably two) each year, as well as the monthly webcasts. In fact, we aim to save you time—members judge us on our ability to conserve their time—to focus on the correct set of strategic issues, to compress the time required to review the best current practices, and to remove bad ideas quickly.
What are the payment terms?
The entire amount of the investment will be invoiced Net 30.
What is a charter membership?
Charter Members provide direct input and feedback in shaping the direction of this program. Charter Members are considered analogous to a "Board of Directors" for Best Practices and, accordingly, have enormous influence on content and policy decisions.
How do we define "Best Practice"?
Best Practices are specific activities that are performed to solve tough business challenges, and that 9 out of 10 companies are not performing (but should). These activities have shown measurable results to prove their effectiveness.
Live and Virtual Best Practices Events
Best Practices Members have unlimited access to all of our live and virtual events that deliver unrivaled learning and networking to fully immerse you in the business of growth.
Executive/MindXchanges(Functional & Industry) – Opportunities to share and address strategic challenges with your functional or industry peers and thought leaders in a highly-interactive and stimulating environment
Growth, Innovation, & Leadership Congress – Designed to help you meet your growth objectives through thought leadership, real world case examples, best practices, and key strategies that you can implement immediately; join industry leaders to examine the dynamics of growth, and the tools and processes that will aid you in accelerating your company's trajectory
Ask the Thought Leader Webcast(Quarterly) – A one-hour webcast where a company's Certified Frost & Sullivan Best Practices member is presented; attendees can ask questions directly of the executive who created the approach
Click HERE to View our Full Events Calendar