Ingredients for Household Care Products
Today, household care products need to be not only safe to use and effective (e.g. cleaning, deodorizing of disinfecting), but also provide a pleasant experience for the user. Thus the types of ingredients that go into formulating them are not only ingredients that are safe and functional, but are also natural, green, fragrant and emollient.
Ingredients For Household Care Products

Household Care Products
Innovative products and wide ranging formats and sizes are driving the market. Innovations are focused on new ingredients especially botanical fragrances and cleaning agents, better functionality with consumer touch and feel experience.

Liquids, Solutions Lotions, Fluids Sprays & Aerosols Powders, Wipes
Essential Oils, Oleochemicals, Surfactants, Fragrances, Insect Repellants, Aerosol Propellants, Conditioning Polymers, Cleaning Solvents & Acids, Emollients, Rheology Modifiers, Others.

Product Category Examples
Cleaners, cleaning agents, deodorizers, room fresheners, disinfectants, fabric conditioners, insect repellents, others.
Value Chain
The level of integration between the surfactant manufacturers and the household care product manufacturers is very low in the market. Surfactant manufacturers sign product supply agreements with the end-product manufacturers in order to overcome the demand-supply pressure owing to changing market dynamics.
Direct business/sales from ingredients supplier to household care products manufacturer or brand owners
Contract Manufacturers:
Vinamax Organics Pvt. Ltd., MFG Chemical, LLC, PCC Chemax, Inc., Airedale Chemical Company Limited, MegaChem Ltd.
Household care Product Manufacturers (Brand Owners):
Unilever, Procter & Gamble, Jonhson & Johnson, Amway, Henkel, Church & Dwight, Clorax, Kao Corp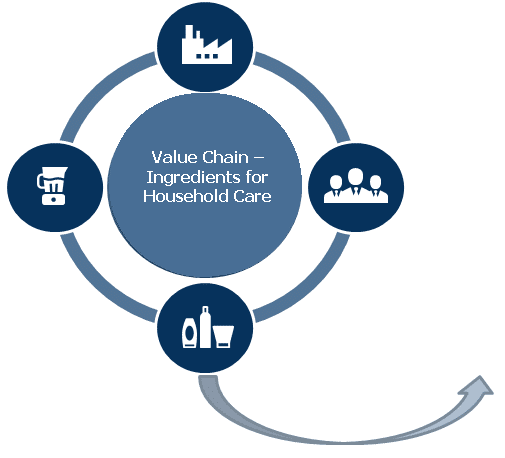 Surfactant Manufacturers:
Evonik, DowDuPont , Croda, AkzoNobel, BASF, Stepan, Ashland, Siltech Corporation, Clariant, Kao Corporation, Galaxy Surfactants, Pilot Chemical
Distributors of Surfactants
Parchem , Brenntag, Acme-Hardesty Co., Presperse, Univar, Integrated Chemicals Specialties (ICS), Fitz Chem Corporation, Lincoln Fine Ingredients
Besides partnering with commodity surfactants/other ingredients, distributors are also partnering with manufacturers of specialty surfactants to multiply the profit margins
The grades of surfactants  and other ingredients do not defer whether it is used in household care or personal care products. This offers an advantage to the suppliers of catering to multiple application areas.
Household Care Product Retail Sales to Consumers :
Distribution of household care products include: Online  Sales, Stand-alone Retail Shops, Supermarkets, Pharmacy, home and garden stores