Personal Care and Cosmetics Ingredients
Enhanced Quality Of Life For More Informed Consumers
Personal Care & Cosmetics Market are constantly evolving because of the increased demand for products that enhance the quality of life/ and promotes confident lifestyles for a more informed consumer base.
Growth Opportunities – Personal Care & Cosmetics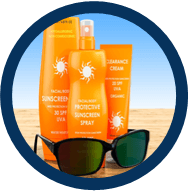 Multi-functional Ingredients and Excipients:
Multifunctional ingredients optimize multifunctional personal care formulations, while fulfilling both consumer and manufacturing needs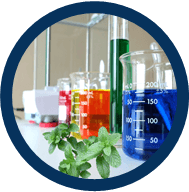 Synthetic Ingredients as Sustainable:
Many synthetic ingredients are inspired by the botanical world, improving the efficacy while reducing toxicity and side effects by molecular selection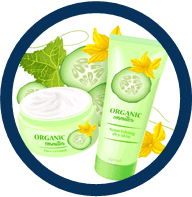 Back-to-Nature:
Natural ingredients are perceived to be holistic, effective, and safe over long-term contact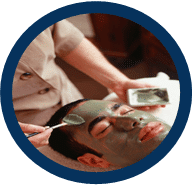 Men's Grooming:
More men are investing in their looks to boost their self-confidence, marketability, and success in the competitive worlds of career and society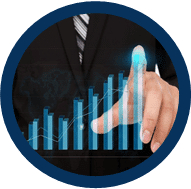 Industry Consolidation:
Consolidation in the personal care and cosmetic ingredients industry sustains market growth
Value Chain
Successful ingredient suppliers are those that have control over the complex value chain of specialized ingredients. Branded ingredients and multi-functional materials are overtaking commoditized materials, and this is leading to higher consolidation with M&A and alliance activities in the industry.
Contract Manufacturers:
Lady Burd Cosmetics, Skinlys, CSR Cosmetic Solution, Health & Beauty Natural Oils Co., GAR Labs, Denison Pharma, Spartek, AMR Labs, I. Shay Cosmetics
Premixers or Blenders for Cosmetics
Premixers and blenders play an active role in the cosmetics manufacturing value chain
INTEGRATED Cosmetic Product Manufacturers (Brand Owners):
L'Oréal, Bare Essentials, The Body Shop, Natura Cosmetics, The Estee Lauder Companies, Procter & Gamble, Beiersdorf
Other Cosmetic Product Manufacturers (Brand Owners): Unilever, Avon, Colgate-Palmolive, Jonhson & Johnson, Amway, Yves Saint-Laurent, Aveda Corpn., Kao Corpn.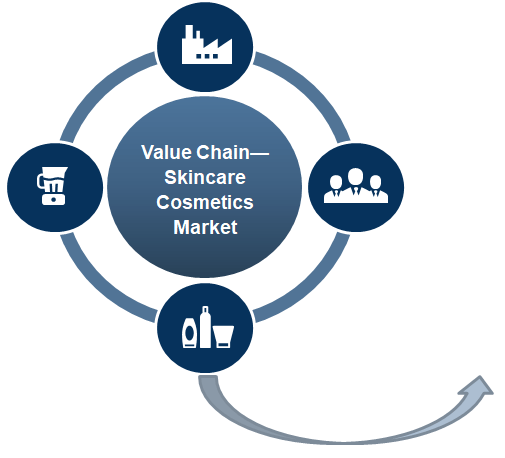 Cosmetic Ingredients Manufacturers:
Evonik, Ashland, Dow, Merck, Croda, ADM, SEPPIC, Innophos, Lubrizol, Wacker-Chemie, FMC, CP Kelco/ JM Huber, Eastman, Cabot Corp, DSM, AkzoNobel, BASF
Distributors of Cosmetic Ingredients
Distributors are likely to deal with bulk and established and/or commoditized ingredients
There is a strong convergence of cosmetic ingredients with pharmaceutical excipients especially in formulations such as ointments, creams, lotions, gels, and solutions. Thus many of the suppliers are common for both markets, as also formulators and contract manufacturers.
Cosmetic Retail Sales to Consumers :
Distribution for personal care products & cosmetics include: Online  Sales, Stand-alone Retail Shops, Factory Outlets, Pharmacies, Supermarkets
External Environmental Factors
Greater awareness of the harmful effects of free radicals, allergens, pollution, harsh sunlight and UV rays
Internal Physiological Factors
Research on aging process, genetic testing – gene sequences for the aging process, stress-related free radicals
Dissatisfaction with Current Cosmetics
Higher incidences of skin conditions among users due to increased use of chemical cosmetics
Gender Equality
While women remain the main consumers, men are becoming more interested in using cosmetics in a bid to compete actively in the world of career and society.
Diffusion of Age Groups
Nearly all age groups are exhibiting robust demand for different types of skincare cosmetics leading to innovation in formulations for senior and young populations.
Key Triggers for Consumer Demand and Innovative R&D
Key triggers for consumer demand and the resulting industry response in the development of novel, innovative skincare cosmetic formulations are provided below: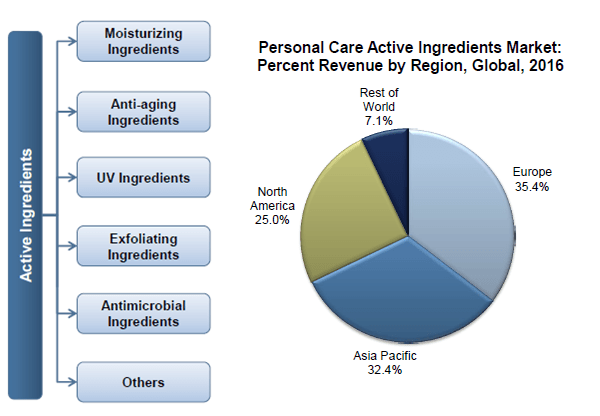 The global personal care active ingredients market is estimated at $3.53 billion in 2016 and forecast to reach $5.63 billion by 2023, growing at an annual rate of 7.0% during this period.
High awareness among consumers, a growing middle class in the East, an aging population in the West, and new markets such as men's grooming, Halal Beauty, and bio-based skin care have created a wide range of opportunities for personal care active ingredient manufacturers.
Among the different types of ingredients (moisturizing, ultraviolet (UV) filters, anti-aging, exfoliating, conditioning, antimicrobial, and others), the traditional segment, i.e. moisturizing ingredients, is expected to dominate the market in the coming years, with a share of about 50%.
UV filters are expected to be the fastest growing ingredient segment globally, closely followed by skin whitening ingredients specific to the Asia-Pacific region. Anti-aging ingredients are also expected to be a fast growing segment in the North American and European markets.
North America and Europe are mature markets and expected to record stagnant growth compared to Asia-Pacific. The latter is dominated by growth in China, South Korea, and India as well as in other emerging economies such as Indonesia and Malaysia.

Natural Ingredients
Increasing concern for the environment and rising consumer awareness of using products that are "chemically clean" are likely to keep the natural/organic ingredients in demand.
Learn More
Natural ingredients personal care market is expected to experience a 9-10 per cent growth by 2022.

Legislation
Pre-marketing approval for manufacturing sites is the key element of the cosmetics legislation.
Learn More
The FDA is now looking to streamline guidelines to improve definition and accelerate approval of new novel ingredients *(green ingredients of natural origin, that are now considered novel).

Anti-Ageing
Approximately 41 percent of the European population is expected to turn 50+ (age) by 2020 which might be the key driving factor for anti-ageing personal care market.
Learn More
Anti-ageing products hold the major share in the personal care market and are expected to grow at a CAGR of 10 percent till 2022

Nutricos-metics
There is a well-maintained balance between beauty and food. Both cosmetics and food supplement manufacturers have a better scope for development.
Learn More
Beauty foods market, however, requires a strong standing to convince and communicate the benefits and efficacy of products.

Male Grooming
Personal care products such as skin lightening cream, anti-ageing cream and other beauty products exclusively for men are anticipated to increase.
Learn More
The market is expected to grow at a CAGR of approximately 11.5 percent by 2022.

Synthetic as Sustainable
Due to consumer health and ethical concerns, ingredient suppliers need to avoid animal derived ingredients by developing bio-identical materials.
Learn More
Sustainable – synthetic, and animal-sparing – raw materials do not have an adverse impact on the ecosystem, reliable availability is assured, quality and performance remain consistent.