One of the most important objectives for the global automotive industry is to reduce the environmental impact of vehicles. Off-highway vehicles (OHVs) contribute significantly to raising pollution levels due to their huge powertrains, which consume large amounts of fuel and generate considerable exhaust emissions. In order to decrease exhaust emissions and reduce fuel consumption, the OHV industry is exploring the potential of using hybrid technology on a mass scale. Hybrid powertrains are rapidly becoming a Mega Trend in the OHV market. While hybridization is recognized as the key to achieving fuel economy, cost remains one of the biggest barriers both for OEMs in terms of high development costs and for customers in terms of the significantly higher prices of hybrid OHVs. Moreover, OEMs continue to grapple with technical challenges related to batteries and energy storage, particularly for larger pieces of equipment.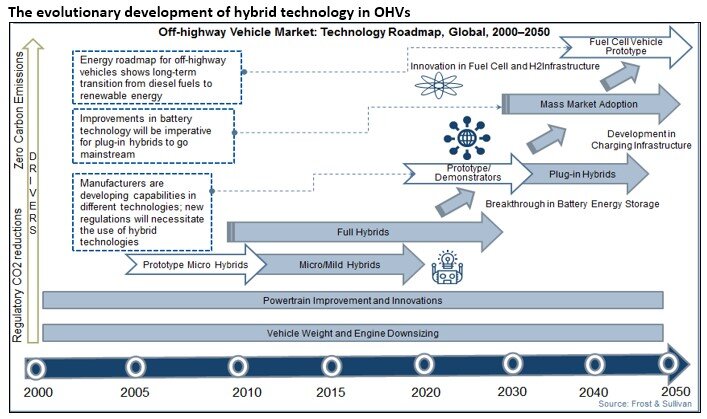 Key Market Findings (2017)
Market Status
The overall market for OHV hybrids in terms of volumes stood at 23,034 units in 2017. The growth of hybridization is propelled by stringent emissions norms which are compelling OEMs to produce energy-efficient and less polluting powertrains. Asia-Pacific is expected to occupy the leading position in the OHV hybridization market with an estimated production of 21,490 units in 2025.
Market Competition
Hybrid wheel loaders and excavators account for the largest share of the global OHV market. Competition in this segment has intensified from the time Hitachi successfully launched the world's first hybrid loader in 2003, and Komatsu's hybrid loader made its debut in 2008. Engine downsizing is an important trend accompanying hybridization and, hence, Frost & Sullivan expects growth opportunities to emerge in the below 56kW (76hp) power bandwidth compact wheel loaders range.
Demand for Equipment
Hybrid excavators constituted the largest segment in terms of market demand in 2017, accounting for 39.5% of the total market. Although the excavator segment is currently the largest adopter of hybrid powertrains, the loader segment is expected to emerge as the largest adopter by 2025.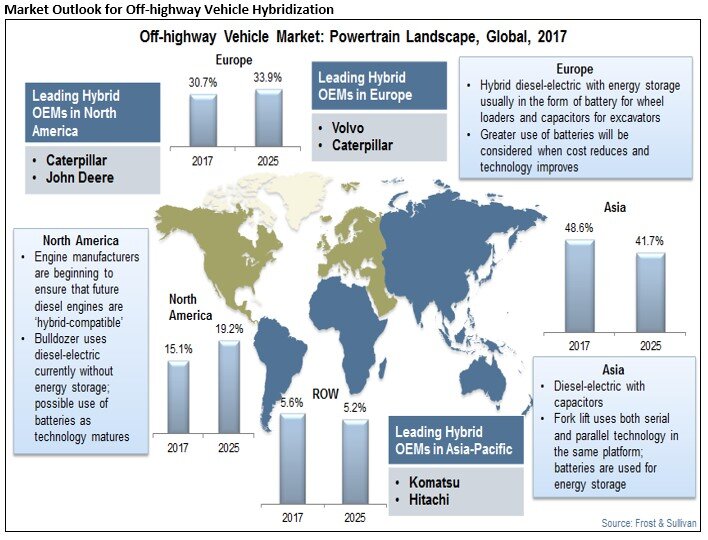 Frost and Sullivan's latest research study on hybridization indicates that Asia-Pacific will be the most lucrative market for OHV hybridization, followed by Europe and North America. Growth in China will drive Asia's dominance in total production. Manufacturers located across the globe are expected to shift their operations to China to produce hybridized OHVs for sale both within and outside the region. With an estimated market share of 42% in 2025, Asia will remain the biggest market for hybrid OHVs, followed by Europe and North America with market shares of 34% and 19%, respectively.
Factors Pushing Hybridization in OHVs
Improved Fuel Economy Benefits of Hybrid OHVs over Internal Combustion Engine (ICE) Powertrains
Rising fuel prices have been increasing cost pressures on the OHV market. Now that the technology
to improve fuel economy has become available, equipment manufacturers are offering new, fuel-efficient products. The adoption of hybrid technology depends heavily on fuel prices and while a good case can be made in Europe and North America, it is difficult to make a case for it in Asia-Pacific and the Middle East because ICE powertrains are preferred in these regions.
Emissions Regulations Compelling the Adoption of Hybrid Powertrains
Hybridization enables the use of a more compact engine with lower emissions requirements, in particular around the 56 kW (74 hp) mark. Nitrogen Oxide (NOx) requirements are significantly less stringent for engines below this rating. The imposition of more restrictions related to CO2 emissions on off-highway equipment, post Stage IV/Tier IV, is boosting the demand for hybrids. This will reinforce engine downsizing trends, highlighting the importance of hybridization as a key technology.
Technological Advancements Accelerating OEM Adoption of Technology
While the hybrid technology has been developed primarily for on-highway applications, there has been a crossover of the technology to the off-highway market as well. The focus on advancing off-highway technology will result in more efficient and durable equipment, thus promoting end-user acceptability over the long term. The full swing production initiation by OEMs will support the necessary economies of scale, leading to a reduction in the upfront costs of hybrid powertrains, making them more affordable to a wider base of potential end-user groups.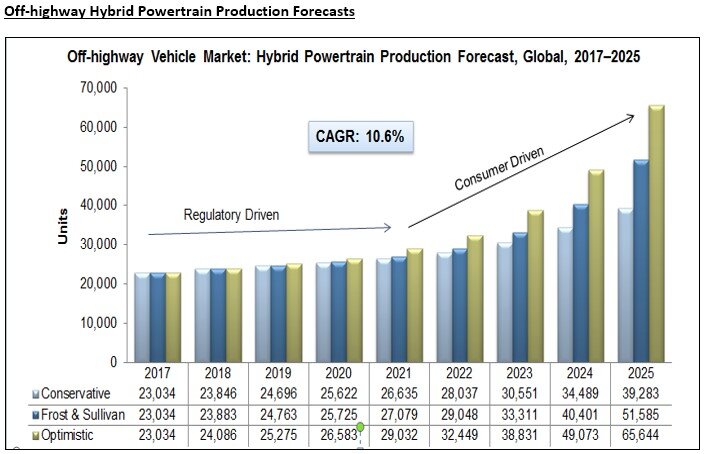 Hybrid powertrains are expected to account for approximately 3.0% (amounting to about 23,034 units) of global off-highway powertrain production in 2017. Growth during the period of 2017-2025 will be spurred by government incentives and regulations. However, post 2021, sales of hybrid OHVs will gain momentum from the low cost of ownership and the consumer preference for hybrid technology. By 2025, hybrid powertrains are expected to reach approximately 51,585 units. Engines powered by internal combustion will have a major share until 2020, but hybrid powertrains will reduce their share, as falling battery prices will lower the total cost of ownership (TCO). Regulatory mandates and low TCO for consumers will help drive the sale of hybrids in the market.
Market Outlook to 2025
OHV engine manufacturers are focusing on hybridization to tackle stringent emissions norms and increase fuel efficiency. Demand for hybridization in the OHV market is expected to grow at a CAGR of 10.6% to reach 51,585 units for the forecasted period of 2017 to 2025.
Electrical and hybrid vehicle technology will continue to advance and the focus will shift toward a battery manufacturing system. Most OEMs are involved in R&D of hybrid powertrains to develop cost-efficient machines. Hybrid excavators and loaders have made significant progress and will account for 82.7% of market demand in 2025.