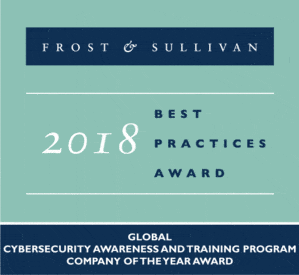 Today's cybersecurity companies continue to enhance their existing offerings with new features and capabilities or develop niche technologies that are in-line with customers' changing security demands; however, despite all this effort, many just cannot keep pace with the ever-evolving hacker model. Cybercriminals have a deep understanding of how to breach networks and devices. They attempt such malicious activities aggressively for personal financial gain, keeping themselves one step ahead of cybersecurity professionals. Companies in the security industry continually try to build their offerings' resiliency against cybercriminals through white hat hacking events or hack-a-thons to find vulnerabilities within the software—nevertheless, efforts can still feel fruitless in the face of human error.

Hackers understand that the quickest way to breach a network, without being blocked or detected by virus protection technologies, is through an organization's employees—many of whom are not trained to understand cybersecurity risks and can find themselves vulnerable to a hacker's trap. The leading causes of cybersecurity incidents include hacking, human error, malware, phishing, and spear phishing—totaling 55% of all significant events. Roughly one-third of phishing email recipients accidentally allow a cybercriminal to access their organization's ecosystem by opening a malicious email and clicking on an embedded link or downloading a file. Such actions can introduce malware, ransomware, or viruses to the organization's network, allowing hackers to steal the company's confidential information or worse, that of consumers.
Companies across industry verticals face the challenge of educating non-technical individuals on hacker strategies to prevent their organization from receiving a damaged reputation due to cyberattacks. Many companies send notifications via email or tack up posters in the employee kitchen to inform individuals of cybersecurity risks. However, the primary challenge regarding this goal is that people skim or ignore such emails and flyers, more worried about their day-to-day tasks than about learning how to detect malicious activity. Additionally, cybersecurity learning modules, videos, and classes often lose participants' interest in a matter of minutes; therefore, the cybersecurity industry needs better educational material that captures individuals' attention and teaches them through methods that "stick."
KnowBe4 empowers organizations across the globe to train their employees to "Think Before You Click," through its innovative and industry-leading Cybersecurity Awareness and Training Program that engages and enables individuals to retain essential information. The company offers a myriad of training platforms in various styles to meet any individual's preferred learning method, appealing to employees of any level, demographic, and digital knowledge base. KnowBe4's cybersecurity library consists of over 700 videos, interactive modules, posters, newsletters, documents, and games, ranging in style from edgy humor to corporate-friendly. The company provides the most extensive library of educational cybersecurity content available on the market, continues to upload new content to meet market demands, and creates company-tailored content for clients upon request. KnowBe4 provides customers with over 2,500 phishing templates that they can send to employees to test their reaction. Many customers have experienced a compelling 24% average drop in phishing attacks since employing the company's offerings.
Human error remains the single highest cybersecurity risk for any industry, leaving organizations to come up with better ways to teach their employees how to detect malicious emails and hacking attempts and stop the intruders before they can breach a network or steal valuable company or customer data. Security training and awareness companies must find a way to not only appeal to organizations for their services, but introduce content that is engaging, educational, and, ultimately, leads to a positive shift in employee behavior that better protects their organization.