11mar1:00 PMBeyond Infrastructure: SAP Migration to Cloud as a Strategic ImperativeWebinarCategory:Webinars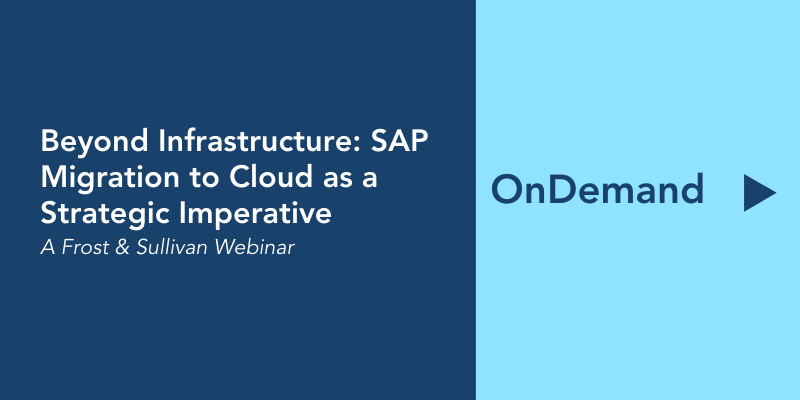 Location

Webinar

7550 1H, 10 W Dr Suite 400
Event Details

The business pressure to deliver projects faster, more efficiently, and with lower risk reaches from the C-suite to the IT department. Are you ready to learn what you don't know about the role of hybrid cloud-based data management and what it can do for your business today?

70% of IT leaders cite the move to the cloud as the most critical part of their digital transformation strategy. Learn how leveraging Platforms as a Service strategies for your S/4HANA single and multi-host landscapes reduces time to cloud and lowers TCO with faster ROI.

Register for this Webinar and explore:
Advanced data management as a strategy for risk reduction
SAP environments built for simplicity, speed, scalability and savings
Customer case studies: Coke One North America (CONA), SAP on NetApp
Listen to the experiences of experts, participate in a live Q&A and walk away with actionable strategies to ensure your data is accessible and available—wherever and whenever your business needs it.

Featured Industry Speakers:
In Cooperation with:

Karyn Price is a Senior Analyst in the network, data center, and cloud program for Frost & Sullivan, covering technologies like public, private and hybrid cloud infrastructures; data centers, cloud and managed services, and business continuity/disaster recovery (BCDR). Price has worked in the telecommunications and IT industries for 20 years, consulting for clients on marketing communications for both new and legacy technologies.

Dave Stump directs SAP GTM for NetApp's Global Pathways. An experienced SAP professional with a demonstrated history of working in the informatiyeson technology and SAP services industry. His expertise spans systems engineering/architecture and consulting work in sales, design, delivery and support of SAP environments, leveraging a detailed understanding of business systems implementation including overall project management, infrastructure design, deployment, alterations and improvements.

Scott McCullough, SAP Solution Architect at NetApp, brings 25 years of IT infrastructure experience supporting global organizations within a 24/7 environment. Today, he assists NetApp partners and customers who run SAP, working with them to architect an environment that will help manage and protect their SAP landscapes. With the recent Azure NetApp files (ANF) HANA certification, Scott has been assisting customers leverage unique ANF abilities to enable their SAP HANA landscapes.