04nov11:00 AM12:00 PMSilicon Valley-Based Start-Ups Driving Innovation in Energy, Oil, & GasWebinarCategory:Oil & Gas,Webinars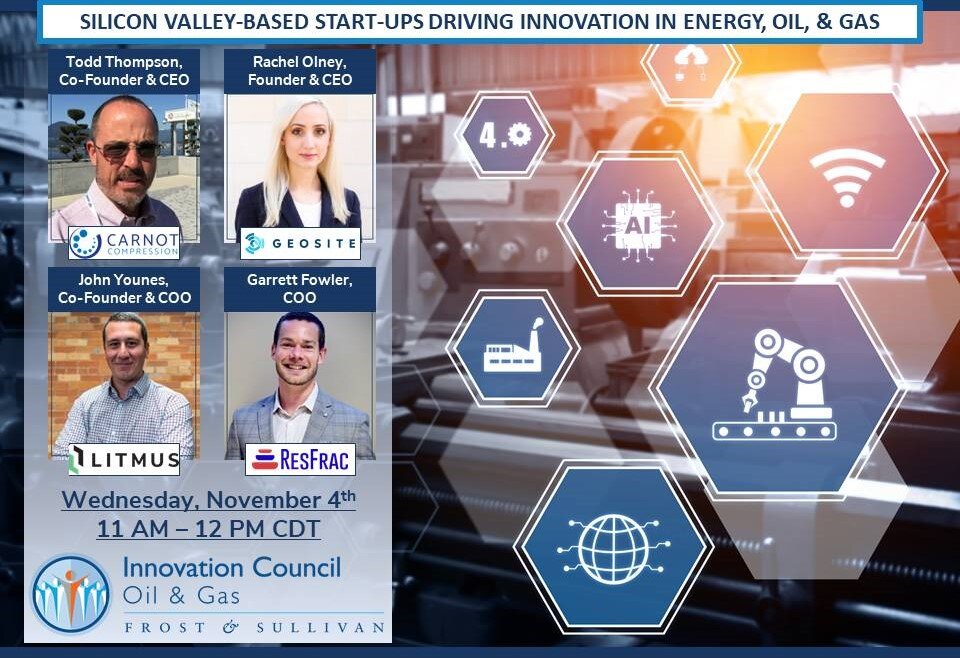 Time

(Wednesday) 11:00 AM - 12:00 PM
Location

Webinar

7550 1H, 10 W Dr Suite 400
Event Details

Over the last 6 years, the oil and gas industry has witnessed major volatility. We have experienced $100 oil; and most recently, price fluctuated between $40 and (below) zero. In response to the disruptions, operators and service companies have culled their ranks in the name of efficiency. With much energy technology talent on the sidelines (not employed by the energy majors), we are seeing a groundswell of start-ups and innovative technology companies ready to help change the stodgy culture that has existed in energy for the past decade. In order to survive, the oil and gas industry must dramatically eliminate costs and improve the recovery rates through the adoption of radically new solutions and digital technologies. While some oil and gas companies are developing these innovations themselves, each must invest, acquire, or partner with start-up companies to accelerate this change.

Frost & Sullivan's Oil & Gas Innovation Council invites those looking to benefit from innovation and disruption within the energy technology and oil and gas technology industries to join Rasholeen Nakra, a Frost & Sullivan Senior Industry Analyst, and a panel of Silicon Valley-based start-up companies that will showcase their solutions, impacts on the industry, and their journeys to investment and widespread industry adoption.

1.) CARNOT COMPRESSION's technology fundamentally transforms compression by removing heat during the compression process, rather than after it has been compressed. By capturing the waste heat of compression throughout the compression process, the energy required to compress air can be significantly reduced compared to common compressor technology.

2.) GEOSITE enables data fusion from tracking and monitoring systems, including daily and high resolution satellite imagery, drone and IOT data, to help users eliminate the need to correlate information in their heads.

3.) LITMUS enables out-of-the-box data collection, analytics, and management with an Intelligent Edge Computing Platform for IIoT. Litmus provides the solution to transform critical edge data into actionable intelligence that can power predictive maintenance, machine learning, and AI.

4.) RESFRAC optimizes operators' return on investment by providing the industry's only genuinely coupled hydraulic fracturing, wellbore, and reservoir simulator. ResFrac is used by small independents and supermajors alike, and has been applied across nearly every major American shale play: Permian, Eagle Ford, Bakken, SCOOP/STACK, Utica, Marcellus, Montney, Haynesville, and Vaca Muerta.
Discover start-up companies that are providing innovative solutions to the energy industry
Hear real success stories and pain points from start-ups
Join a roundtable of Council Members as they interact with the presenting companies
HOSTED BY THE FROST & SULLIVAN OIL & GAS INNOVATION COUNCIL:
The Frost & Sullivan Oil & Gas Innovation Council is the first member-driven, global executive network designed to help accelerate the pace of innovation in Energy and Oil and Gas.
The Oil & Gas Innovation Council spotlights innovations, new business models, processes, and best practices from all industries that have the potential to disrupt the status quo and put the members on the path for transformational growth.
SPEAKER:
TODD THOMPSON
Co-Founder & CEO

SPEAKER:
RACHEL OLNEY
Founder & CEO

SPEAKER:
JOHN YOUNES
Co-Founder & COO


MODERATOR:
RASHOLEEN NAKRA 
Senior Industry Analyst, 
Upstream & Start-Ups