08apr10:00 AMWhy You Need to Take a Holistic Approach to Web-ProtectionWebinarCategory:Webinars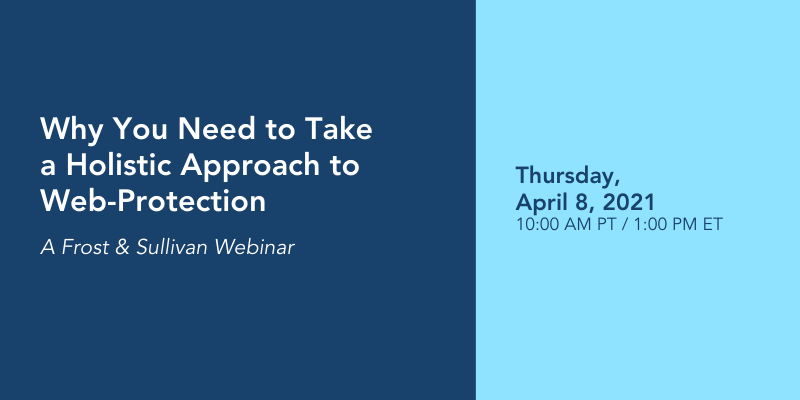 Time

(Thursday) 10:00 AM PT
Location

Webinar

7550 1H, 10 W Dr Suite 400
Event Details

Join this webinar with Frost & Sullivan's analyst, Mikita Hanets and Cloudflare, recently named the Innovation Leader in the Frost & Sullivan Frost Radar™: Global Holistic Web Protection Market Report.

Why join the webinar? We will show you how historically siloed web-protection products, now need to complement each other and be a seamless, holistic approach to web-protection. Enterprises across the world are looking for ways to strengthen their security posture with state-of-the-art products and services.

In this webinar, you will learn:
The current state of the web protection landscape – the roles of WAF, DDoS, Bot management
How the threat landscape is changing and its impact on web protection approaches
Which types of companies in NAMER/EMEA/APAC are highly targeted and why
Why defending against modern adversaries and attacks needs to take a holistic approach
Why WAF, DDoS, Bot management and API security need to be considered together in every web protection strategy
We look forward to seeing you there.

Featured Industry Speakers:
In Cooperation with:

Mikita Hanets is a Research Analyst with Frost & Sullivan's Cyber Security Practice. In this role, Mikita tracks the development of cyber security markets to advise vendors, end-users, and investors on technology and market trends. His latest research is focused on threat intelligence, mobile threat defense, and holistic web protection. Mikita joined Frost & Sullivan in 2019 and is based in London.

Vijay Chauhan is Senior Director of Product Marketing at Cloudflare, where he leads Product Launches and Content. Prior to Cloudflare, Vijay ran Product Marketing, Sales Enablement and Analyst Relations at Illumio. Before that, Vijay spent 4+ years at Splunk running Product Management and Strategic Alliances for Splunk's Security business. Vijay started his career as a Security Practitioner in Financial Services, spending 7+ years at Barclays Bank, handling core information security functions including Security Operations, Risk, Security Engineering, Application Security, and Identity & Access Management. Vijay has a BS in Computer Science from Cambridge, MA in Sanskrit from UPenn, and MS in Computer Science from Stanford.