15jun2:00 PM3:00 PMCustomer Service Center Myth BustersWebinarCategory:Webinars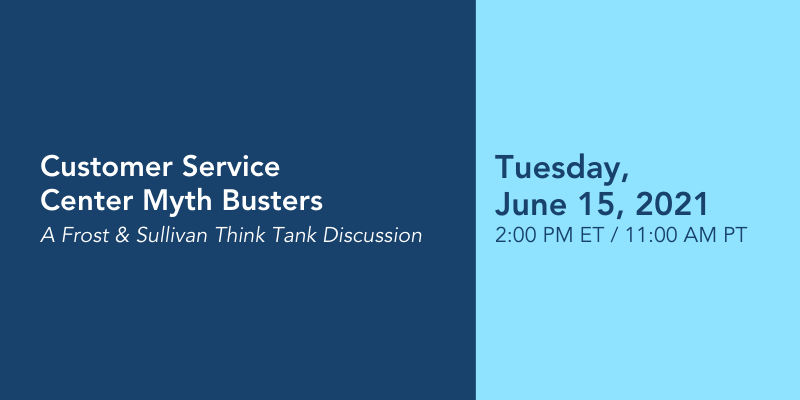 Time

(Tuesday) 2:00 PM - 3:00 PM
Location

Webinar

7550 1H, 10 W Dr Suite 400
Timezone
2:00 PM EDT / 11:00 AM PDT
Event Details

As some companies accelerate CX investments to survive the pandemic, every business will need to tackle those uncomfortable conversations that need to take place to thrive beyond the pandemic.

This live think tank will debunk common contact center myths such as:
Agent turnover is normal and we just have to work around it
We know our people, processes and technologies well – no need to go back to basics
Our corporate goals and IT investments are aligned
Investing in a new solution is daunting
It's impossible to develop customer relationships on digital channels
Register today to discover the solutions to these common contact center myths.

Featured Industry Speakers:
In Cooperation with:

Alpa has been with Frost & Sullivan for 25 years and has gained experience in business and strategy planning, technology and vertical market analysis, growth consulting, sales and marketing, event production, web design, and most importantly, creating and inspiring teams to be best in class. She has managed consulting projects that have ranged from strategy development to marketing support to end user analyses. Alpa is currently managing the CX Global team and conducting customer research on digital transformation.

Mike McCarron is Vice President of Strategic Alliances at Gladly. Before joining Gladly, Mike was an early member of the executive team at MobileIron, a pioneer in the enterprise mobility market, where he grew the Customer Success team from 2 to 125 members. With a strong technical background and over 20 years of hands-on implementation experience at companies including Vontu, Symantec, Connectify (acquired by Kana), Kana and Booz Allen Hamilton. Mike brings the right combination of leadership and experience to deliver a legendary customer experience.