Once the preserve of sci-fi movies, advanced vehicle technologies have now leaped off the screen and into the streets. Connected, Autonomous, Shared and Electric (CASE) vehicle technologies are creating massive transformation across the mobility spectrum. They are changing, in fundamental ways, everything from vehicle form, features and function to approaches to vehicle ownership, use and servicing.
CASE is not just an acronym; it is at the heart of many exciting innovations across the automotive value chain. While most of its implications have, so far, been visible on the upstream side of the value chain, i.e., around vehicle manufacturing and ownership, its impact will now be felt on downstream services as well—most significantly on the aftermarket.
Frost & Sullivan estimates that by 2025, in North America alone, 20% of vehicles will have telematics capabilities and, by 2030, almost 80% of vehicles on the road will have some sort of connected capability.
Similarly, by 2030, nearly 80% of vehicles in operation in the North American market will have Level 1+Level 2 autonomous/advanced driver assistance systems (ADAS) features. Autonomous vehicles are equipped with sensors—parking assist, side impact, lane departure warning, blind spot detection, and rear cross-traffic alert sensors, among others—which are meant to ensure safer driving. While these sensors serve the desired purpose, their addition to vehicle architecture has had a direct impact on collision repair services in the aftermarket, which will be discussed in greater detail below.
Another important aspect of CASE is the electrification of the powertrain. Frost & Sullivan anticipates that 4.8 million electric vehicles (EVs) will be on the road in North America by 2025, with a significant portion of these vehicles more than five years old.
The growing penetration of each of these technologies in the vehicles in operation will have an impact on the aftermarket, especially in terms of how these vehicles are serviced. We foresee five key ways in which the effects of CASE will play out in the aftermarket:
Transformation 1 – Collisions Drop, Repair Value Rises 
Frost & Sullivan projects a 30% reduction in the number of passenger car collisions in North America by 2030. While the number of collisions is expected to reduce significantly, the overall cost of collision repair is expected to increase incrementally. Various industry research estimates state that the cost of repairing an ADAS-equipped vehicle could go up by almost $1,000-$3,000. One of the major factors contributing to the rising cost of collision repair will be the need to recalibrate sensors in the event of impact-related damage. Every time a sensor's aiming is changed—either due to the replacement of some vehicle part like the windshield or suspension or when the sensor itself is changed— it needs to be recalibrated to achieve the desired functionality. Another reason that significantly contributes to the rise in repair costs lies in the first factor itself—the high cost of sensor replacement.
Transformation 2 – Changes in the Type of Collision
The addition of advanced sensors in forward collision warning systems and automatic emergency braking (AEB) will dramatically reduce the incidence of rear-end collisions. Meanwhile, collisions involving EVs frequently result in a complete write-off of the vehicle. For example, in the UK, more than half of the EVs involved in collision-related incidents are written off due to the extent of damage, which is largely attributable to the structural casing of the battery in these vehicles. Several of these collisions are categorized as Category S and Category N by the Association of British Insurers (ABI) and are not economically viable to repair, more so in the case of Category S damage, which is mainly structural. Once these cars are assessed as being beyond reasonable repair, they are disassembled in scrapyards and their parts sold in the grey market. For cars that can be repaired, there is a new set of challenges for the vehicle service personnel working on them.
Transformation 3 – Digitization of the Collision Value Chain 
Digital enhancements in the ecosystem can be leveraged to drive further advances in an environment where most vehicles have connected car capabilities. The ability to eCall is one such enhancement. While the basic premise of these functions is to reduce the response time during a crash-related emergency and, therefore, reduce casualties, they also have a complementary role in streamlining the vehicle's service function. Using the communication capabilities of these telematics systems, data can be collected in real time and relayed to insurance providers, vehicle manufacturers, vehicle owners, and even service shops. Connected features can guide a vehicle owner toward recommended repair shops and reduce stress during the post-collision process. It appears that OEMs stand to gain from the outset by allowing these recommended repair shops to feature on their network of authorized service shops and can even include independent aftermarket networks onto the telematics device platforms that are sold in the aftermarket.
Transformation 4 – New Training 
The introduction of newer functionalities in autonomous vehicles and EVs has probably had the most impact on the vehicle service industry. The inclusion of different types of sensors in ADAS vehicles and the completely distinct engineering of EVs require technicians working on such vehicles to be retrained and reskilled. While it may seem that EVs, which lack an engine, are less complex than vehicles with traditional IC engines, they pose a different kind of challenge related to their high-voltage wiring. Technicians need special training on how to safely operate the battery cells and wiring arrangements in EVs to effectively service these vehicles. The tools and equipment (especially paint booths) used in traditional paint shops have the potential to increase the temperature of both the car interior and the battery to levels that could affect the car battery. This underscores the need for modifications in existing equipment and tools as well. In the case of autonomous vehicles, the task of technicians is complicated because of the presence of different types of sensors. This is aggravated by the lack of standardization in terms of where these sensors are located across different vehicle brands. In the absence of some kind of standardization, or of training platforms for independent aftermarket (IAM) workshops, OE dealerships will end up servicing most of the work that involves sensors.
Transformation 5 – New Services 
In line with their impact on the entire value chain, CASE vehicles are creating demand for newer services and service requirements. ADAS recalibration, which was discussed earlier, is emerging as a new job category for service shops, opening up a completely new business stream for diagnostics tools providers.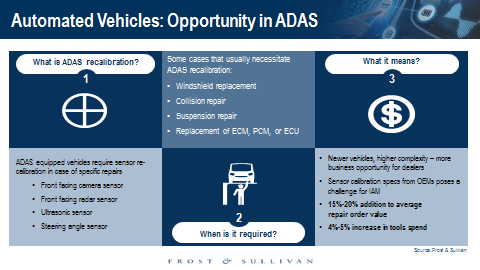 Today, almost all major diagnostic tools and equipment providers in the market have ADAS recalibration tools in their portfolio. With almost three out of four cars on the road likely to have sensors installed in them by 2030, the demand for sensor recalibration is poised to increase significantly. Collisions are a major factor behind the need for sensor calibration and will require workshops to invest in ADAS recalibration systems. Precision in sensing and effective functioning of these autonomous features also require that the surface areas of camera lenses and sensors be kept clean. This emphasizes the importance of workshops being vigilant to not damage any sensors/cameras during collision repair. The level of attention that needs to be paid while servicing such vehicles is evident from the detailed specifications related to the thickness of paint coating on them. Such specifications are aimed at safeguarding and ensuring the continued functioning of some sensors.
Frost & Sullivan will be at AAPEX!! If you are visiting, we would love to meet you. Please reach out to Kumar.Saha@frost.com or Angela.Hall@frost.com for more information.