Introduction
Beginning 2019, a large number of telecom operators announced their plans for 5G launch, and the second quarter of the year finally witnessed some of these operators launching 5G commercially. Between 2018 and 2020, 50+ countries in North America, Europe, the Middle East and Asia Pacific have announced plans to launch 5G services. On the other hand, the launch of commercial 5G services in certain countries is made earlier than initially planned, including the United Arab Emirates and Saudi Arabia in the region.
Operators across Asia, South Korea, China, the Americas, UK, and Europe accelerated their 5G trials/field testing and started offering 5G networks in pockets. Verizon, AT&T, Vodafone, Etisalat, SK Telecom, LG U+, STC, Ooredoo, and a number of other telcos have made 5G available to their consumers. Globally, fixed wireless access (FWA) has emerged as one of the first use cases for 5G. Telecom operators like Verizon, Three, EE, Vodafone UK, Sunrise Switzerland, Telia Finland and many others have already started offering 5G FWA. It is estimated that the global 5G FWA market is expected to surpass $46 billion by 2026.
In the Middle East, STC, Etisalat, Ooredoo Qatar, Mobily, Zain, and du have launched 5G and are aggressively ramping up the coverage of their 5G networks. However, consumers will have to upgrade to 5G compatible devices; and as of now, there are only a handful of options, mainly by Huawei, Samsung, Xiaomi and Oppo. However, this isn't expected to hamper the adoption in anyway as we expect more 5G consumer devices to launch in the year ahead at a competitive price point.
5G in the Middle East is not just about technology, but it is also a national agenda for many of the countries. For e.g. in case of the UAE and Saudi Arabia, national initiatives like EXPO 2020, National Transformation Plan, Neom City are all going to leverage 5G networks in new and innovative ways. Additionally, there are numerous opportunities to build innovative use cases, and solve real problems that impact the citizens and the wider society; hence the potential impact of 5G in the Middle East region is far greater. More recently, the telecom ministry of Pakistan has invited telecom operators to initiate 5G trials.
5G in the GCC: Update
A few months ago, the Arab Spectrum Management Group (ASMG) announced the release of the 3.3 to 3.8 GHz spectrum range for mobile broadband. This was an important step to increase the availability of the spectrum for 5G deployment across the region, and enable the accelerated rollouts of the ultra-fast 5G network in the region. 5G mobile broadband (MBB) equipment are expected to operate across in the whole of 3.3 to 3.8 GHz range. This will enable accelerated growth for the equipment ecosystem; increase economies of scale for device manufacturers and most importantly, establish a conducive environment to quickly provide affordable devices to the market.
Additionally, 5G new radio (NR) uplink can also exploit spectrum resources in lower frequency bands that the operator has been using for LTE (e.g. 700, 800, 900, 1800 and 2100 MHz). This scheme allows improved uplink coverage at higher frequencies leading to a considerably faster and more cost efficient 5G NR deployment with more efficient and flexible use of all spectrum assets.
The spectrum range of around 26 GHz will be used for mm Wave which will increase the data bandwidth availability over smaller, densely populated areas. mmWave will be a key part of 5G in many cities, powering data in sports stadiums, malls, and convention centers, as well as basically anywhere data congestion, might be a challenge.
With the commercial launch of 5G in the GCC, the market is expected to have significant momentum for innovative services spurring future growth. According to market estimates, 5G will account for 16 percent of total connections in the GCC by 2025. Industrial automation, eMBB, immersive experience, digital entertainment, campus-wide networks, AR and VR, and IIoT are just some of the benefits that consumers and enterprises can expect. Here is a summary of 5G rollouts in the GCC:
In the UAE, 5G became available in May 2019 with Etisalat confirming to offer its latest network solutions including 5G wireless. In early 2019, du telecom also announced the rollout of 700 5G sites with their partners.
Saudi Telecom Company (STC) has made 5G available in Saudi Arabia since June 2019. The availability however is limited to specific areas of major cities through home routers. Zain and Mobily too are on moving ahead with their 5G plans in Saudi Arabia.
In Kuwait, Zain was the first one to announce their 5G launch for home internet. Ooredoo and VIVA too made similar announcements later on, and introduced their 5G services. By February 2019, VIVA had over 1,000 5G sites, and is expected to roll out nationwide 5G services later on.
Ooredoo Qatar has been working on implementing 5G from past few years, and was the first one to provide commercial 5G access. Ooredoo may also launch 5G in other countries that it operates into. Vodafone Qatar too is following the suit.
With VIVA launching their 5G plan in July 2019, 5G is now officially made available in Bahrain. The availability however is limited to a few areas as of right now. Batelco too is working to launch 5G.
Opportunities and Outlook
The three pillars of networks, i.e. eMBB (targeting mainly higher area capacity), massive Machine Type Communications (targeting a massive number of devices), and Ultra Reliable Low Latency Communications (targeting a wide range of applications) are expected to drive the innovation for a variety of use cases, and enabling the development of Internet of things (IoT) and Industry 4.0 applications. However, 5G use cases will need much closer collaboration between the ecosystem players, i.e. telecom operators, telecom regulatory authorities, telecom infrastructure OEM's, enterprise customers, and various industry bodies. There are as much telecom operators and telecom infrastructure OEM's could do to identify use cases and execute PoC's; but the ecosystem players need to realize the true value of 5G and work with the technology providers to identify and develop the most beneficial use cases. There is enough talk about the 5G use cases in the immediate future, and the figure below reinforces the use cases that are almost ready to go.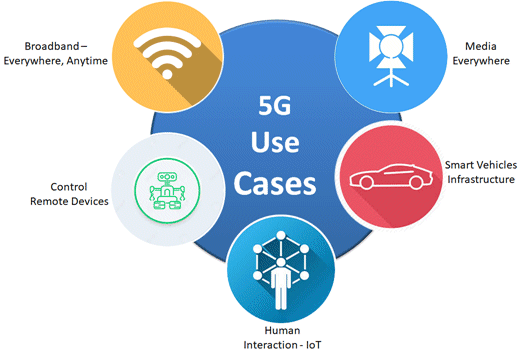 Fixed Wireless would undoubtedly be one of the top 5G use cases, and deliver Internet access using wireless network technology, instead of fixed lines. It will use millimeter wave spectrum, as well as beamforming to bolster wireless broadband services. Additionally, eMBB promises the next era of immersive and connected experiences at fast, uniform, lower latency, and lower cost per bit. The need for high-speed internet with near real-time responsiveness is witnessed with AR and VR experiences. The 5G standard is expected to take the mobile computing performance to 20 GB/s peak throughput and 1 GB/s throughput in high mobility. In a fully connected world, the role of connectivity is one of the most critical pillars for technological advancements, enablement of services, and progression of almost all of the industries. With that being said, there are a variety of 5G use cases that are being tested or developed for the mid-term across industries, which will ride on the ultra-high speed and low latency of 5G networks. The figure below presents a snapshot of some of those opportunities.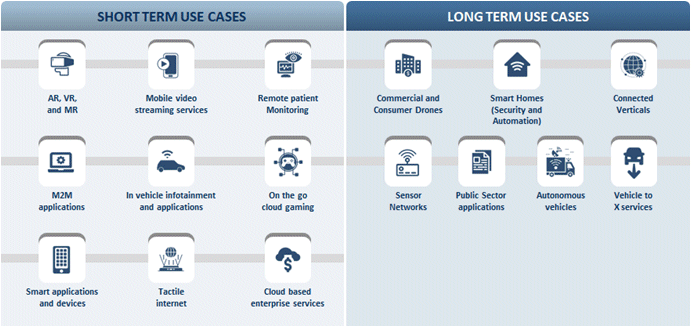 From a vertical standpoint, the automotive sector (leveraging IoT) is expected to aggressively ride on the 5G wave and take a lead on developing the use cases. Beyond this, the gaming industry too will leverage ultra-high speed 5G networks to deliver immersive experience as well as enhancing the penetration of cloud gaming. The bandwidth requirements for VR/AR to work effectively are substantial, as most VR/AR applications are very data intensive. Advanced VR/AR content will depend on cloud servers to meet growing demands for realistic experiences provided to consumers at affordable prices. While an average throughput of 100 Mbps might be possible over existing 4G networks, some premium VR/AR applications will demand even higher speeds and lower latency.
Conclusion and Outlook
According to various industry sources, the 5G connections are expected to reach 1.5+ billion by 2025. The initial growth is likely to be driven by fixed wireless access, and other opportunities will further accelerate the momentum. eMBB will drive uptake in 5G services. The suitability of 5G networks as a last-mile solution is expected to drive the adoption to millions of connections by 2025. The core industries in the ME region, e.g. oil and gas, utilities, civil infrastructure, transportation, logistics are all ripe for 5G use cases. It is worth noting that a large number of use cases could be built around IoT, but it would still need a strong network layer for near real time processing.
Additionally, the region boasts of a strong fiber network, which is one of a kind. However, there would be instances (especially in remote sites where laying fiber is cumbersome and often expensive) when deploying 5G network equipment will not only easier but also significantly faster and extremely cost efficient. Given that the industry has overcome the initial challenges around the deployment and configuration of 5G networks, the future will only hold immense opportunities. From a consumer perspective, we can expect to see further developments in consumer devices which will be cheaper and easily available as the technology becomes more pervasive. Cheaper handsets and devices will be a catalyst in launching new consumer-driven use cases like AR/VR and cloud gaming with lower latency and superior user experience 5G promises.