With summer in full swing and most of you getting ready to hop on and off flights, I thought this was the right time to check into the airline industry and evaluate how digitization is changing dynamics for the better…for the airlines, and for us as their passengers.
It is no secret that the automotive and healthcare industries have raced ahead in the digital sweepstakes, trailed by the airline industry, which has faltered, rather than flown, off the blocks. A sense of urgency now pervades the latter. According to recent research by Frost & Sullivan, digital transformation programs in the airline industry could generate an incremental value of $5-$10 for every passenger, annually. Such extraordinary value generation would derive mainly from improved productivity, cost savings, and new ancillary revenue streams.
Airlines, of course, realize this. Digitization is already fostering innovative business models, while rapidly transforming core and non-core functions. Meanwhile, partnerships with technology solutions providers are driving overall corporate strategies—essentially, the vision of being among the most preferred airlines, improving customer satisfaction, and supporting sustainable profits.
Against this backdrop, Frost & Sullivan's recent customer research survey among airlines segmented as Tier I, II, III and IV, based on their annual passenger traffic volumes, came up with some interesting insights about airlines' digital transformation: what do airlines understand by digital transformation; which functions are in the most critical need of a digital makeover; what gaps remain; which airlines are most and least prepared for digital transformation; and what airlines might, thanks to their digitization initiatives, give you a better experience the next time you take to the skies.
These then are my top 10 takeaways straight from the cockpit: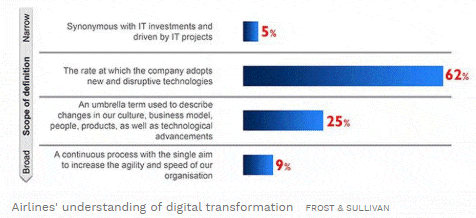 If it's any indication that the airline industry is now gradually looking to a digital future, over 62% of respondents perceive digital transformation as being "the rate at which an airline adopts new and disruptive technologies." More importantly for me, however, is that about a quarter, particularly Tier I airlines, have a more holistic view of digital transformation, viewing it as an umbrella term that embraces changes to culture, business models, people, products, as well as advanced technologies.
Promisingly, the digital transformation vision of most airlines centers on improving customer-related processes and implementing new technologies and innovative programs to engage with passengers and enable a seamless passenger journey. Other areas that are acknowledged, albeit to a lesser extent, are improving operational efficiencies, enhancing sales, and enabling sustained profitability.
In a nod to how digital transformation is an integral part of any airline, over half the airlines already have a dedicated team to manage digital transformation and, indicative of its pervasive impact across the organization, these teams span personnel from IT, sales, marketing, and customer services. Others are increasingly asking their Chief Information Officers to don the hat of Chief Digital Officer as well.
In terms of which elements are regarded as crucial to their digital transformation journey, an overwhelming number of airlines prioritize infrastructure modernization (data centers and cybersecurity) and project management (business case development) over IT procurement /system modernization and promoting IT skills among staff.
The principal thrust of digital transformation investments appears to be on internal processes like passenger data capture, complaints management, digital call centers, and business intelligence. Significant investments are also being channeled towards developing new digital capabilities for passengers including omnichannel experiences, mobile apps, augmented reality/virtual reality and e-commerce.
Airlines are quite clear in recognizing that IoT/Big Data Analytics and Artificial Intelligence/Machine Learning will experience the highest adoption levels and will have the most profound impact on their business over the next three years in terms of their revenue generation and savings potential.
Change comes in threes. So the three business units that airlines believe will feel the greatest impact of digital transformation over the course of the next three years are IT, airport operations, and sales.
Two key performance indicator targets to evaluate the success of airline digital transformation programs have emerged: firstly, increased customer satisfaction and, secondly, improved profitability.
Interestingly, airlines make a clear distinction between their budgets for digital transformation and for IT. For Tier 1s, in particular, digital transformation programs appear to be on course to become much larger than IT.
Airlines are gung ho about their progress in digital transformation vis-à-vis their competitors. Although a slim 6% feel that they are leaders in digital transformation and are driving innovation through their investments, a substantial 91% feel that they are either more advanced than their competitors or at least keeping up with them in terms of their digital readiness.
On The Right Flight Path: Who's Digitally Ready
And as for who made it to the runway, all primed for digital takeoff and who is still stuck in the hangar? Airlines were asked to gauge their overall digital transformation readiness on the basis of four key criteria—maturity, vision & strategy, innovation culture, and financial commitment.
In overall regional terms, airlines from the Asia Pacific emerged at the top, followed by Europe, the Americas, the Middle East, and Africa.
Tier I airlines (airlines with annual passenger volumes of 25 million and above) like Qantas, Emirates and other European airlines (EasyJet, KLM, and SAS, among them) staked their position at the forefront of digital readiness. The main differentiator here, compared to their smaller counterparts, was their culture of innovation, and financial commitment. Tier II competitors (airlines with annual passenger volumes of between 10-25 million)—including Swiss, Malaysian and Cathay Pacific—were lauded for their digital maturity and clear digital vision. Tier I and II airlines from Europe and the Asia Pacific had the largest digital transformation budgets, proportional to their revenues, compared to smaller sized airlines in other regions.
Interestingly, four different airlines topped each category. Emirates set the benchmark for digital vision & strategy, Malaysian Airlines for digital maturity, EasyJet for innovation culture, and Qantas for the financial commitment. Considering all four categories, Qantas—the third oldest and safest airline in the world (no accidents ever!)—was unveiled as being the most digitally ready airline, globally.
So forget Winterfell and the Starks. "Winter is coming" will be true for me this summer as I hop onboard a Qantas flight and take off into the digital skies!
Article was originally published on Forbes.com