French industrial giant Alstom's acquisition of Bombardier's rail business allows it to have a more visible global presence and complements its activities in North America. With this acquisition, Alstom will expand its manufacturing footprint in North America with Montréal as its headquarters in the Americas.
Bombardier Transportation has a strong presence in China with five manufacturing plants, one engineering site, and five administrative offices. In India, it manufactures out of two locations and has four sites dedicated to engineering services. Alstom has four administrative offices and three manufacturing sites in China, and three manufacturing sites and one administrative office in India. This brings the combined manufacturing power of the two firms to 13 locations in India and China, where most of the manufacturing for global projects will take place.
Bombardier's presence in Eastern Europe, where it has five manufacturing sites, would support cost-effective manufacturing as has been achieved in China and India. Simultaneously, it would strengthen Alstom's presence in Germany and the U.K. with Alstom currently having only one manufacturing site in Germany. Bombardier has two manufacturing sites in the U.K. and six in Germany. The presence of Alstom and Bombardier in growing markets would enable ease of manufacturing and facilitate technology transfers.

A Memorandum of Understanding (MoU) was signed by Alstom with Bombardier Inc. and Caisse de dépôt et placement du Québec (CDPQ), which holds 32.5% of Bombardier Transportation. This makes CDPQ the largest stakeholder in Alstom with approximately 18% share. This pushes Alstom's revenue to an estimated $16.7 billion, propelling Alstom to second place behind China's CRRC, which leads the market with over $30 billion in revenues with 90% of the Chinese behemoth's business deriving from domestic operations.
Bombardier's product capabilities in tram and light rail, monorail, and people-mover segments would allow Alstom to offer comprehensive rolling stock solutions to the markets in which it operates while also addressing client-specific requirements in these segments.
Increasing urbanization across the globe is highlighting the need for companies to offer products and services that promote sustainable and environmentally friendly mobility practices. Both Alstom and Bombardier Transportation are committed to developing environmentally friendly products and solutions that support sustainability in railway operations. In this context, the acquisition is expected to allow Alstom to gather momentum for its hydrogen-powered trains in North America, which has several non-powered lines due to the dilapidated nature of the region's extensive railway networks.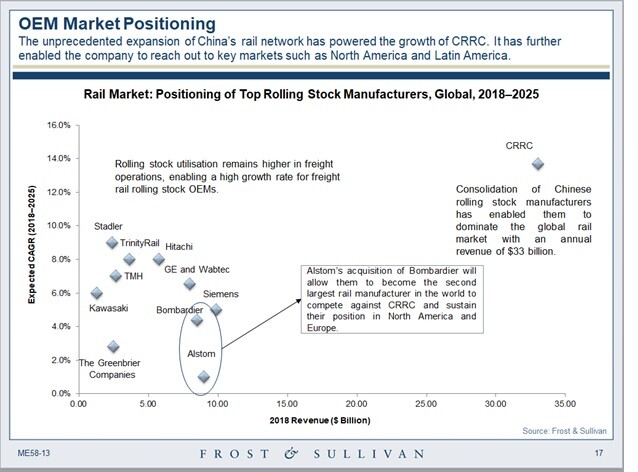 Regional Developments
Europe has plans to decarbonize rail operations by 2040. This vision foresees the complete replacement of diesel-powered rail vehicles with alternative powertrains and an increase in electrified lines. The acquisition of Bombardier Transportation represents a step toward achieving the decarbonization goal through the increased production of state-of-the-art zero-emission trains. Alstom is producing zero-emission trains in Germany with the idea to subsequently expand and accelerate their adoption in other parts of Europe.
Mexico, Eastern Europe, China, and India will become manufacturing hubs for Alstom, which will boost existing throughput for global projects in these regions. In some cases, it may even cause the delivery dates of ongoing projects to be met earlier than originally scheduled. For instance, Alstom's manufacturing unit in Sri City in India is involved in the Sydney and Montreal metro projects with current delivery dates of 2021 and 2023, respectively. These projects could be completed by 2021 as a result of the enhanced capacity related to the acquisition of Bombardier. The faster turnaround from production would positively impact the existing backlog, which stands at $81.25 billion.
Alstom's New Acela Express or Avelia Liberty for Amtrak is testing in Pueblo, Colorado, in the U.S. The total order of 28 trains has a delivery schedule beginning in 2021. The first Acela Express trains were jointly manufactured by the consortium of Alstom and Bombardier, which began operations in December 2000. The acquisition of Bombardier will now not only enable Alstom to speed up testing and ensure faster delivery, it could also allow the companies to combine their technologies in high-speed rail rolling stock, train control systems, and a mix of other solutions to create an entirely new breed of rolling stock for several new projects in North America.
The combination of Alstom and Bombardier Transportation would increase Alstom's global fleet of rolling stock, while Bombardier's extensive research and technology network would enable Alstom to offer innovative and sustainable mobility solutions.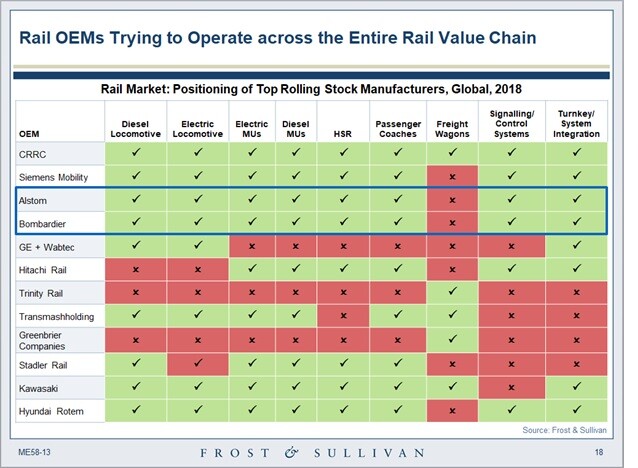 Alstom's Strengths
Innovative technology in rail systems and automation of railway operations
Greener technology in trains with alternative powertrains such as hydrogen-powered Coradia iLint, which is successfully operating in Germany and attracting local operators in Europe that are trying to replace diesel trains on non-electrified lines
Strong presence in EU with 13 manufacturing sites in France and seven in Italy
Supplies metro cars, signaling systems, and high-speed railcars in parts of North America
Strong focus on sustainable mobility
Bombardier Transportation's Strengths
Strong presence in Americas with nine manufacturing locations
Strong presence in Germany and the U.K. with eight manufacturing sites
Light rail, monorail, tram, people movers
Globally dispersed R&D centers
Innovative solutions for sustainable mobility
Will Focus Shift to the Business Jet Market?
Now let's shift our focus to the aerospace portions of Bombardier.
In the wake of the recent announcement about Airbus increasing its share from just over 50% to 75% of the A220 aircraft, what is the next chapter for Canada's flagship manufacturer? The design and launch performance of the Bombardier C Series aircraft exceeded original estimates, doubling in cost and taking seven years to enter service. This underestimation is in line with other aircraft manufacturers that have struggled while bringing not only new platforms to market but also updating existing platforms. The difference for Bombardier and other original equipment manufacturers (OEMs) is the depth of diversification of business lines.
In addition to Bombardier losing its C Series line, now rebranded the A220 Airbus, the Canadian manufacturer experienced a loss of the long-standing investments that helped build the empire. When will the divestment stop? The turboprop business has been offloaded with the de Havilland Dash-8 going to Viking Air last year. The CRJ series business line is in the process of being absorbed by Japan's Mitsubishi Aircraft Corporation with the transaction expected to be completed this year. The remaining aerospace business left with Bombardier is business jets. However, rumors swirl around the company's conversations with Textron Aviation.
Will this simple missed estimate, though common in the aerospace industry, result in a fire sale with no extinguisher in sight or will the business jet segment be enough to sustain the company's name?