Automated driving (AD) is one of the main catalysts of this shift and is creating massive opportunities and challenges for automakers. Intensifying safety and certification requirements and spiraling complexity are highlighting the key role of simulation in AD development. This, in turn, is underlining the need for accurate and reliable simulation; for simulation tools that are able to effectively identify and collect relevant data and leverage real world driving conditions to cover, create and test a range of potential AD scenarios. Meanwhile, the breakneck speed of advances is emphasizing the need for regulatory standardization and deeper collaboration across the ecosystem between OEMs and simulation tool developers.
MATHWORKS – FROST & SULLIVAN'S EXECUTIVE ROUNDTABLE
Automated driving (AD) represents an area of tremendous growth in automotive R&D. The challenge to bring to market AD features continues to revolve around the safety of the system and software. Exhaustive testing is required to verify complex AD algorithms and physical road testing has its limitations. Simulation has emerged as a key tool that is helping developers bring AD applications in new-generation vehicles to the market.
Autonomous Vehicle Forecast – adoption of L3,L4 and L5 AD hinges on a combination of regulatory framework development and technical integration
Exhibit 1: Autonomous Vehicle Sales Units (Thousand)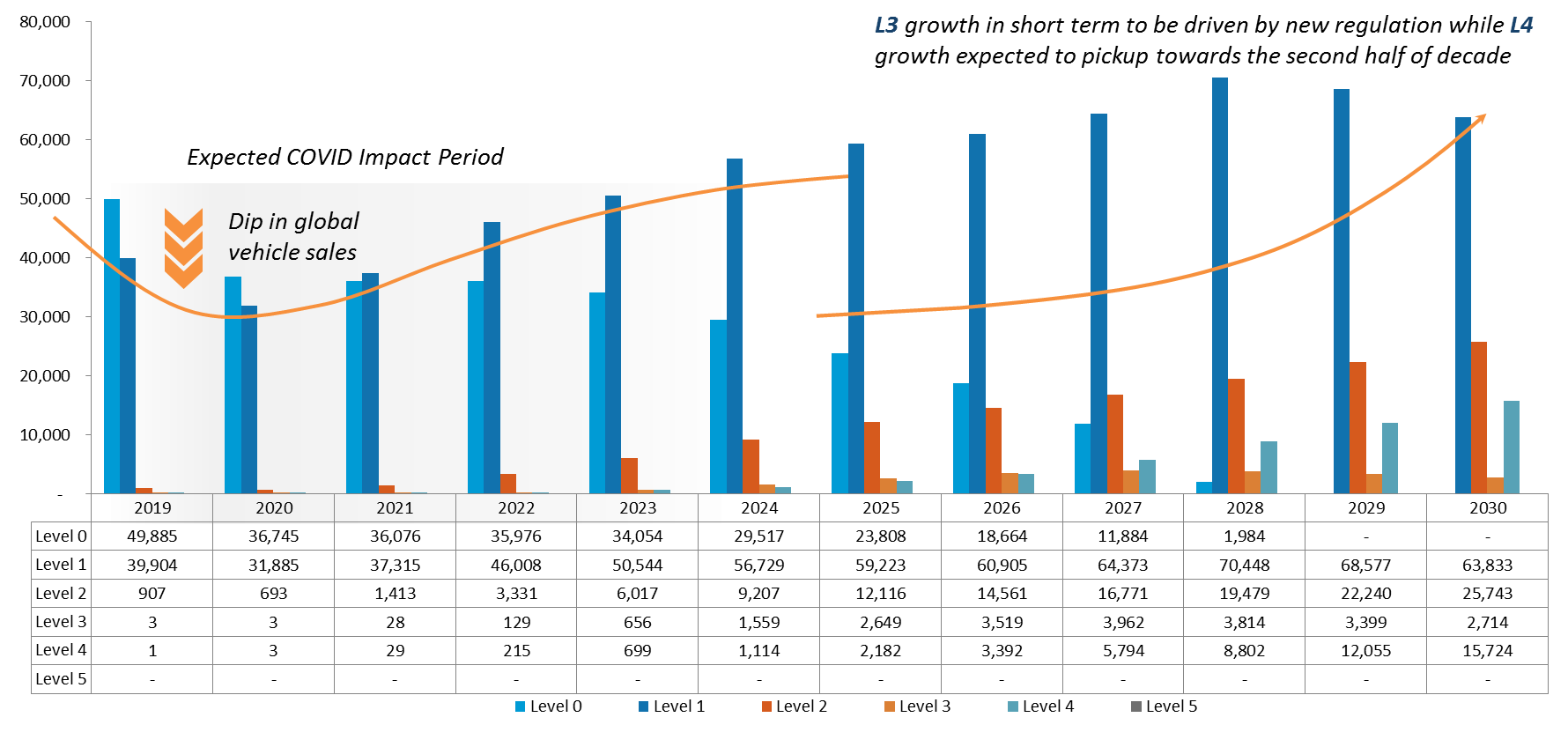 Notes: Impact of recent announcements of Level 3 regulations have been considered along with COVID impact
L2+ have not been considered in this forecast
Source: Frost & Sullivan, 2021
While simulation for AD offers multiple benefits, including time and cost savings, it has its own set of challenges. Some of these include the need to build realistic virtual scenarios, integrate different systems from multiple domains and ensure the reliability of environment, vehicle, and sensor models without compromising on simulation speed.
Accordingly, the theme of MathWorks 2nd Executive Roundtable held virtually earlier this year was "Automated Driving – Challenges in Simulation." It brought together stakeholders from across the ecosystem, including leading global OEMs, start-ups, tier 1s, and engineering service providers. Panelists shared insights into the importance of simulation in AD development, the major challenges in the space, and the strategic responses being adopted to overcome them.