Power generation can be segmented according to the primary energy source: fossil fuels, renewables, and nuclear. Irrespective of the energy source, power plants are expected to deliver clean and stable power without significant interruptions. Consequently, power plants have to be safe, efficient, reliable, and responsive to consumer demands. The use of automation and control systems (ACS) help ensure that power plants meet and/or surpass these criteria.
In the past decade, renewable energy sources have gradually taken precedence over fossil fuels. The power generation mechanism for each primary energy source is different; therefore, the associated control systems have to be tailored accordingly.
In the 2015 International Energy Agency report about Southeast Asia, the region is experiencing a gradual shift towards renewables. By 2040, renewable sources will constitute 22% of electricity generation, increasing from 13%, which was estimated in 2013. Existing power plants and the grid have to be able to cope with these new power generation, transmission, and distribution methodologies.
The deregulation of energy has led to a rise in independent power producers (IPPs), with the aim to reduce long-term disruptions in electricity supply and, as importantly, to sustainably provide high-quality power. Many automation and control systems have led to efficiency improvements and are therefore widely adopted in the industry. Automation technology has provided a means to not only control but to intelligently manage the operation of power plants. Consequently, IPPs are capable of supplying reliable power generation whilst sustaining a profitable operation.
Rapid industrialisation of emerging countries such as Vietnam, especially in power-intensive industries such as manufacturing, is a key driving factor in developing advanced ACS products.
Companies Offering Automation Solutions
Within the power generation sector, companies such as ABB, Yokogawa, Rockwell Automation, Honeywell, Siemens A.G., and Schneider Electric have long standing involvement in improving the efficiencies and reliabilities of power plants. The types of automation and control solutions they offer include distributed control systems (DCS), safety instrumentation systems, supervisory control and data acquisition, and programmable logic controllers.
Total revenue from the top 6 manufacturers of ACS for the global industrial automation sector was estimated to be about USD 80 billion in 2015. Manufacturers are not the sole contributors to technological developments in this sector; universities, research institutes, energy companies, and government agencies have contributed towards facilitating innovations in ACS.
Figure 1 shows the reported market share by revenue of the top 6 companies in the industrial automation sector in 2015.
Figure 1: Industrial Automation Sector Market Share, 2015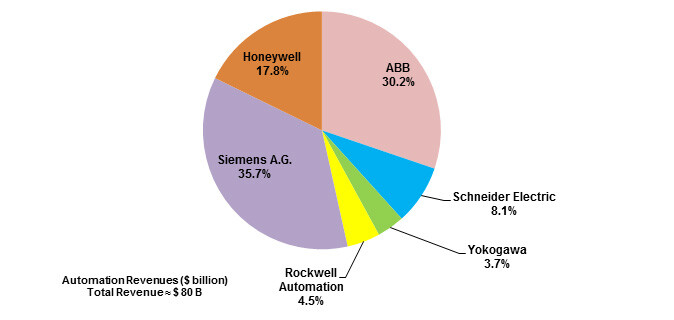 Trends
Plant operators have increasingly preferred modular solutions that integrate sensors, communications protocols, control algorithms, and surge protection, i.e., an all-in-one system that can be adopted in stages. This is understandably so because modular system designs reduces the complexity of fault diagnosis, detection, and isolation.
Automation companies are also expected to provide value-added services to support their hardware and software installations. This trend is becoming commonplace, as end-users across sectors expect suppliers to provide holistic business solutions that encapsulate the entirety of the product that is sold.
The Internet of Things has transformed the way stakeholders utilise networked technologies. Within the power generation industry, network-enabled DCS are viewed as an important feature in power plants. The ability to remotely monitor the plant's parameters and conditions is especially crucial when supply interruptions have to be limited to minutes instead of hours.
The shift towards renewable energy sources is gaining traction in Southeast Asia and Oceania, with a net increment of 10% and 2% respectively in 2010–2012. Distributed power generation will require a higher degree of automation and control in order for the various power sources to interface with the grid. The key issues in this case are the variability of the input power from wind and photovoltaic sources and having reliable energy storage mechanisms to sustain energy demand during periods of low power generation.
Challenges
Moving towards completely automated solutions in power plants requires significant effort in retrofitting legacy devices and machines. This requires a cost-benefit analysis to justify investments in purchasing new systems that are compatible with state-of-the-art automation solutions or to retrofit existing devices with smart solutions. Operators should be wary of choosing sub-par automation solutions as a compromise because they merely treat the symptoms and do not solve the problem at hand.
With a plethora of devices being developed by different manufacturers, a common operational framework is crucial to establish secure and effective communication between devices. A device that cannot be integrated into mainstream systems is a lost cause that will not generate any revenue.
The idea of having networked systems in power plants is often spoken in the same breath as terror threats that target national utility companies. The advent and subsequent integration of Big Data has led to the accumulation of information about power plants; this is often subjected to the scrutiny of terrorist groups wanting to inflict damage onto society. Data security and management will play an important role in ACS and both features should be thought of holistically instead of independent entities that could be subsequently integrated.
Conclusion
Implementation of automation and control solutions for the power generation sector is a step forward towards modernisation. This is an industry that has existed since George Westinghouse established an electricity distribution network using AC power in the early 1900s. Securing, monitoring, and improving the efficiencies of power plants are important in sustaining the economy and citizens.
The use of distributed renewable energy sources is perceived as the future of power generation because fossil fuel reserves will eventually deplete. In this regard, the power generation value chain should future-proof itself by implementing the automation and control solutions that match their operational requirements. This is concurrent with various Industry 4.0 measures that are being taken by developed nations to revolutionise and strengthen their industrial infrastructure.
Sources: This report includes data obtained from secondary research and from the 2015 annual reports of Schneider Electric, Yokogawa, ABB, Siemens A.G., Honeywell, and Rockwell Automation.