Electromobility is gaining momentum with improving charging infrastructure, expanding manufacturing capacity, policy support, and purchase incentives. Vehicle electrification is spearheading the transition to environment-friendly low-carbon transport. Paradoxically, this push to clean mobility is throwing up serious sustainability concerns related to a critical component of electric vehicles (EV) – the battery. This issue is gaining urgency as the estimated stock of xEVs in Europe alone is estimated to reach 51.1 million by 2030, with all major automakers aggressively expanding their EV portfolios in the quest for zero emissions.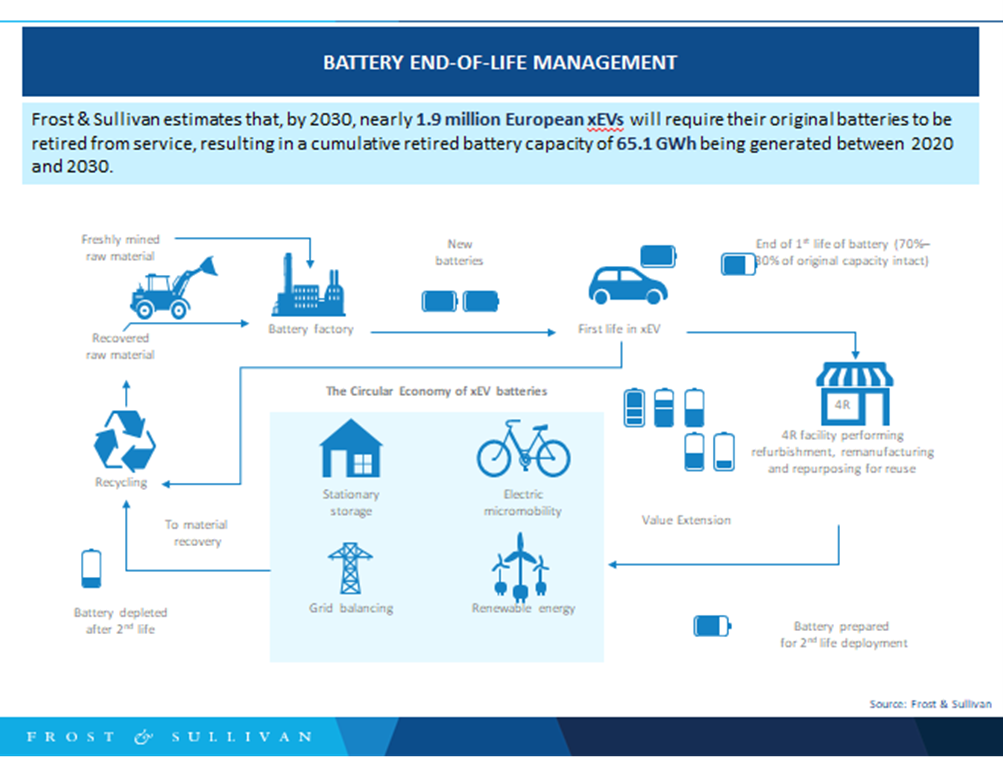 There are two issues to consider here: one, what happens to batteries as they undergo wear and tear, need repairs or experience a component failure, and two, what happens to batteries at end-of-life? In the first case, the challenge has been to find solutions, whether in terms of battery repair, reuse, or replacement. In the second case, the focus has been to identify solutions enabling efficient second-life applications and end-of-life battery management. Overarching both has been the need to foster economic and environment-friendly approaches across the value chain that promote resource optimization, materials reuse, residual value protection, and extended lifetime.
At the 43rd International Vienna Motor Symposium held in May 2022 in Vienna, LKQ Europe – a leading distributor of automotive aftermarket parts in the region, and RWTH Aachen University, Germany shared findings from their joint research into the challenges posed by faulty and end-of-life battery EV (BEV) batteries, while highlighting potential solutions anchored in the 4Rs: repair, reuse, recycle and remanufacture.
To learn more, please access our research reports European PHEV/BEV Aftermarket Growth Opportunities and Europe Aftermarket Parts Buying Group and Distributor Profiles and Growth Opportunities, or for information on a private briefing, please contact Sathyanarayana Kabirdas at sathyanarayanak@frost.com.
A Booming eMobility Aftermarket is Expected Emerge by 2030
Today, retired battery capacity in Europe hovers around 0.03 GWh due to low BEV sales in the early 2010s. However, Frost & Sullivan estimates this will expand to 32 GWh of retired battery capacity by 2030. The key driver behind this rapid growth will be the projected 1.9 million xEVs that need to have their original batteries retired due to aging-related erosion of energy storage capacity between 2020 and 2030. Battery replacement demand in GWh will grow at an estimated CAGR of 91.2% between 2020-2030 due to the aging of original batteries. Frost & Sullivan forecasts a €1.39 billion opportunity size linked to aftermarket value extension activities in terms of repurposing and recycling EV batteries by 2030.
The growing number of stakeholders across the value chain reflects the evolving perception of the EV battery being not just a vehicle component but a standalone asset that requires value chain extension. End-of-life business models view value extraction from used batteries through two lenses: one, recycling for material recovery, and two, reuse in automotive and energy storage applications. Accordingly, the market has battery recyclers that extract critical raw materials such as Accurec, Umicore, and NickelHuette and companies involved in battery remanufacture, refurbishing, and repurposing like Betteries and Renault's Advanced Battery Storage Initiative.
On the one hand, the redeployment of ubiquitous automotive lithium-ion batteries in renewable energy applications is contributing to global climate change mitigation initiatives. Simultaneously, critical material recovery through recycling is promoting environmentally sustainable practices across the upstream of the battery manufacturing supply chain.
As this scenario unfolds, it is opening the prospect of workshops and body shops in the independent aftermarket (IAM) positioning themselves as sources of retired batteries for players operating in the battery 4R space and for logistics service providers with experience in hazardous material handling and storage to foray into used battery transport. In addition to such organic growth, targeted acquisitions are also presenting an opportunity for inorganic growth in the battery lifecycle management space.
Against this evolving backdrop, LKQ's potential entry into battery recycling for high voltage batteries represents a first mover at scale for an independent aftermarket provider. This will be reinforced by LKQ's industry-leading initiatives like its remote diagnostics capabilities with Elitek.
What Next?
While the growing penetration of EVs poses a challenge for the IAM service providers in terms of their ability to service these incredibly complex cars, on the hand, battery recycling offers an extended downstream opportunity to explore new revenue opportunities. Such opportunities will become more pronounced towards the end of the decade when aging BEVs will flood independent repair workshops.
Ultimately, efforts in battery end-of-life management focused on material recovery and the 4Rs tied into a closed-loop or circular ecosystem will yield multiple benefits. It will result in minimized material waste, improved cost-effectiveness, superior disposal, enhanced resource conservation, optimized resource use, and lower emissions. In short, it will underpin comprehensive, long-term sustainability across the xEV environment.
Schedule your Growth Pipeline Dialog™ with the Frost & Sullivan team to form a strategy and act upon growth opportunities: https://frost.ly/60o.