At Frost & Sullivan, the Connected Work research team is fairly hands-on with respect to the unified communications and collaboration solutions (UCC) that we cover. We have been heavy video and web conferencing users for more than 10 years, and we've used and evaluated many endpoint devices to connect with UCC software and services, including team messaging/collaboration, from a longer list of providers than we could reasonably count.
Based on our extensive experience with meeting and collaboration tools we strongly believe that an integrated meeting lifecycle is vital to productive conference sessions. The meeting lifecycle is the workflow comprising pre-, in- and post-meeting planning, coordination, sharing and curating activities to produce outcomes. However, after years of poor work habits and technical challenges, the meeting lifecycle for most organizations is effectively broken, regardless of technology platform. The causes are both user-driven (e.g., behavior and training) and technical (e.g., lack of software integration and/or limited functionality). As a result, meetings are often fraught with inefficiencies that frustrate participants, distract focus, waste time and money, delay business processes, and simply fail to accomplish the intended objectives.
One of the tools that our Connected Work team has used is Avaya Spaces. We initially began using the Avaya cloud-based collaboration tool in early 2017. At that time, it was positioned primarily for team messaging with the ability to organize conversations and information into specific channels or spaces. Since then the platform has received a steady stream of enhancements. Today, Spaces presents an intuitive set of user interfaces (UIs) for desktop and mobile devices, as well as meeting room systems, which provide access to an impressive array of features spanning team messaging, file sharing, content sharing, audio and video conferencing, virtual personal meeting room, task management, presence, profiles and personalization. It was with the launch of improved multi-party video conferencing earlier this year that, in my opinion, effectively completed Avaya Spaces' ability to support the full meeting lifecycle.
Web or video conferencing solutions alone are insufficient to deliver a complete, end-to-end meeting experience. Functionality such as task management, persistent chat and file transfer is extremely useful to collaborate effectively before and after meetings. These capabilities help to complete the meeting lifecycle, yet they are more commonly delivered by team messaging – often a different solution that is not natively integrated with web or video conferencing. Avaya Spaces, however, presents a single UI to access full-feature video/web conferencing and team messaging in one unified environment for both internal and external team members. Integrations with popular calendars and business applications also help Avaya Spaces to dovetail with tools that many knowledge workers use regularly within existing workflows.
The flow chart below depicts how functionality available from Avaya Spaces supports activities throughout the complete meeting lifecycle, whether for an individual meeting or a series of meetings.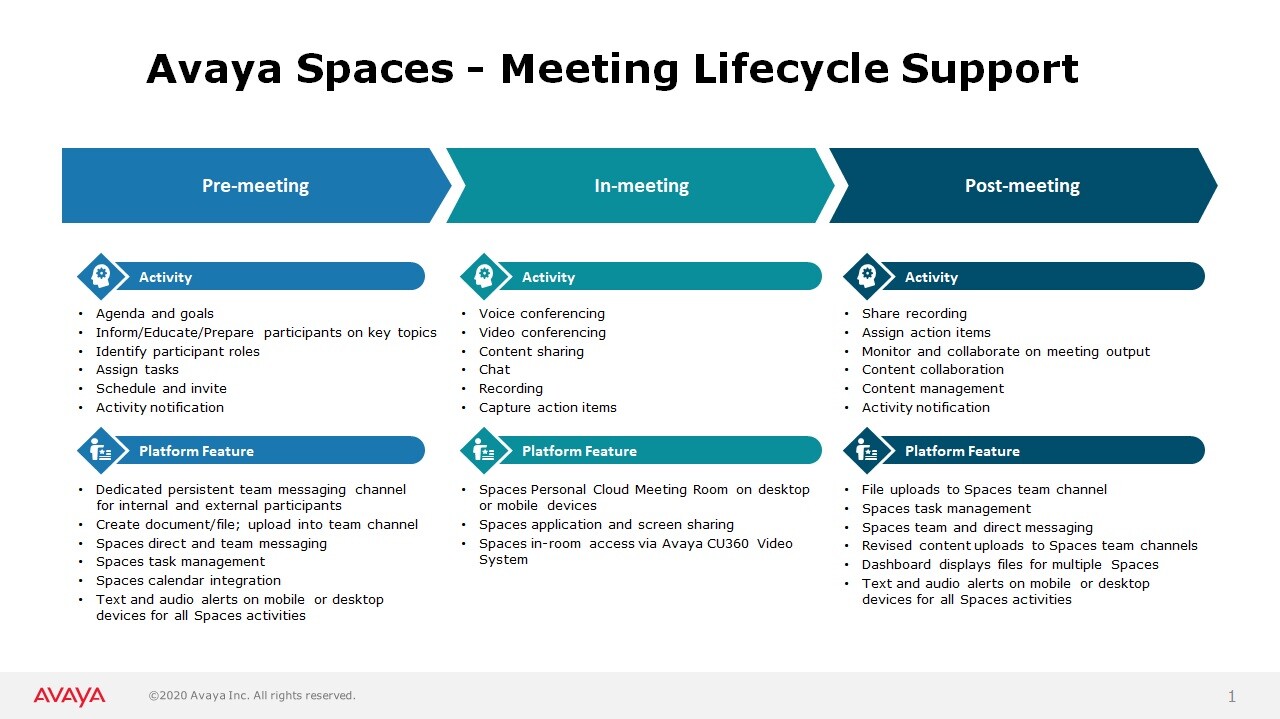 In our research, we've found that there is a dearth of public information available online about the lifecycle of business meetings. It's overlooked that these process phases should be connected within the same workflow and addressed via a unified technology platform. For the most part, people have come to expect the phases as well as the steps within phases to be disconnected. Effective, efficient meetings require collaboration to take place before and after participants gather together. In fact, effective and efficient collaboration pre and post-meeting can reduce the number of meetings we need to have.
It's past time for many of us knowledge workers to take a step back to look at how and why we have meetings, why meetings are inefficient (e.g., the first 20 minutes spent recapping the previous meeting), and then look at our collaboration needs more holistically. The tools, such as Avaya Spaces, are available and ready today to intuitively support the modern meeting lifecycle end-to-end.