In 2021, the automotive industry witnessed a flood of Special Purpose Acquisition Company (SPAC) deals totaling more than $16 billion, highlighting how SPAC mergers have become the go-to strategy for tech companies and start-ups looking to fast track their way to a public offering.  For such companies, the SPAC route presents multiple benefits:  the ability to raise capital in a less risk-intensive and more cost-effective manner than if they took the traditional initial public offering (IPO) approach, fewer due diligence requirements, and faster commercialization and growth if the acquirer is a well-established SPAC sponsor.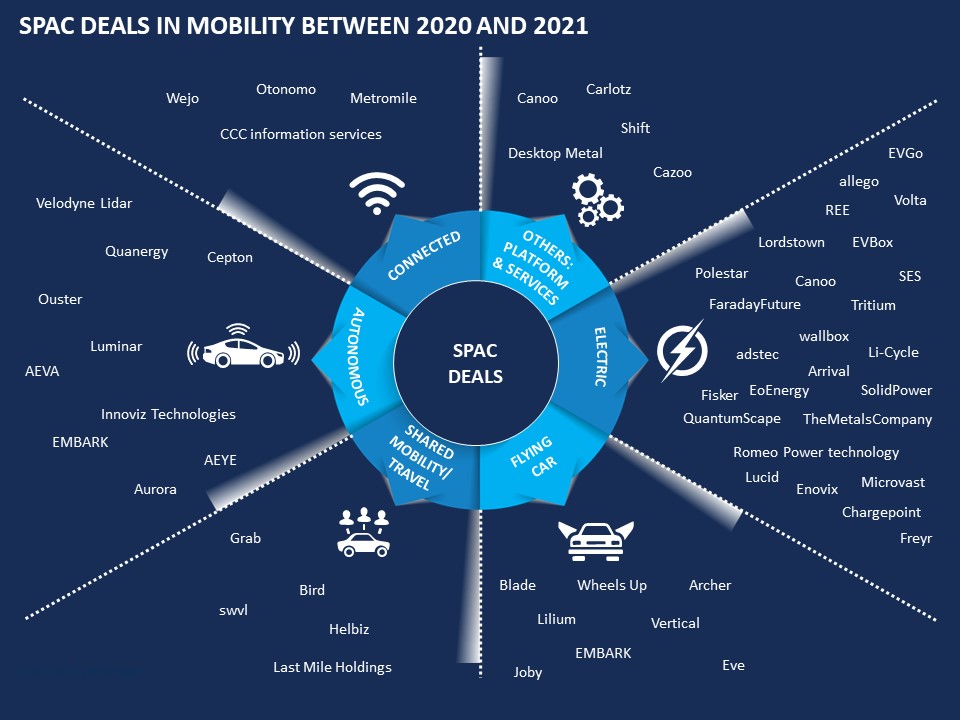 To learn more, please access our research report, Growth Opportunities for Global Special Purpose Acquisition Companies (SPACs) in Mobility.
Is the Sheen Wearing Off?
In June 2021, Michigan-based Electric Last Mile Solutions (ELMS) went public via a merger with Forum Merger III in a deal estimated at $1.4 billion. In June 2022, the company declared bankruptcy becoming, in the process, the first in a series of SPAC Electric Vehicle (EV) start-ups to collapse.  From the promise of 2021, the cash-strapped company had a rough 2022; its CEO and Chairman resigned, share prices plunged more than 90%, it was forced to let go over a quarter of its employees, and had to face investigation by the US Securities and Exchange Commission.
That said, Swedish premium EV performance brand Polestar Automotive was involved in one of the largest ever SPAC deals in June this year, going public following a merger with Gores Guggenheim Inc. The company received $890 million from the transaction, which it will funnel toward enlarging its product line.
Boom or Bust
So, is it boom or bust for SPAC deals in the mobility arena?  SPAC EV start-ups such as Lordstown Motors, REE, Canoo, and Nikola,  have struggled to live up to the hype. However, that does not seem to have stifled the SPAC trend. Our research indicates that over the last two years there have been over 70 automotive SPAC deals at an estimated value of $192.82 billion and a deal size of $23.4 billion.
Among the various segments in the overall mobility industry, we have seen the most action in the electric segment with 39 SPAC deals over the past two years.  The electric segment is followed by urban air mobility (flying cars) and autonomous technology where Lidar companies – for instance, Luminar, which entered a SPAC deal with Gores Guggenheim – have attracted the greatest interest.
In 2021, the electric segment accounted for more than 50% of automotive SPAC deals.  The most SPAC deal transactions occurred in the battery technology domain of the EV segment followed by commercial vehicles and EV infrastructure domains. There were SPAC deals in every electric domain, be it battery technology (e.g., QuantumScape and Enovix), powertrain (e.g., Canoo and REE), passenger vehicles (e.g., Fisker, Lucid, and Faraday Future), commercial vehicles (e.g., Proterra and Arrival), two-wheelers and three-wheelers (e.g., LiveWire) or EV infrastructure (e.g., Volta Charging and Evgo).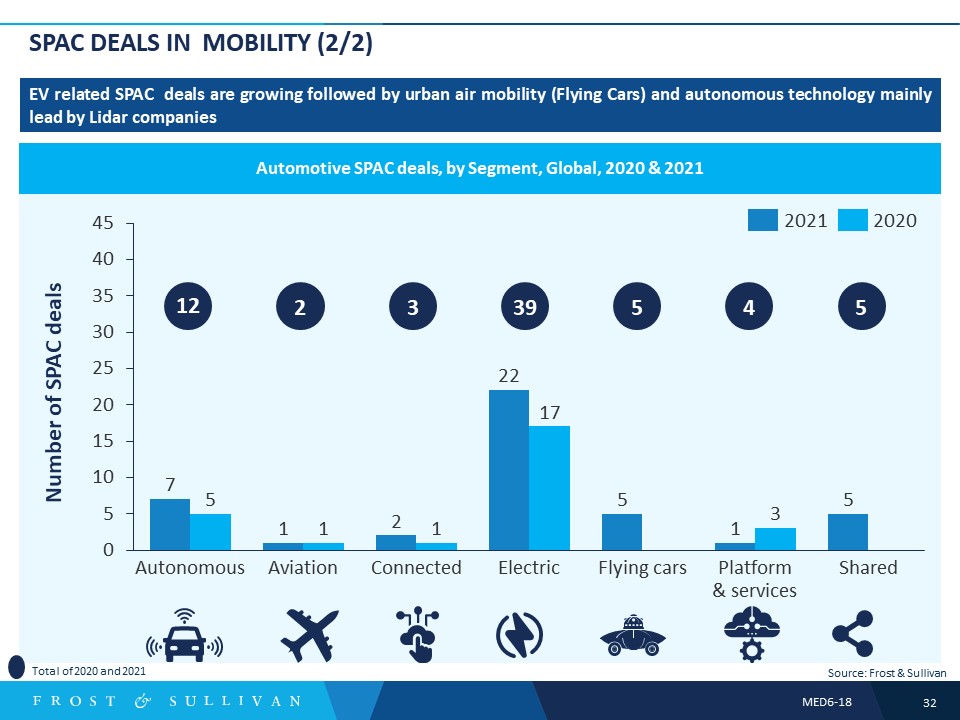 Our Perspective
"ELMS's failure notwithstanding, SPAC deals will continue to be a go-to for the electric segment for a variety of reasons. For a start, traditional IPOs only allow revenues based on actuals, whereas SPAC deals allow firms to use projections that induce investor demand. In addition, EV businesses are capital-intensive and depend on massive capital inflows to grow. From this perspective, SPAC deals provide better terms in the market than traditional means," said Joe Praveen Vijaykumar, Mobility Research Manager at Frost & Sullivan.
Such rationale apart, the attraction of SPAC deals lies in the fact that although start-ups like Nikola, Lucid Motors, Joby Aviation, and Lilium Air Mobility lack a readymade product, they have still been able to raise capital through SPAC deals based on projected revenues.  There is also something we like to call the "Tesla Effect" where the incredible valuations of public companies within the EV space such as Tesla, Workhouse Group, Nio, and Blink Charging have continued to lure bankers and EV start-ups with the prospect of massive profits.
As the Polestar example shows, EVs will remain a prominent segment for SPAC transactions. EVs are the future of the mobility industry, and stakeholders are looking to fast track product commercialization and move rapidly into new applications and markets.
"For companies in the electric segment, the SPAC process allows funds to be raised quickly and easily for product development and market expansion," says Vijaykumar. "For investors looking for high returns in a short time frame, investments in EV-related SPACs although high-risk, equally hold the promise of high rewards.  The prospect of success for EV SPACS is also seen as being stronger because the technology has started commercializing and governments have been offering incentives for EV technology adoption."
Final Word
SPAC deals stand to benefit both traditional automotive OEMs who can use this strategy to acquire promising start-ups as well as non-traditional players and start-ups focused on innovative, futuristic solutions such as flying cars and self-driving vehicles.
Today, SPAC sponsors come with a background in mergers, acquisitions, and trading.  As the number of SPAC deals increases, the need for industry-specific sponsors will increase in tandem. In the future, it will become almost obligatory for automotive SPAC deal sponsors to have knowledge and experience in the automotive field.
Schedule your Growth Pipeline Dialog™ with the Frost & Sullivan team to form a strategy and act upon growth opportunities: https://frost.ly/60o.