Over the past few months, Cisco Webex has brought several innovative capabilities to the market. Tapping into the power of cloud computing, smart software and machine learning, Cisco's accelerated pace of innovation in its collaboration business is making it look less like a 35-year old tech company and more like a startup.
Just a few years ago, Cisco Webex looked like a parable of missed opportunities. In May 2018, Amy Chang took the reins as EVP and GM of Collaboration with a clearly stated mission of steering the company into next-gen software, AI and analytics to regain its foothold in the market. At its recently held Collaboration Analyst Summit in San Jose, Amy along with Sri Srinivasan, SVP and GM of Collaboration, and the Webex management team showed that they are turning talk into action. Over a span of two days, Cisco unveiled an aggressive road map, which combined with recent enhancements, proves that the company is firing on all cylinders. The speed of innovation and  the straightforwardness of the leadership team, which owns up to past failures and presents a clear view of the path forward, positions the company well to compete both against stalwarts such as Microsoft and Google as well as disruptors such as Zoom, RingCentral and 8×8. Cisco's leadership knows it has a tough row to hoe as it addresses a significant set of challenges before it can win massive customer mindshare over competitors.
Long a leader in collaboration, Cisco has faced increasing headwinds in recent years. Cisco's Q2 FY20 earnings call last week highlighted the continued growth challenges it faces. The company's Applications segment, which includes the Webex collaboration business, reported a drop of 8% YoY to reach a product revenue of $1.35 billion. Cisco attributed most of the decline to lower sales of its UC solutions, which include the Webex business. The slowdown that Cisco saw in its growth throughout last year is a direct impact of growing competitive pressures. Cisco intends to change this and has made a slew of product announcements in late 2019 and early 2020. Today Webex's broad portfolio extends to calling, messaging, meetings, collaboration devices and contact centers. This blog highlights recent developments in its meetings and collaboration offerings, along with our key takeaways from the Analyst Summit.
The New Webex
With more than 40 million hosted meetings and 6 billion meeting minutes per month, Webex's scale is unmatched in the industry. The company seeks to continue growing its market leadership and has laid down the following areas as key pillars of growth – simplification, unification, interoperability, flexible cloud, reliability and security, and cognitive collaboration.
Among recent developments, the move to a single platform and one unified app has been key in making Webex the connective tissue for meetings, messaging, calling, and devices. What used be disjointed and stitched together apps are now fully integrated at the back-end with a consistent UI and UX at the front end. This unification story is bigger than it seems and took years in the making after Cisco acquired several communication platforms through multiple acquisitions. While the simplification and portfolio consistency was much needed, what is unique is that Cisco is implementing this in a more modular, flexible, and secure way than its competitors, making it particularly appealing to the enterprise customer.
In 2020, Cisco continues to deliver on the promise of intelligent and secure collaboration. Cisco is doubling down on the power of cognitive collaboration – an area where it has invested over half a billion dollars over the past two years. The Voice acquisition allows Cisco to lead with AI-based voice capabilities that make meetings simpler while increasing user engagement. Using AI/ML, Cisco is transforming the pre-, during, and post-meeting experience. The new Webex Assistant for Meetings (general availability near the end of March) offers voice intelligence and advanced speech recognition that captures meeting highlights, picking up on trigger words like "task", "note", "agenda", "summary", and more. Meeting attendees can view, edit, highlight and share notes for follow-ups. Combined with real-time transcription, live streaming and closed captioning, the Webex Assistant is making the meetings more productive and powerful.
Through transcription and cross-meeting search, Webex is unlocking the power of data. Frost & Sullivan has long believed that meetings should be more than one-and-done events. In fact, meetings are significant information repositories, capturing ideas and insights across people and processes that can be extended throughout the organization long after they are over. However, transcription accuracy remains a big issue in the industry. Cisco touts its ability to constantly mine the data to improve accuracy through machine learning and training. This includes accommodating meeting variables such as different room acoustics, user accents, and jargon among other things. Cisco mentions that its word error rate is among the lowest in the industry and since it has first-party data management, unlike many competitors' solutions, customers' data never leaves the Webex cloud, minimizing additional security concerns.
Besides meetings, Cisco is also bringing advanced voice intelligence to room devices as well as for contact center operations, leveraging it across the breadth of its collaboration portfolio. With the centralized Webex Control Hub, IT can implement modularity, making Webex experiences configurable by a group. An instance could be providing frontline warehouse workers with Webex Teams for messaging and calling but blocking the meeting functionality, a piece of the platform that's not required for their day-to-day jobs.
The Webex platform also continues to further strengthen its security and compliance posture. A key differentiator for Cisco is that it relies on its own global network to ensure security and privacy while also delivering QoS and reliability. At the analyst summit, Sri Srinivasan pointed out that while Cisco leverages third-party clouds such as AWS, Google, and Azure; all real-time media processing is handled in the Webex network, ensuring robust security and application performance. Cisco continues to build on its security initiatives. Responding to a growing set of regional requirements that global businesses must meet, such as GDPR and California's recently passed Consumer Privacy Act, Cisco recently added additional data residency options for Webex Teams. It is expanding data center resources in the US and EMEA to host Webex Teams customers' identity information, encryption keys, and content- including user-generated messages, files, and whiteboards as well as metadata such as search and messaging analytics. This approach addresses data locality needs.
Among the key areas covered at the analyst summit was a session on the streamlined and integrated Cisco Calling portfolio. Javed Khan, VP and GM of Cloud Calling shared several stats and customer successes. Cisco's broad portfolio for calling includes a mix of on-premises solutions, partner cloud-hosted calling (HCS and BroadWorks), and Cisco-hosted SaaS (Cisco UCM Cloud and Webex Calling). This broad portfolio allows Cisco to go wide and deep in the market serving the distinct needs of different market segments, verticals as well as regional requirements. Javed emphasized that  Cisco is committed to supporting all three routes to market and is implementing increased feature parity across all.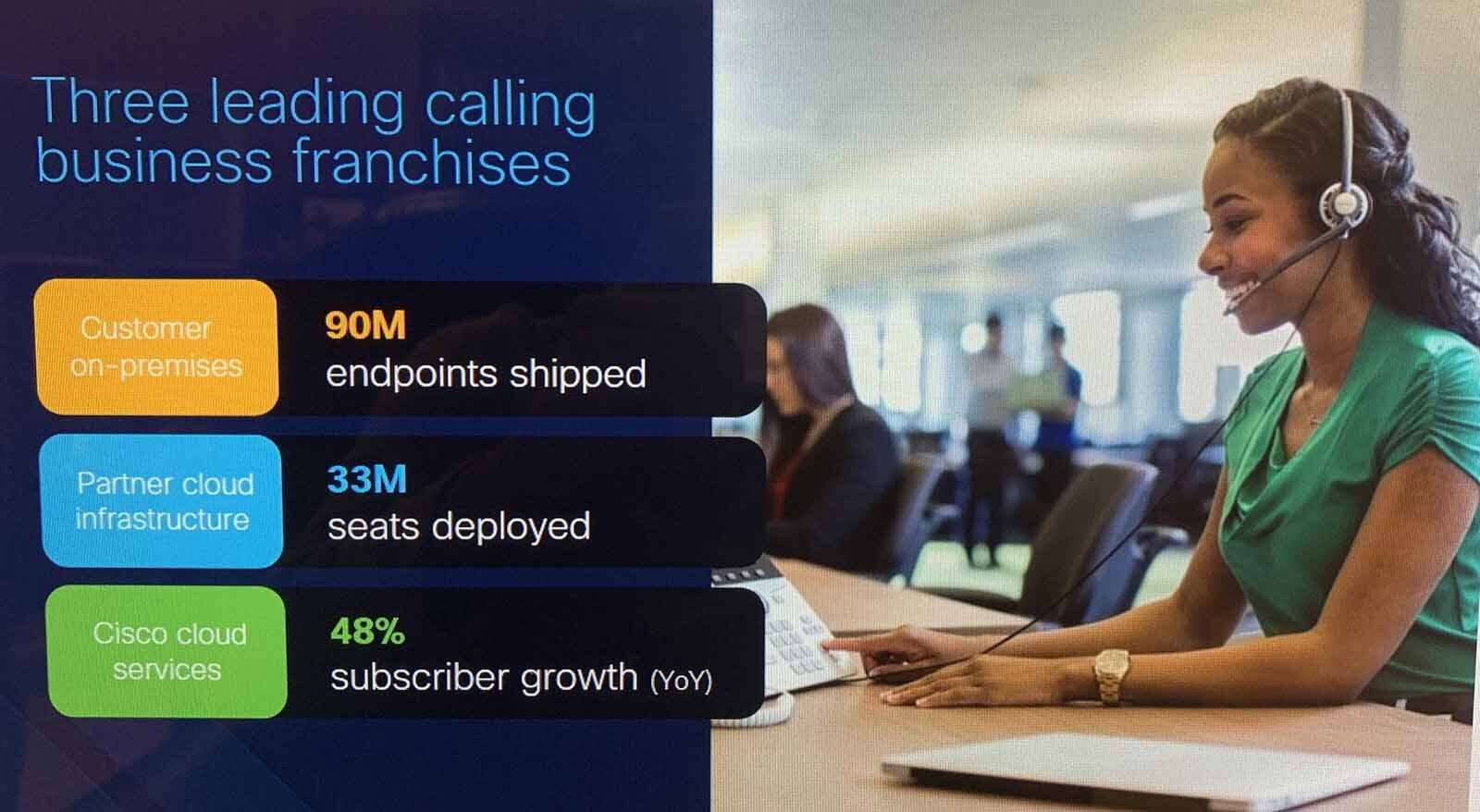 A Stronger Device Portfolio – From USB Endpoints to Immersive Telepresence
An area where Cisco has seen intense competition is the huddle room and conference room devices category. As more and more businesses embark on digital transformation, meeting room modernization has become pivotal to the future workplace. The battle for meeting room dominance is fully on. A host of new and established device vendors have challenged Cisco's leadership in videoconferencing endpoints over the last few years.
Webex Rooms VP and GM Sandeep Mehra and the development team in Oslo are responding by staying laser-focused on user experiences and consistent innovation to make meeting room devices smarter and more affordable. In recent years Cisco has made a concerted effort to develop new devices that are more price-competitive and extend its reach down market. The newly launched Webex Room USB addresses the fast-growing huddle room category and the BYOD trend. With a 120-degree FoV camera, a sub-$1k price point, the simple-to-use all-in-one video bar fills the market gap between costly and complex room systems and PCs equipped with webcams. Webex Room USB's unique differentiators include a digital signage capability that allows the unit to be configured as a digital signboard for sharing content such as company news, branding, etc. In addition, it is upgradable to the Webex Room Kit Mini, ready for whenever organizations want to scale up their deployments.
Positioned for mass adoption, Webex Room USB is also Cisco's competitive response to Logitech, which has grown exponentially to dominate device sales for huddle rooms and conference rooms. In recent years, Logitech has been gaining market share at a rapid pace by selling thousands more video conferencing devices than its nearest competitors. Annual shipments of Logitech business-use USB conference cams grew by 26% YoY in 2019 (Jan-Sept) compared to Cisco's endpoint unit growth of 6% in CY 2019. With the newly expanded endpoints line, Cisco aims to tap into all opportunities across rooms with intelligent devices positioned for each meeting space.
In late 2019, Cisco also announced two new units – the Webex Room Panorama and The Desk Pro. The Desk Pro is an all in one flexible collaboration device that is almost like a mini "Webex Board for the desk". With a  27'' 4k touch display and a built-in 70 degrees HD camera, it addresses the personal or executive conferencing category. The audio is designed for the modern office and the built-in noise suppression technology addresses open-office workers. The unit is AI-enabled right out of the box, with features such as facial recognition, auto-framing, Webex Assistant, virtual backgrounds, digital whiteboarding and the control hub for unified management and analytics. One can call it a DX-80 on steroids.
Last but not least in the long list of recent device innovations is the Webex Room Panorama. Cisco is continuing to reimagine immersive telepresence – a category that it launched almost 15 years back and that has since then been engulfed by many other device form factors as a result of significant market shifts. At the Analyst Summit, Cisco provided a demo of the Room Panorama which wowed us due to its unique take on immersive telepresence. For anyone that uses video today, the immersive experience wins hands down when it comes to the quality of interactions. In many ways, it is the closest one can get to replacing travel and the in-person handshake. As businesses grapple with the far-reaching impact of epidemics such as Coronavirus, organizations' preparedness for travel replacement is a key IT initiative. Devices like the Webex Room Panorama take immersive video to a new level. The demo showed how Panorama effectively splits a conference table and the room to create an "almost being there" and natural across-the-table video experience. Panorama comes with all the recent AI-infused collaboration features such as facial recognition with name and title labels, as well as action items and meet summaries, and the ability to connect additional Webex Board screens into the room for touch experiences. An interesting aspect of the demo was Panorama's flexibility to fit in meeting rooms and boardrooms with windows offering a pleasant and aesthetic experience compared to the enclosed telepresence rooms of the past that created a stuffy room environment and added to the meeting fatigue.
Winning the Marketing Wars
A theme that was loud and clear at the Analyst Summit was that Cisco is not just stopping at great innovation. Under the leadership of collaboration CMO Aruna Ravichandran, it is also embarking on an aggressive and focused marketing program that is designed to align with the tectonic changes that its collaboration business has seen. Today, Cisco's biggest competitor in meetings space Zoom spends a whopping 58% of its total revenue in sales and marketing which dwarfs any other collaboration vendor's marketing budget. Cisco Webex is meeting the challenge by putting its marketing in high gear with broad marketing initiatives that holistically address brand and workforce transformation campaigns, channel and sales programs, and social and digital leadership. Cisco shared the successes from its 2019 brand awareness campaign and covered the highlights of the 2020 campaign that is focused on the new face of Webex as well as its efforts to make the brand cool and fun for all generations.
To refresh or to rebrand is a question faced by every company at some point. Cisco knows that it needs to fix the old image but the problem goes deeper—whether they need a surface-level update or a complete reboot is the big question. For several reasons, Cisco's collaboration business has decided to build upon the strength of the Webex brand for the portfolio. Now it is addressing the herculean task of reinventing the brand image. The new Webex is vastly different from the Webex of yesteryear.  Cisco knows that it's going to take some very innovative and groundbreaking ideas to refresh the brand in a way that not only reflects the new capabilities to the traditional enterprise users and the IT buyer but also attracts Gen Z and millennials who have moved in droves to the likes of Slack and Zoom.
Conclusion
Across AI/ML, secure team collaboration and meetings, and the newly found focus on front line workers, Cisco is proving that it's doing all it can to reinvigorate its portfolio and lead with its key differentiators i.e. a unified platform that is modular, secure, and flexible. While these strengths play well for Cisco in the enterprise market, it is yet to clearly articulate a comprehensive program and go-to-market strategy to win SMB users. With some of its competitors, such as Blue Jeans and Fuze, moving away from the SMB segment in recent months, there is a vast opportunity for Cisco to tap into the fast-growing SMB adoption of collaboration tools by offering targeted solutions that are combined with easy procurement and a stronger global eCommerce platform.
Overall, Cisco's fast-paced innovation and marketing focus will serve it well in an intensely competitive collaboration market. Throughout the two days at the Analyst Summit, Cisco interspersed its executive presentations with perspectives from customers who joined over video to share their business transformation stories. As Webex further establishes itself as a software and cloud-first platform that is also more and more open, it remains to be seen if Cisco will be able to fully convey the new Webex story to gain a greater mindshare and wallet share in the market.