Two defining trends in the automotive industry – autonomous and shared – are underscoring how industry convergence has become inevitable. There has been an explosion of mergers, acquisitions, and partnerships as stakeholders strive to gain a technological and competitive edge, tap into new investment opportunities, and leverage resource synergies.  Such competitive maneuvering is occurring at a time when our research shows the global autonomous shared mobility market is on course to register a CAGR of 78.8% over 2021-2035.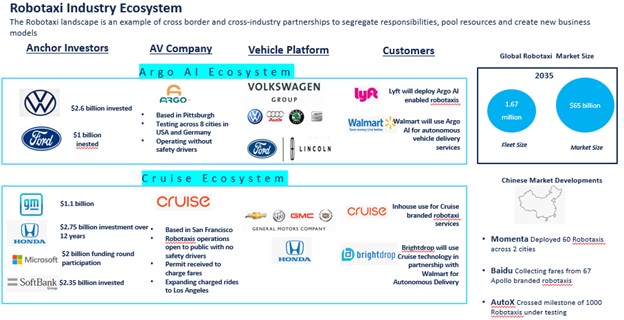 Mirroring such industry convergence is the recent strategic investment by German auto parts supplier Bosch in Chinese self-driving company WeRide and their collaboration to develop advanced autonomous driving (AD) software. Equally, the partnership is a nod to the tremendous growth potential inherent in China's autonomous mobility services market.
A key objective of the partnership is to co-develop advanced intelligent driving software solutions that target OEM customers in China. It will bring together the complementary strengths of WeRide ONE – universal software that helps realize SAE Level 2 to 4 AD competencies – with Bosch China's advanced driving solution.  With this, the partners hope to fast-track the commercialization of SAE Level 2 and 3, while improving and expanding autonomous services across urban environments and highways in the country.
To learn more, please access our research report – Global Autonomous Shared Mobility Growth Opportunities and  Global Advanced Driver Assistance Systems (ADAS) and Autonomous Driving (AD) Industry, Outlook 2022 or contact sathyanarayanak@frost.com for information on a private briefing.
China as a Crucial Target Market
Led by China and Japan, APAC's autonomous shared mobility market is set to top $11 billion by 2035. In particular, the Chinese market will drive growth in the total fleet size of the autonomous mobility market in APAC.  Today, China represents a mouthwatering opportunity for stakeholders in the autonomous shared mobility space. From a political perspective, technological leadership in autonomous vehicles (AVs) is part of the Made in China 2025 national strategic plan with the Chinese government having established 300 state investment funds averaging $4 billion between 2016 and 2019 to accelerate the autonomous vehicle industry. The Chinese government has also pledged to invest $1.4 trillion in emerging technologies that it has identified as national strategic priorities, including AI, electrification, and autonomous mobility.
From a technology perspective, China's extensive 5G coverage presents an ideal springboard for AV testing and deployment.  Meanwhile, domestic technology and eCommerce companies, such as Alibaba, Tencent, and Huawei have hiked their investments in autonomous mobility.
Increased vehicle automation also aligns with the country's long-term environmental commitments and its thrust towards carbon-neutrality.  Simultaneously, AD systems and connected car transport infrastructure are seen by the government as crucial to improving road safety in China, which has one of the highest road fatality rates in the world.
As the world's largest automotive market by sales and with over 400 million active users of ride hailing services, China represents an extremely lucrative prospective market for shared AV services.  Competition in autonomous mobility development among its major cities means that China already has the largest number of AV pilot programs in the world. Cities like Beijing, Shanghai, Shenzhen and Guangzhou are extending incentives, building infrastructure, and introducing progressive regulations to attract investments in autonomous development.
Our Perspective
Little wonder then that stakeholders are trying to acquire first mover advantage in China's fast evolving AD technologies and services market.  In this context, WeRide already has a head start with its portfolio of Level 4 shared mobility fleets, including robotaxis, robovans, and robubuses servicing cities like its home base Guangzhou as well as other large cities like Shanghai, Shenzen and Wuhan.
"The strategic partnership between WeRide and Bosch draws on mutual synergies to accelerate the development and commercialization of next generation AD solutions customized for the Chinese market.  It is representative of how C.A.S.E is transforming the automotive landscape by spurring industry convergence. Indeed, the industry will go through backward and forward integration as autonomous mobility companies look to strengthen their competencies and traditional automakers aim to increase their technological capabilities." – Geraldine Priya, Program Manager, New Mobility, Frost & Sullivan.
Symptomatic of convergence and collaboration, WeRide has strategic partnerships not just with Bosch but with automakers like the Renault-Nissan-Mitsubishi Alliance, Chinese state-owned GAC Group and the Yutong Group. On the one hand, such partnerships will allow established OEMs and Tier 1s to stay relevant as vehicles become 'computers-on-wheels.' On the other hand, it will allow WeRide to remain in the race for a share of China's high growth potential autonomous shared mobility market where it will square off against the likes of collaboration-driven competitors like the FAW Group with Baidu Apollo Go, Dongfeng with Deeproute.ai, Volvo with Didi, Honda and Fiat Chrysler with AutoX, SAIC with Momenta, and GM and Toyota with Pony.ai.
Schedule your Growth Pipeline Dialog™ with the Frost & Sullivan team to form a strategy and act upon growth opportunities: https://frost.ly/60o.