COVID-19 has brought the wheels of the commercial vehicle industry to a screeching halt. According to the latest research by my team, commercial vehicle manufacturers will be staring at hugely reduced sales this year: a 19.2% decline in the case of medium duty trucks and a 31.1% drop for heavy duty trucks from 2019 levels. But there's a silver lining amidst the dark clouds: the resilience of light commercial vehicle deployments in logistics and transportation industries, driven by eCommerce and last mile deliveries. The other bit of good news is that connected truck telematics services are in robust health thanks to their role as acknowledged productivity enablers.
Telematics – A Crucial Productivity Tool
Despite the major slump in commercial vehicle sales and the unprecedented scale of the current recession, the global installed base of connected truck telematics is still forecast to record 10% year-on-year growth, expanding (a welcome relief from the usual 'shrinking', 'falling', 'declining' terminology that I've been using with depressing regularity) from about 26.6 million in 2019 to around 29.3 million by the end of 2020. By 2025, it is projected to be a $17.1 billion market.
Much of this expansion has to do with the fact that fleets recognize telematics and connected technologies as crucial productivity, resource and performance enhancement tools that will be at the heart of their survival.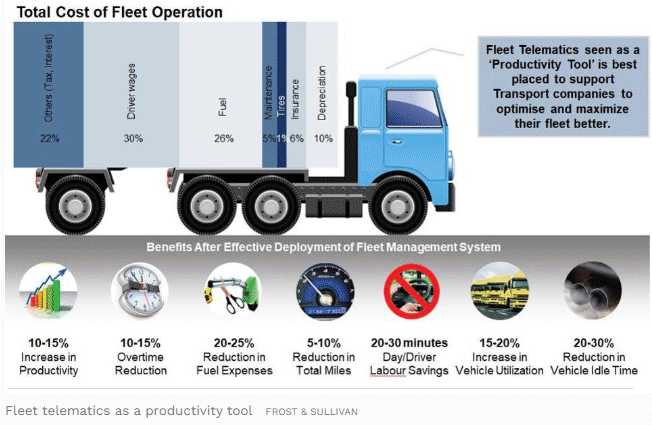 Fleet expenses typically center on two things: driver wages and fuel costs. While driver wages account for about 30% of a fleet's expenses, fuel costs make up about 26% of fleet expenditure. The big cost buster here is telematics which has the capacity to increase productivity by 10-15% and reduce overtime by another 10-15%. It also enables fleets to save about 20-25% on fuel expenses, on average, by promoting better driving practices. And, it helps fleets to shave 20-30 minutes on daily driving time.
In short, telematics helps fleets where it matters most – reduced fuel use, lower labor expenses, savings on cost, time and miles driven, and improved vehicle & fleet efficiency. All of this, of course, ties up neatly into higher revenues and profitability. No wonder then that fleets are continuing to ramp up investments in telematics technologies.
More immediately, many fleet operators will be factoring in the fewer number of new trucks on the roads in 2020. Fleets of older vehicles will fall short on multiple fronts: fuel, vehicle and business efficiencies. This will be a huge spur for telematics solutions.
Growth On The Cards
It's clear that telematics will be a key determinant of fleet efficiency and performance. But within the broad range of telematics solutions on offer, I foresee some picking up greater momentum, especially because of the COVID-19 pandemic. For instance, I can see higher demand for solutions like in-cab internet access and driver health monitoring services.
It's not just the functions of telematics solutions that will be important but equally their form. Size does matter and, at least in this case, smaller is better. At a time when fleets will find it challenging to invest in high-end embedded or tablet type solutions, smaller and low cost portable solutions will prove appealing. Again, motivated by financial considerations, I think there will be greater uptake of more basic solutions rather than high-end offerings. Small and medium sized fleets, in particular, are likely to adopt a basic range of solutions on a flexible purchase model.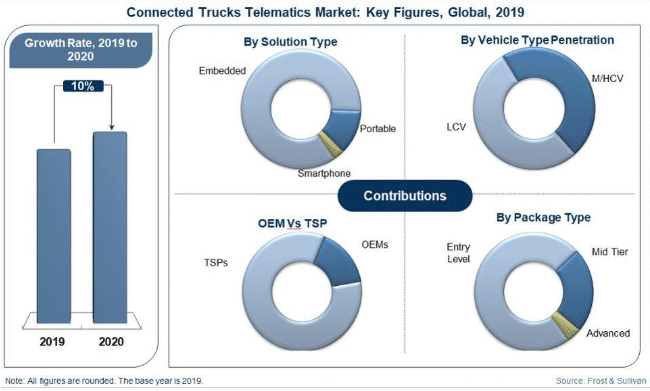 The Road Ahead
I think tremendous opportunities await telematics service providers (TSPs). There are already clear indications of fundamental structural change occurring, both in terms of hardware and software. This will be represented by two major shifts: firstly, towards open architecture platforms which allow for easier third-party integration and, secondly, towards singular hardware modules or units that will replace the need for different hardware components for different purposes. TSPs like Geotab, Samsara and Omnitracs who have adapted to this changing scenario are winning markets globally and showing the way forward.
I also see plenty of room for aggressive strategic maneuvering. Amidst COVID unleashed turbulence, cash rich companies and established industry giants will look to shore up their competitive firepower for the future by investing and acquiring potential market disruptors and innovative start-ups at bargain prices.
Today, TSPs are being presented with a unique opportunity to leverage market demand and capture a larger portion of the market from commercial vehicle manufacturers who are struggling to put new vehicles on the roads. Here, designing a flexible business plan—whether in terms of targeting low cost leasing or purchasing business models—will, I believe, be pivotal to formulating a winning strategy.
This article is the first in a three part series on the impact of COVID-19 on vehicle telematics services. For more information, please refer to Frost & Sullivan's upcoming report on Global Connected Truck Telematics Outlook, 2020.
Follow me on Twitter. Check out my website.
Article was originally published on Forbes.com