Heralding the era of active ingredients exhibiting cosmetic combined with medicinal benefits.
Globally, the cosmeceutical ingredients market is worth more than $5.5 billion and has a healthy annual growth of around 10%. These ingredients are active substances that combine the aesthetic functions of cosmetics with the healing benefits of medicinal products. Cosmeceutical ingredients are currently manufactured by suppliers that started as cosmetic ingredients specialists, such as BASF, Lonza, SEPPIC, AkzoNobel, Eastman, Solvay, Dow Chemical, and several other companies with niche products.
What are cosmeceuticals and are they different from cosmetics? Cosmeceuticals, a combination of cosmetics and pharmaceuticals, is a termed coined by Albert Kligman in 1984 to describe a then emerging category of skincare products. Cosmeceuticals are essentially cosmetic products with medicinal benefits. They can be considered "cosmetic plus" products that contain active ingredients such as moisturizers, UV filters, antioxidants, botanical actives, retinoids, exfoliants, proteins and peptides, anti-inflammatories, slimming agents, and melanin activating agents.
Rather than merely providing external aesthetic benefits, the additional medicinal properties of cosmeceuticals are based on molecular structure, biological function relationships, and modes of action related to healing, anti-aging, free radical rampage reduction, dead epidermal cell exfoliation, and so on. Cosmeceutical ingredient formulations are developed specifically for uses such as skin care, hair care, lip care, and oral care.
Most importantly, cosmeceuticals have helped manufacturers position their cosmetic products more confidently while steering clear from the area of pharmaceutical products that have stricter regulations. In fact, several cosmetic ingredients that were providing cosmeceutical benefits without getting any "brownie points" for higher performance, are now being researched and documented more extensively using better-designed laboratory studies and clinical or semi-clinical trials. This has opened up win-win opportunities for ingredient suppliers, the cosmetic industry, and end users.
The growing share of cosmeceutical ingredients in the cosmetic ingredients market is encouraging.
Commercially, the cosmeceutical ingredients segment belongs to the cosmetic ingredients industry, and it is approximately 16% by revenue of the finished product market. Cosmeceutical growth is driven by the middle-aged and aging population—premium customers of cosmeceuticals—that desires to stay healthy and look young. Cosmeceuticals have also found a new segment of customers in mid-income groups apart from the existing premium customers, and these new markets will provide significant growth opportunities. Based on the growth rate and attractiveness of cosmeceutical ingredients, this segment is expected to increase its current share of 16% to 25% by 2024.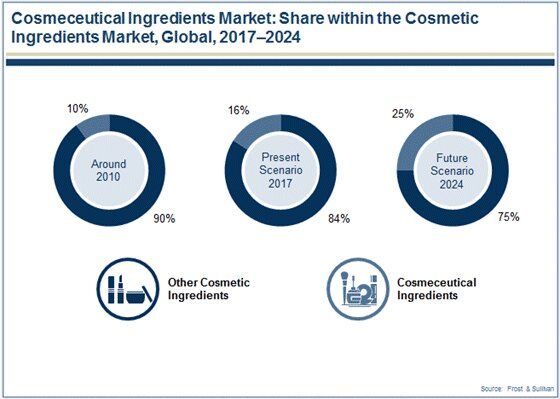 Western Europe leads the way in the research, manufacturing, and applications for cosmeceutical ingredients.
Europe is the global flagship producer of cosmeceutical ingredients. Within Europe, Western Europe has a strong presence of cosmetic and cosmeceutical manufacturers. Germany, France, Italy, and United Kingdom are the frontrunners for cosmeceutical ingredients and make up for more than 60% of the overall European market.
The large population of the Eastern European countries also shows potential for the consumption of cosmeceutical products. As Eastern European retailers are expanding their presence in the region, levels of consumer awareness and the use of cosmeceutical products are increasing. Older product lines that have reached maturity in Western Europe are moving to Eastern Europe, while Western Europe continues to introduce new cosmeceutical products.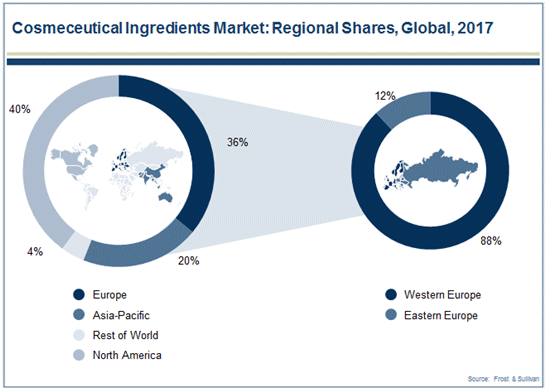 There is a convergence of cosmeceutical and nutricosmetic ingredients.
While cosmeceutical ingredients are usually incorporated into topical application products for skin, hair, and oral care, nutricosmetics utilize active ingredients that are formulated into oral products that must be ingested by consumers for the desired effects. An emerging science, nutricosmetics is a combination of personal care, nutrition, and pharmaceutical sciences. Currently, some food supplement companies offer products for this segment and some cosmetic manufacturers have aligned their product offerings to the rising demand for nutricosmetics.
Today, the market is dominated by cosmeceutical ingredient applications in branded consumer products. However, as the awareness of the features and long-term benefits of nutricosmetics increases, the demand for the nutricosmetic ingredients will expand. Some of the major cosmeceutical ingredient trends are depicted in the charts below: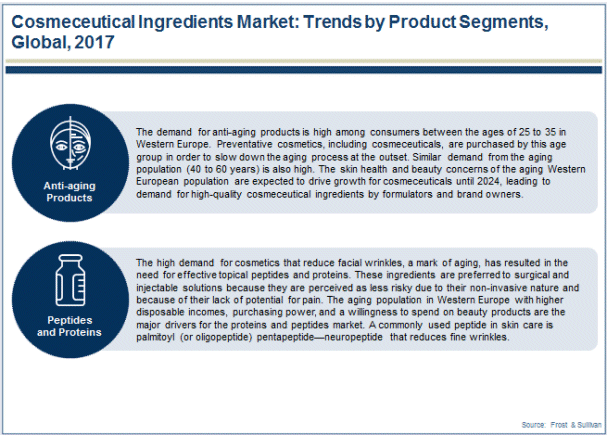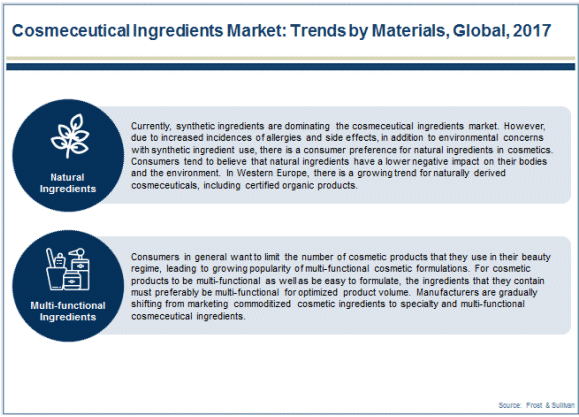 There is a bright future for skin care, hair care, and other cosmeceutical ingredient applications.
Skin care is one of the largest segments in the cosmeceutical market and there is a growing demand for it from end users. It is expected to witness a healthy growth trend due to growing consumer awareness and an expanding population. Skin care cosmeceuticals, especially with anti-aging and sun protection ingredients, are expected to maintain dominance in the near future due to wider application and high penetration.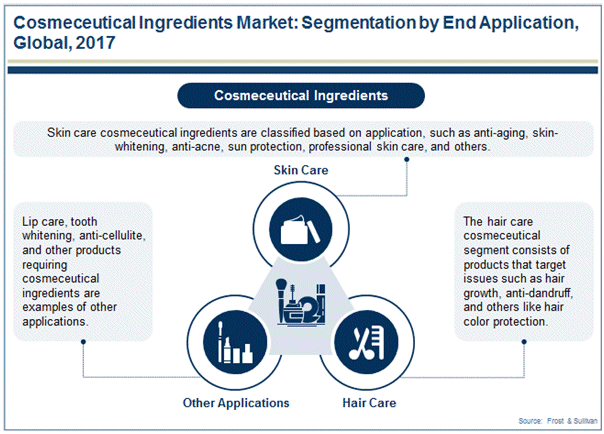 Cosmeceutical ingredients for the hair care market will experience good demand growth due to a surge of products for preventing hair loss and dandruff. Additionally, the segment of men's grooming products is expanding and further driving this demand for hair care products and related cosmeceutical ingredients.
Among the other applications for cosmeceutical ingredients, inexpensive lip care and oral care products form a growing segment.