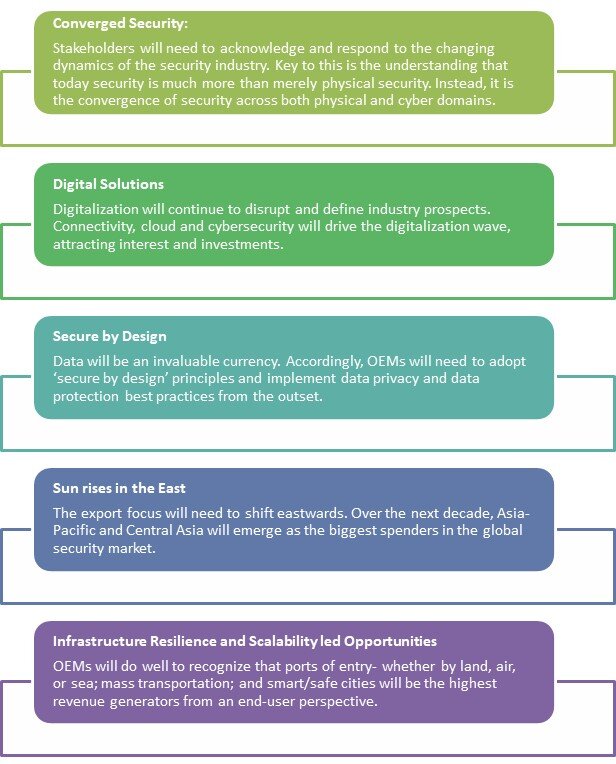 Five Key Growth Opportunity Areas for the Global Security Industry
The UK has moved up one place to third position in the global rankings of top security exporting countries of 2019. The UK government released official statistics on the country's defence and security exports performance in 2019 on 6th October 2020. Central to this success has been the country's outstanding cybersecurity capabilities.
Frost & Sullivan worked closely with the Defence & Security Exports Organisation (DSO), Department for International Trade (DIT), on this research. The report highlights that cybersecurity exports will present significant long-term growth opportunities and help the country boost its export revenues and ranking.  However, its established global leadership position in physical security solutions, such as screening, detection and analytics, is important and cannot be overlooked.
UK Moves Up Global Rankings
As part of this research, Frost & Sullivan analysed the global security industry across multiple end-user and technology segments in over 175 countries. Our analysis of current and historic data projects the global security market to grow from $213.4 billion in 2019 to a cumulative total of $2.7 trillion over the 2020-2030 period. The UK will account for a sizeable $92.6 billion of this market.
The US, China, the UK, Japan and France are leaders among the top 10 exporters globally and accounted for a third of the global security market in 2019. The big five have retained their leadership over the last few years, although last year the UK moved up to third place behind the US and China.
With a 36% share in 2019, Europe was the UK's largest export market. North America, Asia-Pacific and the Middle East together accounted for a sizeable 21% of the UK's total security exports.
Cybersecurity Solutions Emerge As a Cornerstone of Export Sales
Trends indicate a steady increase in year-on-year security exports with the UK security market capturing just under a tenth of the global security market in 2019, with cyber exports doubling from £2.08 billion in 2018 to £3.96 billion in 2019.
Several leading defence & security OEMs have UK as their regional headquarters for EMEA. Besides, UK-based security OEMs have been enhancing their visibility and reach globally. Both of these are testimony to the UK's emergence as a prominent player in the cybersecurity space.
The pivotal role of cybersecurity in UK's security exports portfolio mirrors an increasingly complex threat landscape. As state and non-state players aggressively use cyberwarfare to attack critical national assets—financial, infrastructural and defence assets—cybersecurity technologies have overtaken their traditional counterparts to emerge as a key technology segment.
Underpinned by modernisation imperatives at airports, ports and borders, screening & detection technologies represent another high growth segment in the UK's security exports market. The need for robust connectivity across networks is accelerating exports of communication equipment. This is largely spurred by the growing awareness of 4G, SD-WAN, IoT/ OFC-based network gear and high speed switching technology. Surveillance technologies including security cameras, advanced electro-optics, video analytics, RADARs, LIDARs, wearables, sophisticated sensors will be significant revenue-generating segments.
A Global Context: Growth Opportunities through and beyond COVID
Frost & Sullivan's analysis of the global security landscape and DSO statistics reveal the following five key growth opportunity areas for the UK's security industry depicted in the above chart.
Targeting these opportunities will provide further growth impetus to stakeholders across the UK's defence and security exports market.
Frost & Sullivan's Security programme monitors eighteen end-user segments across thirteen technologies, actively analysing the evolving landscape to identify growth areas and opportunities.