The recent news that Chinese electric vehicle (EV) automaker NIO Inc will be deploying Dutch semiconductor manufacturer NXP's latest 4D imaging radar solution in its vehicles is reflective of the growing interest in 4D imaging radar technologies. These technologies promise significant advantages –accurate and detailed object detection and classification, sophisticated sensor resolution, and extended detection range – over traditional radars. Such enhanced capabilities are set to strengthen safety and convenience features, while accelerating the development of next level advanced driver assistance systems (ADAS) and autonomous driving (AD). The NIO-NXP collaboration follows on the heels of ZF's launch late last year of its 4D, high resolution imaging radar technology for Chinese automaker, SAIC Motor Corporation's R-Series vehicles. Earlier this year, MobilEye announced its collaboration with Wistron to produce imaging radars within the next two years. These radars are expected to use a Multiple Input Multiple Output (MIMO) architecture with a range of up to 1000 feet.
Automotive perception sensors that leverage radar, camera, and light detection and ranging (LiDAR) technology are integral building blocks of ADAS. Notwithstanding advances in detection, processing, range and resolution, however, they have yet to make the critical leap in terms of safety, performance and costs to support the shift from ADAS to full AD.  Meanwhile, unlike traditional radar sensors, imaging radars that provide point cloud data are emerging as a powerful tool in accurate object detection and, thereby, enhanced decision-making.
To learn more, please access Passenger Vehicle Radar Growth Opportunities in North America and Europe or contact sathyanarayanak@frost.com for information on a private briefing.
Imaging Radars to Come to the Fore Post 2025
4D imaging radar is a nascent technology, with uptake in the ADAS segment projected to occur post 2025.  Such radars could replace traditional perception radars, although this will depend on cost considerations and on OEMs' sensor suite strategy. A key advantage of 4D imaging sensors over traditional radar systems is their ability to determine the height of objects on the vertical axis and accordingly, classify them.  At the same time, the combination of camera and imaging radar could become a common occurrence in mass market vehicles, with the expensive LiDAR sensors limited to premium vehicles, and vehicles with L3 and higher autonomous capabilities. Imaging radar sensors are not expected to face competition from LiDAR sensors till they are economical enough to be used in mass market vehicles, which is expected to happen beyond 2025.
That said, Frost & Sullivan anticipates most OEMs to deploy 4D imaging radars as part of a comprehensive ADAS / AD sensor suite, complementing cameras, LiDARs and other perception and imaging radars. The increase in penetration of L2 and L2+ ADAS equipped vehicles in developed markets increases the need for a sensor that can provide a point cloud data with fewer false positives, at a lower price point. Frost & Sullivan believes that imaging radar sensors are poised to excel in this space. Improving price-performance ratio, better scalability, paralleled by technology advances—from multiple chipsets and sensors to single-chip solutions with simultaneous short, medium, and long range detection capabilities—will boost adoption rates of imaging sensors, while opening up the prospect of reduced sensor suite costs for ADAS.
Frost & Sullivan forecasts the passenger vehicle imaging radar sensors market in the major markets of North America and Europe to be around 3.7 million units by 2030. From between one to two long range and short range imaging radars for Level 3 (eyes-off functionality) to as many as five for Level 4 (mind off) and Level 5 (fully autonomous) vehicles, imaging radars could replace conventional short range radars (SRR) and long range radars (LRRs).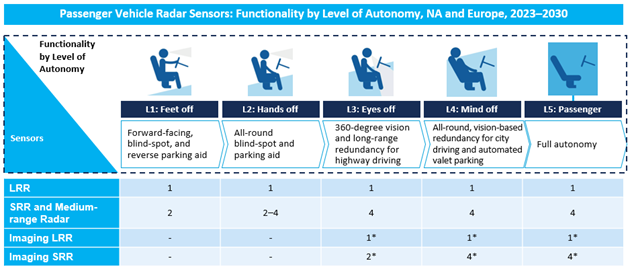 Source: Frost & Sullivan
Our Perspective
The increasing number of vehicles with Level 2 and Level 3 capabilities has underlined the need for efficient, high quality, affordable sensor suites. OEMs have typically used a combination of vision-based sensors with perception radar and ultrasonic sensors to achieve sensor fusion and collate data on the surrounding environment. Vision based systems are expected to be the primary source of data for the sensor suite. With increasing ADAS levels, customers are expected to be wary of the ability of the vehicle to sense obstacles, which prompts OEMs to include redundancies in the sensor suites. Radars have been the go-to sensors for low level ADAS functions. LiDAR sensors provide an accurate point cloud data but they are expensive for mass market vehicles. This is the perfect scenario for a sensor such as the 4D imaging radar, which provides a point cloud data with identification of the objects, at an affordable price for mass market vehicles. The usage of 4D imaging radars with vision-based systems could enable OEMs to achieve a 360-degree vision around the vehicle, thus enabling ADAS functions up to L2+ at an affordable cost.
Against this backdrop, OEMs should explore the potential of integrating 4D imaging radars into their sensor suites. For a start, they could assess the benefits of replacing traditional radar sensors with 4D imaging radars that are able to accurately determine the height of objects in the surrounding environment. Data collected from both vision-based sensors and imaging radars will be the foundation for improved object classification. Also, while both LiDARs and imaging radars generate point cloud data, it is hard to justify the high cost of LiDARS in the volume, mass market segment. Instead, imaging radars could make the case to replace LiDARS due to their superior price-performance parameters.
Another factor that will fast-track the development of ADAS/AD sensor suites is the availability of affordable radars with enhanced functional capabilities.  Accordingly, Tier I suppliers should collaborate with semiconductor manufacturers to realize cost-effective solutions that offer added value to OEMs. In addition, they should work in tandem to co-develop radar chipsets that support 4D imaging radars.  This will facilitate the integration of imaging radars into existing vehicle architectures.
Radar sensors – both conventional and imaging will continue to be the fulcrum of ADAS and AD since they support critical redundancies at a much lower cost than competing sensors. Rapid progress will enable OEMs to actively include the technology in ADAS and higher-level AD vehicles.
With inputs from Amrita Shetty, Senior Manager – Communications & Content, Mobility