Digitization is changing the game for manufacturers. Smart, connected products and automated operations have the potential for improving productivity, quality, cost efficiency, and revenue."
Industry experts have named this the Industry 4.0 revolution.
The Fourth Industrial Revolution, or Industry 4.0 as it is called, is changing the game for manufacturers. Digital manufacturing is now being leveraged across all industries. Advances in technology have accelerated and unlocked numerous opportunities for manufacturers, empowering both people and ecosystems.
Complex discrete manufacturing processes demand fast-moving production and supply chains. In order to stay competitive, there is a need for complete transparency in production performance in industries such as aerospace, heavy equipment, and other complex discrete manufacturing. Manufacturers now need to rely on automated and digitized processes to optimize their production and supply chains.
Manufacturing enterprises are currently facing increasing demand for innovation, complemented with cheaper and smarter products. They are also challenged to ensure a high level of profitability and reduce the time to market while improving product quality. However, it is very difficult to ensure such a level of product manufacturability, given that the production line is exposed to constraints such as quality errors, constant holdups, and performance limitations. Therefore, Product Lifecycle Management (PLM) is a powerful approach to revolutionize the product life cycle through innovation and value addition at every stage of the product manufacturing process. Digital manufacturing acts as a catalyst between PLM and shop floor applications and equipment that enable efficient communication and exchange of information (Source: Siemens).
Digital manufacturing also embarks on the digital transformation path with smart and connected products. Factors such as change in customer needs, mass customization, and product as a service offering are driving many manufacturers to leverage digitization in their processes. In today's competitive scenario, manufacturers are required to adapt to this rapid change and tailor technological innovation for outstanding progress and productivity.
Advanced manufacturing takes a holistic approach to all phases of manufacturing for the creation of an end-to-end connected digital factory. Improvements are being made today to respond to the ongoing trend, and manufacturers are making requisite strategic investments to enable value-added offerings, workforce engagement, and shaping of new business models.
Manufacturing is evolving from mass production to customized production rapidly to adapt to Industry 4.0 standards and optimizing emerging and exponential technologies such as big data, cloud computing, artificial intelligence, robotics, and 3D printing to boost flexibility and cost efficiency. Exhibit 1 shows the various advantages that digitization offers.

The benefits of digital manufacturing processes are immense. Not only does it enable a comprehensive approach to product and assembly design, it also executes the production processes in real time and reduces costs through automation programs. This in turn simulates the total production systems and improves productivity in the planning and production processes.
Digitization has helped manufacturing businesses reduce their cycle times by about 20%, significantly reducing their labor and other hidden costs. Exhibit 2 below sheds light on various Industry 4.0 computation requirements.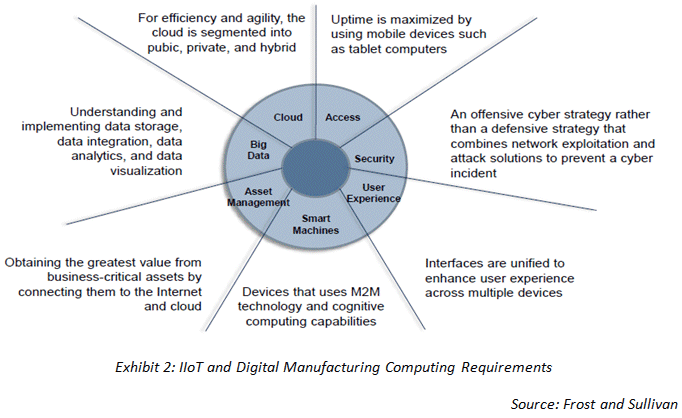 There is an accelerated shift in global demand in manufacturing, and companies are designing strategies to succeed in the new phase of global competition. New technologies open the doors for new ways of cost reduction and revenue generation. In the discrete industrial milieu, the scope of implementing these technologies goes beyond merely improving efficiency. The use of these technologies helps manufacturers not only differentiate their product offerings, but also provide better end-to-end operations, which in turn generates new streams of business revenue.
The value addition enabled by digitization is immense, and manufacturers will rise to a new paradigm with this digital disruption.