Utility substations form an integral part of the entire grid network. They will play a vital role in the smart grids of tomorrow. Motivated by long-term cost savings, the ability to self-diagnose, and the need to accommodate distributed energy resources (DERs), the industry is witnessing a positive trend towards adopting digital substations.
A digital substation is based on architecture where data is collected by sensors from the primary equipment within the substation and is communicated in real time through a process bus. In short, the data is processed where it is measured and data is exchanged through an Ethernet bus instead of copper cables.
Traditional substations had expensive copper cables for connecting primary equipment including circuit breakers, conventional current and voltage transformers, and protection relays. Next-generation substations will replace traditional copper cables to connect the edge equipment with fibre optic cables, resulting in significant cost and time savings.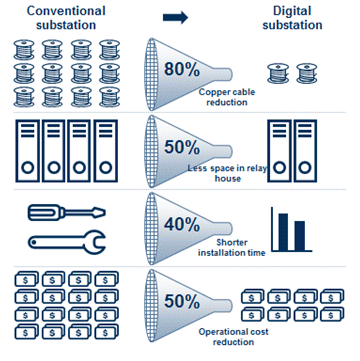 With the implementation of digital substations, the total ownership cost decreases and substations are made more compact. Utilities benefit by getting information from the edge and are able to understand how these disparate assets are impacting the entire system and not just the substation.
Self-Diagnosis
The need for self-diagnostic capabilities is increasingly becoming a norm in the industry. Irrespective of the utility size, substation modernization is penetrating steadily across the United States. Even the smallest municipalities like the City of Statesville, which manages just 10 substations and provides power to less than 25,000 people, are focussed on improving the reliability and availability of their substation by adopting smart solutions.
Grid Hardening
The talk of grid hardening and resiliency has been strengthened further following the recent hurricanes in the United States. Although the industry believes it cannot be immune to these natural disasters, the recovery rate will increase if grid modernization programs are implemented. For instance, the recovery rate of Florida Power and Light (FPL) post Hurricane Irma increased by 5% per day compared to earlier occurrences. Such a quick recovery is attributed to grid hardening programs including the installation of fibre optic cables, flood monitoring equipment, and other automation systems that allowed the utilities to de-energize during hurricanes resulting in protection of their assets from permanent damage.
DER and Bi-Directional Flow
DERs have increasingly become mainstream sources for power generation in the United States. Frost & Sullivan's 2016 Global Distributed Energy Outlook projected that the North American DER market accounted for 20.2% of the global cumulative installations. With advancements in storage technology, rooftop solar, small-scale wind and building energy management systems, automation solutions are required to control bidirectional power flow and grid parity.
Contrary to popular belief, Frost & Sullivan's research shows that utilities are more forthcoming to embrace digital technologies for their assets. Although investments in digital solutions are low in the short term, utilities understand the need to stay relevant in the next ten years.
With over 50–60% of the substations in North America yet to be automated, the opportunity for digital substations is huge.