by Jessy Cavazos, Industry Director, Test & Measurement
Including revenues from oscilloscopes, power analyzers, bit error rate testers (BERTs), protocol analyzers, and logic analyzers, the digital test equipment market achieved $1.88 billion in 2017. New standards are fueling the demand for oscilloscopes and protocol analyzers, which should boost market growth in the next few years. Extensively used in research and development (R&D) applications, the digital test equipment market sources significant revenues from Asia, North America, and Europe. From an end-user perspective, while semiconductors and computing are the biggest contributors, the demand from industrial and automotive will see the fastest growth.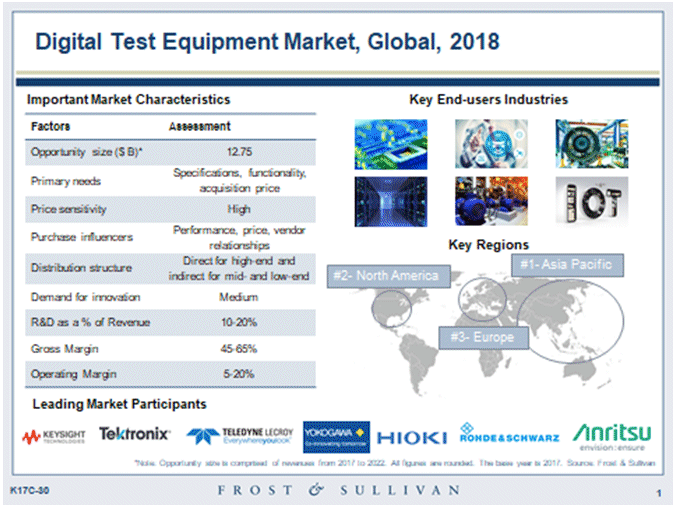 Market Growth Analysis by Segment
Oscilloscopes
Known as the golden tool for a design engineer, oscilloscopes constitute the largest segment in the digital test equipment market, the performance of which has a direct impact on the overall market performance. Oscilloscopes find widespread use across industries, including semiconductor and computing, aerospace and defense (A&D), automotive, industrial, and consumer electronics.
There are different types of oscilloscopes. Digital storage oscilloscopes (DSOs) are the dominant type, followed by mixed signal oscilloscopes (MSOs) and sampling oscilloscopes. While most real-time oscilloscopes feature an 8-bit analog-to-digital converter (ADC), an increasing number of oscilloscopes are being introduced with more capable ADCs, as engineers desire higher resolution in these devices due to tighter design margins.
Although the oscilloscopes market is heavily driven by a constant trend toward higher bandwidth, the focus of vendors has shifted to resolution and channel count, as oscilloscopes are now available with as much as 100 GHz of bandwidth and the client pool for such instruments is small.
BERTs
Power analyzers and BERTs are sizable segments. Growth in data centers is driving the demand for high-speed BERTs and power analyzers, which is expected to fuel market growth during the forecast period. Data center build-outs, 400 GbE technologies, and more complex signals such as Pulse Amplitude Modulation (PAM)-4 have increased the demand for high-speed BERTs; data rates are expected to further increase to 1 Tb/s, and modulation schemes should evolve to more complex data formats such as PAM-8, 16-QAM, and Digital Multitone (DMT).
These trends act as key growth drivers for the high-speed BERT market, as customers upgrade their laboratories with new equipment in sync with the market evolution. As these technologies progress to manufacturing, they are expected to continue stimulating the demand for new instruments.
High data transmission rates such as 100G and 400G require the use of multiple lanes operating at high speeds. However, at 28G and above, signal integrity (SI) issues such as distortion, channel loss, and test errors increase drastically. Component and system manufacturers thus need instruments of higher quality in order to create, characterize, and validate their designs, which in turn creates the demand for new instruments.
Addressing more complex modulation schemes such as dual polarization quadrature phase shift keying (DP-QPSK) and quadrature-amplitude modulation (16-QAM) and signal types such as non-return to zero (NRZ), PAM-4, and PAM-8 signals also increases the need for more capable BERTs that feature multiple pulse pattern generators (PPGs) and error detectors (EDs), thereby boosting revenues.
The BERT market is also expected to evolve toward more channels due to applications such as crosstalk measurements and the multi-channel nature of DPGPSK and 16QAM applications. The 2-channel segment represents the largest growth opportunity.
Power Analyzers
In power analyzers, majority of the revenue comes from bench-top instruments. Key drivers include growth in electric vehicles (EVs), energy storage and wireless devices, as well as data centers. The push to make all new cars sold 2035 onwards to be electric will increase the use of power analyzers.
The demand for power analyzers primarily comes from Japan and North America, mainly their automotive and semiconductor industries. However, the demand from China is expected to grow at a faster rate in the next three to five years due to the growing number of EVs and data centers aided by the "Made in China 2025" policy.
Protocol Analyzers
While smaller in size, protocol analyzers are the fastest-growing segment that will help drive growth in the digital test equipment market throughout the forecast period. This segment is witnessing increasing demand, especially for PCIe. Used to analyze computer-related busses, protocol analyzers are extensively applied in research and development (R&D) activities and are essential to shorten the time to market (TTM) for customers.
While the demand for protocol analyzers mainly comes from new PCIe, storage, and USB standards, engineers also use them in place of logic analyzers. PCIe and USB protocols, in particular, are growing at strong rates, largely driven by storage protocols and large data centers; huge data centers use a lot of high-speed interfaces for equipment that communicate, which generates significant demand for protocol analyzers.
Logic Analyzers
Finally, logic analyzers are the smallest segment of the market that is likely to impact the overall market growth in digital test equipment with a slowly declining trend throughout the forecast period. Used to test complex digital signals or logic circuits in R&D applications, logic analyzers have been widely used by digital systems engineers for debugging purposes. They can be found in both traditional and modular form factors.
Ideal for testing large numbers of digital signals, logic analyzers have been facing increasing competition, notably from MSOs, which come with a number of built-in logic channels. There are also instruments that can connect to an oscilloscope to add logic analysis capabilities. Within the logic analyzers market, the share of logic analyzers with less than 68 channels is thus reducing, whereas that of logic analyzers with 68 to 136 channels and over 136 channels is increasing.
The market is also evolving toward serial lanes, which logic analyzers are not built to deal with. The demand for logic analyzers is sustained by very large systems with hundreds of inputs. However, the number of such systems is declining, translating into a downward trend in revenues.
Last Word
With an opportunity size estimated at $12.75 billion from 2017 to 2022, digital test equipment ranks as the second-largest revenue opportunity in the electronics T&M market. Instrument specifications, functionality, and acquisition price are the primary customer concerns. Performance, price, and relationships are major purchase influencers that have been aptly leveraged by the market leaders–Keysight Technologies, Tektronix, Teledyne LeCroy, Yokogawa, Hioki, Rohde & Schwarz, and Anritsu.
For more information on the growing and profitable digital test equipment market, please refer to the newly published study, "Electronic Test and Measurement Market, Forecast to 2022", at www.frost.com/k17c or contact Jessy Cavazos, Industry Director, at jcavazos@frost.com.