Education is given high importance in the Emirates. It is free for Emirati nationals at the primary and secondary level, and is steadily progressing. The UAE ranked first in enrolment in secondary education. Furthermore, 55% of the students enrolled in tertiary education were women, which is notable in contrast to the rest of the Middle East. In 2017, the UAE had allocated 20.5% of its AED 48.7 budget towards education.
Dubai's education and training sector is expected to grow, led by the private sector. It has 185 private schools and 78 public schools that offer primary and secondary education. The Dubai School Inspection Bureau Rating (DSIB) is responsible for establishing education-related quality standards through inspections of schools and institutions, both public and private. DSIB also rates schools and this forms a basis to hike fees. The average cost of school education in the UAE is one of the highest in world, second only to Hong Kong, which is the most expensive globally.
Although pre-schooling is not mandatory in Dubai, there is high demand for this service as there are many working parents. Furthermore, the demographic in the age group between 0-4 years has doubled in the last five years and is expected to add to the demand for pre-schools.
The Dubai Health Authority is in charge of the health of schools in Dubai and has established regulations that apply to both public and private schools.
Private schools are known for their high quality education standards, strong curriculums, and better infrastructure. Also, the large multicultural expat population of students is expected to result in more schools adopting international curriculums. While private schools offer 16 different curriculums, public schools offer only an Arabic curriculum.
The highest enrolment in private schools in 2016 was from Indian nationals (approximately 94,000) followed by UAE students (approximately 33,000).
GEMS Education is the largest school education provider in the Emirate and has 30 schools. The KHDA aims to increase student seating capacity in private schools to 360,000 by 2020 to meet growing demand; this is expected to lead to new schools and capacity addition in existing schools. It is expected that there will be an addition of approximately 120 private schools by 2025 to cater to the estimated demand of 4.7 lakh students by 2025.
High preference for private education and steady growth in the private school enrolment rate is expected to attract more private market participants to Dubai
In terms of tertiary education, Dubai has the potential to position itself as a top destination due to the presence of international world-class university branches in the region.
Furthermore, increasing job opportunities in the Emirate as a result of economic development are expected to attract international students and boost the enrolment rate.
As of 2016, business degrees had the highest demand in Dubai with a 53% share in student enrolment, followed by engineering courses (16%). However, the range of courses offered is still limited compared to other developed education hubs and Dubai needs to invest in R&D to keep pace with the international education standards and requirements of the evolving job market.
Apart from classroom learning, there are also technical and vocational courses, which are mostly available online. Massive Open Online Courses (MOOCs) help education providers explore new markets and increase revenue in the digital space.
Dubai hopes to lead in global competitiveness rankings, become a knowledge-based economy, and focusing on education is one of the ways to do this. Smart education, the backbone of a smart city, is just one of the steps that the government can take to make Dubai a truly IoT-based network city.
Exhibit 1: Smart City Market by Segment, Global 2020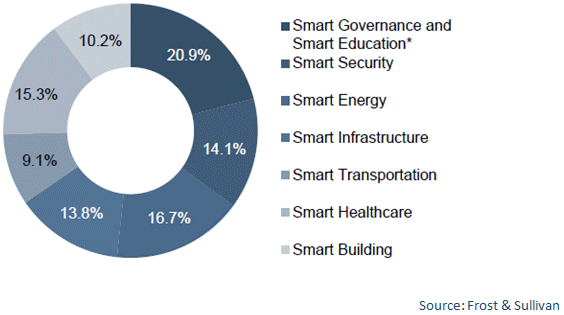 Smart education includes eLearning services for schools, universities, enterprises, and government entities and Dubai has invested vast sums in this digital initiative.