The availability of high-class infrastructure has driven many manufacturing units to Dubai. Pharmaceuticals, perfumes, chemicals and plastics, maritime, electrical, metals, sports goods and toys, textiles, wood and furniture, paper and paper products, food and beverage, and aerospace and defense are some of the major manufacturing activities in the Emirate.
Dubai is also host to high-value industries in the value chain of pharma, F&B, chemicals, and maritime.
This sector is also on the government's radar for 'Vision 2020'. Attempts are under way to increase its share in the country's gross domestic product (GDP) and make it a more strategic sector. Currently, it is the fourth-largest contributing sector to GDP after wholesale, hospitality, and financial services.
Exhibit 1: Manufacturing Sector's GDP Contribution, Dubai, 2017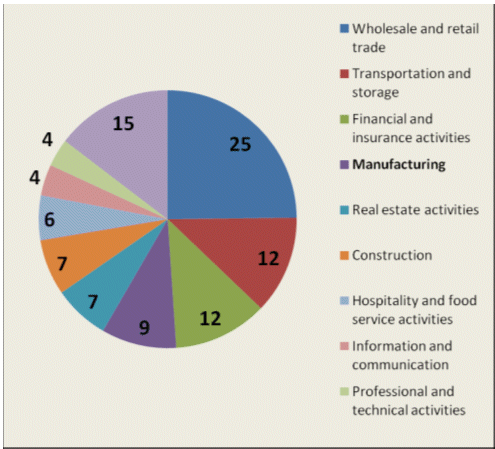 While the manufacturing sector's share shrank considerably between 2014 and 2016, a renewed push from the government through various strategies could provide Dubai with a larger manufacturing base. One of the reasons attributed to the fall in the share of manufacturing was the move away from oil-based trade to information and communications technology (ICT), research, and innovation in Dubai.
Dubai is the world's third-largest re-exporter in the Middle East, with free zones playing a predominant role in its growth. Its 18 industrial zones are split between the mainland and free zones. Some of the benefits that foreign investors see in free zones are developed infrastructure, customs-free trading, ease of doing business, and no restrictions on recruiting foreign labor. Apart from a business-friendly environment, some free trade zones also allow 100% foreign ownership.
DMCC, JAFZA, and DAFZA are the key industrial zones in Dubai's manufacturing sector.
The future of the manufacturing sector in Dubai is driven mainly by the Dubai Industrial Strategy and Expo 2020. These planned projects are expected to boost the economy, create jobs, and increase the demand for manufactured products in the Emirate. The Dubai Industrial Strategy has identified six strategic sectors as the main drivers of the manufacturing economy, including aerospace, maritime, pharmaceuticals and medical equipment, aluminum and fabricated metals, fast moving consumable goods (FMCG), and machinery and equipment.
For example, the Government of the UAE has merged its two major state aluminum companies in Abu Dhabi and Dubai to create the world's fifth-largest aluminum company, which is expected to be an ecosystem for the development of the metals industry at an estimated value of AED 55 billion in the next three to five years.
According to Frost & Sullivan, the manufacturing sector will have a significant impact on Dubai's economy by 2030, as it is expected to lead to:
Creation of more than 27,000 specialized jobs for the region
Increase in R&D spend by about AED 70 million
AED 16 billion forecast increase in exports
AED 18 billion GDP growth within the industrial sector (currently AED 41 billion)
AED 160 billion forecast increase in Dubai's total GDP