Dubai's geostrategic position, along with its modern infrastructure and logistics facilities and high per capita income, makes it an ideal location for companies to base their wholesale and retail trade operations for serving regional markets.
Apart from being a trade, logistics, and financial hub, Dubai is the most populous city in the United Arab Emirates.
The wholesale and retail trade sector is the largest contributor to Dubai's GDP, with an estimated share of about 25–30% in 2016.
Exhibit 1: Wholesale and Retail Trade Sector's GDP Contribution, Dubai, 2016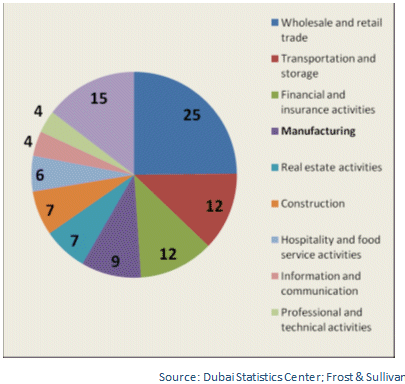 The city ranks second in terms of the share of international retailers and is the seventh most suitable market for expansion among international retailers. Consumer goods such as electronics, apparel and footwear, and jewellery generate the highest retail sales turnover in this segment. The apparel and footwear retail market in Dubai amounted to AED 40 billion in 2016, making it the highest earning segment among the different specialized retail stores.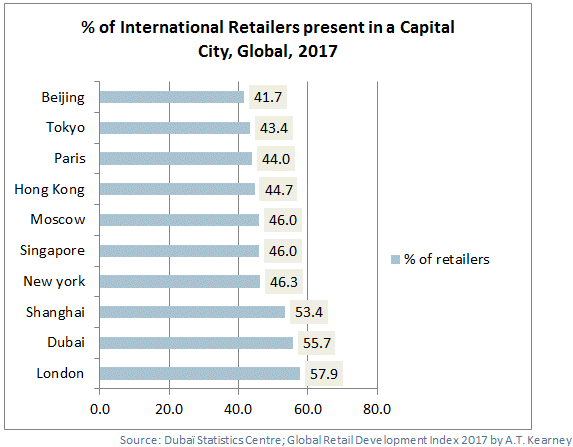 Dubai's retail sales turnover is expected to reach AED 190 billion by 2020, driven by consumer confidence, shopping festivals, and tourism. Although eRetail has a very small share in the retail market, it is expected to grow rapidly and hold a share of 20% by 2030, driven by the rising penetration rates of tablets and smartphones. The domestic group, Souq.com is the most popular platform among the online shoppers in Dubai, selling more than 4 lakh products including electronics, clothes, and household goods.
In 2017, Dubai saw the launch of the $1 billion eCommerce platform, Noon.com backed by the Emaar Properties and Saudi Arabia's Public Investment Fund. The city is venturing into a differentiated mall experience with a wide range of product diversifications to cope with the eCommerce effect.
For the wholesale sector, Dubai Municipality has initiated projects worth AED 530 million toward the development of food consumables storage and marketing facilities. As the Emirate's climate is not suitable for growing crops, most of the fruits and vegetables are imported to meet the local demand. Per capita meat and fish consumption is also among the highest in the region. Hence, storage is of utmost importance to meet the growing demand.
Dubai Wholesale City has been planned with an investment of AED 30 billion to service key global traders. This new global hub will comprise specialized integrated trading parks that meet all the requirements of wholesale traders under one roof, while also providing an international trade facility.
In spite of all these measures, dependency on expatriate workforce, high cost of doing business, and threat of counterfeits pose challenges for this sector.
The key drivers of the wholesale and retail industry in Dubai are its growing young population, spending capacity, shopping tourism, and EXPO 2020. World-class logistics and trade infrastructure facilities make the city an ideal hub for wholesale and retail trade operations.
According to Frost & Sullivan, a strong tourism and hospitality industry will provide a strong boost to Dubai's retail spending. The expected influx of visitors owing to the Dubai 2020 Expo will further support retail sales, creating a demand for additional retail space. This, combined with incentives in free zones to set up wholesale facilities, is expected to boost the sector further.