Aluminum scrap in recycled form can have considerable cost savings for producers who have re-melting furnaces to process scrap; this reduces the dependability of virgin metal supplied from traditional primary smelters and increases production flexibility.
Aluminum as a material is circular and can be recycled unlimited times without losing its original properties. Economies moving forward should facilitate scrap handling smoothly and efficiently, from end-of-life scrap to reusing scrap during the production stage (in-house scrap). Aluminum can help in achieving circular economy goals. Policies are tailor-made by countries to increase recycling rates, reduce the burden on natural resources such as bauxite, and use lower energy to the tune of only 5%, ensuring CO2 cut-down.
Globally, recycling occupies around 20% of the overall primary aluminum production. Primary aluminum contributes 80%, which is set to reduce in the next 5-10 years as recycling constantly replaces primary aluminum due to its many commercial advantages coupled with companies' target of going carbon-free.
In the APAC region, secondary aluminum billets constitute nearly 70% of the demand share, with 2 million metric tons reported in 2020. The building and construction segment uses primary and secondary billets inter-changeably. This has significantly increased over the last few years in favor of re-melting products.
Recommended Reading: GCC Metal Industry Outlook, 2020
Overview of Aluminum Recycling in Select APAC Nations
Japan: Japan has one of the most organized networks of aluminum scrap recycling. The country also has one of the highest recycling rates globally for used beverage aluminum cans. UACJ Corporation, one of the leading aluminum producers in Japan headquartered in Tokyo, has a mission to ensure that the aluminum used in multiple products can be reused by developing quickly recyclable aluminum alloys and technologies to remove foreign matter from the recycling process. It currently actively participates in higher recycling of aluminum cans, which it terms as can-to-can recycling. UACJ has deep commitments to replace plastic containers with aluminum-based cans and is working closely with Japan Aluminum Can Recycling Association to educate the general public about the benefits of recycling aluminum cans.
South Korea: This country is home to Asia's largest can stock and recycling unit under Novelis (part of Hindalco Industries). The facility is located in Yeongju, North Gyeongsang, and has a nameplate capacity of 320,000 tons per year of beverage cans and scrap. In 2020, South Korea was the second-largest importer of aluminum scrap globally and the largest in APAC, to the tune of 0.9 million MT, according to UN Comtrade. It significantly emphasizes procuring secured scrap, adding value, and producing semi-refinished midstream/downstream products from the scrap route.
Malaysia: Over the last decade, secondary smelting has taken center stage in Malaysia. In 2020, Malaysia was globally the sixth-largest importer of aluminum scrap to the tune of 0.55 million MT, per UN Comtrade. The Malaysian market is driven mainly by billets and extrusion companies, hosts a large trading ecosystem, and supplies nearly 0.12 million MT of scrap to China. Malaysia recently put a ban on low-grade copper and aluminum scrap based on set guidelines and qualifications to prevent and eliminate waste dumping with a 94.75% metallic content threshold.
Thailand: Circular economy and green growth are some of the key agendas of the Ministry of Industry in Thailand. There are policy and regulatory frameworks to strengthen and enhance the implementation of metal recycling in compliance with the Stockholm Convention requirements. 71% of its current billet production is from the secondary route where re-melt billet producers are active. All billet manufacturers have pre-treatment and pre-sorting facilities for scrap sorting and testing. Other products like automotive scrap and can recycling have to be further developed. Thailand currently is the tenth-largest importer of scrap with around 0.3 million MT.
Indonesia: Aluminum recycling as a concept is gaining prominence in Indonesia. Government-owned PT Indonesia Asahan Aluminum is predominantly an upstream producer with technology partnerships with Emirates Global Aluminum. Committed to developing midstream and downstream extrusion products and billets sustainably, the company set up a re-melt billet facility. It will be souring scrap from a vast network of vendors. Indonesia, over the years, has been focused more on primary aluminum; in 2020, it imported around 0.15 million MT of scrap.
Vietnam: Vietnam has historically been a significant dumping ground of scrap from China. Vietnam is characterized by a cluster of medium and small-scale extruders. Recently, Vietnam became a scrap holding country due to large scrap imports under HS code 7604.
Exhibit 1: Key Benefits of Aluminum Recycling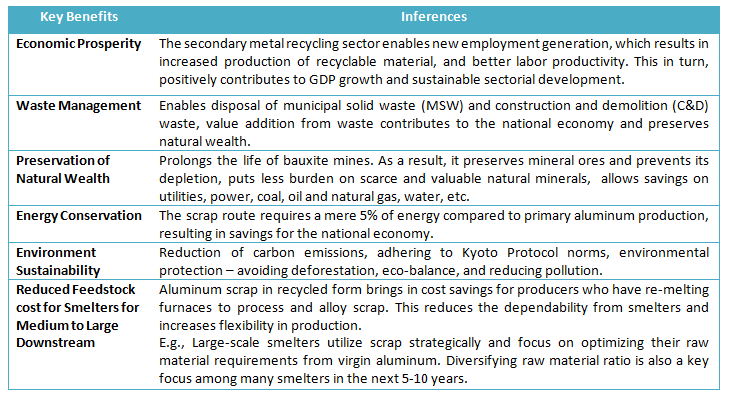 Source: Frost & Sullivan
Circular economy refers to business models and social systems that focus on reducing the extraction of natural resources, minimizing the incidence of consumer and industrial waste, and extending the end-of-life timeline for materials and products in an environmentally friendly manner. This approach includes reclaiming used materials and recycling them as secondary raw materials for new products.
The metal scrap sector is taking initial steps to become a circular economy. This will optimize the scrap value chain and enable organized global scrap trade flow.
Exhibit 2: Concept of Circular Economy in Aluminum Recycling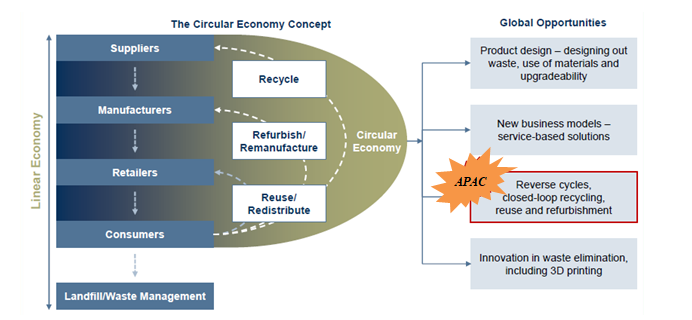 Source: Frost & Sullivan
Focus on Increasing Recycling Rate is the Key Priority among APAC Countries
Backward integration by establishing re-melting furnaces is a norm in the industry. With a higher emphasis on reducing the carbon footprint, all industries, including aluminum, have focused on increasing recycling rates. Companies have begun producing primary and secondary billets and prioritizing using scrap based on the applications/processes.
Lightweighting in the automotive segment and increased usage of aluminum in building and construction will allow more scrap generation and recovery, which will be sourced back by the aluminum industry. This trend is catching up in the APAC countries.
Redesigning the Metal Production Processes: The inclusion of higher scrap quantities is beneficial for the process, the economy, and the environment. It involves re-looking the production process, raw material mix/ratios, and value chain to ensure lower wastage, optimized collection, and bringing about a shift in awareness. The long-term benefits to the economy are ensuring value-added production, reducing nominal loss, and regenerating natural resources. Recycling aluminum is possible within alloy families but difficult between alloy families (1xxx, 3xxx & 6xxx). 
Providing Incentives to Key Stakeholders in the Value Chain: The metal scrap sector is currently at a nascent stage. However, respective governments are taking steps to formalize the sector. The Scrap Recycling Policy is intended to facilitate and provide a framework for the functioning of metal scrap centers. It is widely considered a preliminary step to formalizing the largely unorganized scrap market and establishing new metal scrap centers and processing zones.
Linking of Scrap Sources and Destinations to Bridge Raw Material Deficit: Large-scale recycling and effective scrap sourcing and usage practices are expected to increase self-sufficiency, prioritizing industrial economies. The shift toward a circular economy model could ensure fair trade and help reduce dumping.
Scrap buy-back offtake agreements are gaining traction. It reduces lead time, stock, and inventory, enabling a higher credit rating and better price bargaining power with downstream customers.
Schedule your Growth Pipeline Dialog™ with the Frost & Sullivan team to form a strategy and act upon growth opportunities: http://frost.ly/60o.