Another year of strong sales as 107 million smart meters ship globally and more than 20 million ship in Europe for the first time
By Jonathan Robinson, Global Energy Program Lead, Frost & Sullivan's Industrial Practice
2018 marked a record year for the global smart metering market with 107.1 million meters shipped, up from 101.2 million in 2017.
China accounted for 52% of global shipments in 2018, a significant decline from a few years back, when it accounted for 70% of volumes. The short replacement cycle for Chinese meters, combined with the huge market (470 million installed base) means domestic demand will be 55-60 million per year for the foreseeable future.
Europe remains the second-largest market with 20% share, meaning 21.1 million meters shipped. The rollout in France is now nearing its peak, the UK and Netherlands markets are progressing, and the Spanish rollout is nearing completion.
APAC accounts for 13% of the total or 14.3 million meters, with Japan the most important market, followed by South Korea. India, Malaysia, Indonesia, Taiwan and the Philippines are all key growth markets.
The North American market registered strong growth, with a 20% year-on-year increase. Global market shipments excluding China increased from 47.2 million in 2017 to 52.1 million in 2018—a record.
Regional Key Advanced Meter Infrastructure (AMI) Market Unit Shipments, 2018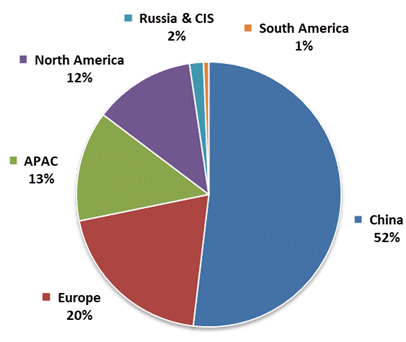 Global Key Advanced Meter Infrastructure (AMI) Market Shares (excluding China), 2018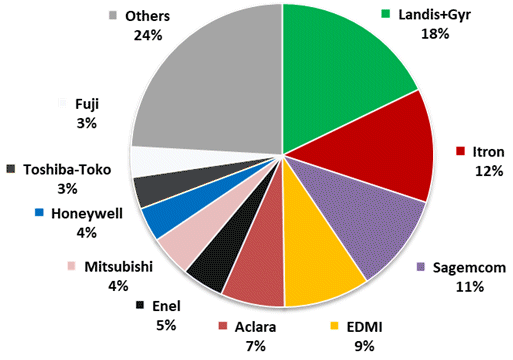 Landis+Gyr remained the global smart meter market leader, a position it has held for a number of years. Itron stayed in second place. Sagemcom moved ahead of EDMI to establish itself in third place, mainly due to high shipments in Europe. EDMI's strength is principally Japan, South East Asia and Australasia. Aclara increased its presence in the market, mainly through strong growth in the US.
Strong increases in North America
The North American market increased by 20%, mainly due to higher shipments in the US. Although most of the largest IOUs in the US have already installed smart meters, there are still several major ongoing projects, and a number of tier 2 utilities are installing meters. There is also strong growth in the community and municipal sectors.
The age of the installed base will offer considerable opportunities, with even standard replacement accounting for several million a year. But the major opportunity will be replacement of first-generation metering, which is likely to start in the early 2020s and accelerate in the mid-2020s, with annual volumes from these projects in the US likely to exceed 13 million per annum.
Landis+Gyr and Itron remain in the top two positions in the market. The big mover in the market is Aclara, which increased its share by 10%, mainly due to the volumes being shipped for contracts won by Silver Spring before its acquisition by Itron. Grupo IUSA will increase in the future due to its home advantage in the Mexico market.
North American Key Advanced Meter Infrastructure (AMI) Market Shares, 2018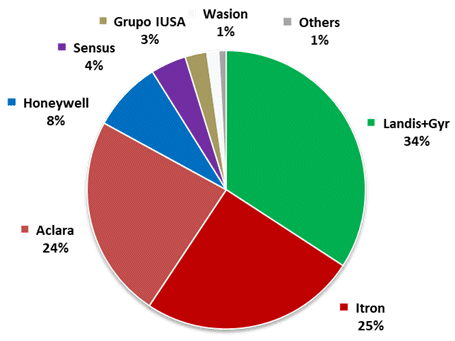 Further growth as smart metering passes 20 million per year
It was another record year for the European market, which only three years back had shipments of 6 million but hit 21.1 million in 2018. France was the most important market in Europe with 7 million units shipped, ahead of the UK and Spain with 2.7 million each and Italy with 2.1 million. These countries combined accounted for approximately two-thirds of the market in 2018. France, Italy and the UK will remain leading markets in the coming years, and we expect the penetration level of smart metering to exceed 50% in Europe in 2020. Italy, Sweden, Finland and Denmark are starting to install second-generation meters with functionalities that will enable true TOU pricing and grid support services.
Sagemcom took leadership in Europe, with shipments in a number of European markets, but particularly high volumes in Spain (as the project comes to completion) and France with close to 5 million meters shipped in 2018 in the two markets. Landis+Gyr lost 1% share, but volumes were static. Key markets for Landis+Gyr included France, the Netherlands, Austria and the UK. Itron largely maintained its position, mainly through shipments in France. The Italian rollout sees Enel significantly increasing its share in the European market, even though the meters are being ultimately fulfilled by partners.
European Key Advanced Meter Infrastructure (AMI) Market Shares, 2018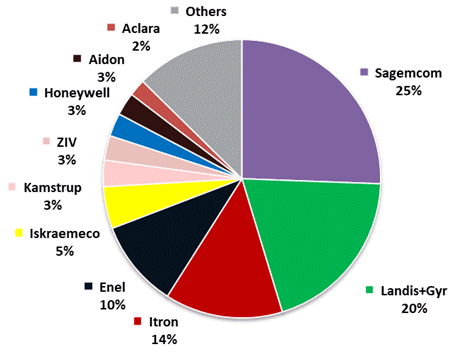 APAC market largely stable
Market volumes increased by just 300,000 in 2018 to 14.3 million units. Japan again dominated, accounting for more than two-thirds of total shipments as the penetration of smart metering passed the 50% mark. The other key market was South Korea, which is forecast to be fully smart by 2024 and will see 2 million meters per year installed. In contrast, India has scarcely begun implementing smart meter programs as part of an effort to advance its grid infrastructure, despite talk of big investment programs. Other key markets in the region include Malaysia, Singapore, the Philippines and Taiwan.
Japanese players dominate the market by virtue of their home country's rollout and account for 80% of the APAC market. EDMI, in particular, has a strong presence in the wider APAC market, excluding Japan. Landis+Gyr is present in Japan via communication devices supplied as part of the TEPCO rollout. The non-Japanese market is likely to be competitive with Chinese players aggressively targeting future markets such as Malaysia, Indonesia and Vietnam.
China's rollout nearly complete—but volumes stay high
In 2018, Chinese AMI shipments stood at 55 million units, down from 59.5 million in 2017. The smart meter rollout is nearing completion, but the market volumes will stay high as China immediately starts replacing meters installed in 2012-2013. This is due to China's relatively short product lifecycle.
Domestic players maintained their supremacy in 2018 and we expect this trend to continue. Players owned by State Grid made gains; Nari and CET, not previously well-known players in the market, both sit at just below 2% market share. Chinese market players are also increasingly focusing on markets outside of Asia.
Low Growth in South America
Shipments in South America increased by 90,000 to 690,000 but are still well below what would have been expected for the market a few years ago. Limited progress has been made on a number of major projects. The hope for the future is that Enel makes good on its commitment on smart metering, which is a major player in a number of South American markets with assets in Brazil, Chile, Colombia and Argentina.
Enel is the market leader in the region through pilot projects in its core markets. Landis+Gyr is strong in second place, mainly through projects in Brazil. Hexing is in third place.
Shipments in Russia & the CIS rose by 400,000 in 2018
The pace of smart metering implementation in Russia & CIS continues to be slow, although the market increased to 1.8 million in 2018, up 400,000. Russia and Uzbekistan, which is the only country in the region with a mandated rollout, accounted for 90% of shipments. Gradual market growth is forecast for the future.
ADD took market leadership of the Russia and CIS market, edging ahead of local entity Concern Energomera. The company recorded strong sales in Russia.
Shenzhen Kaifa, the previous leader, dropped back to third place. Its primary focus is the Uzbekistan rollout, with the country aiming to install 1 million meters by 2020. Local manufacturers Inko, LEMZ and Frunze were fourth, fifth and sixth, respectively. Chinese suppliers are likely to build a presence in this market, either directly or through sub-supply to domestic manufacturers.