The aerospace and defense (A&D) industry is one of the most critical end-user segments for the test and measurement (T&M) market. The global electronic test equipment market for aerospace and defense will undergo significant transformation over the next five to eight years with the advent of new technologies changing customer requirements. Leading A&D vendors are working toward higher frequencies, greater bandwidth availability, and multi-channel solutions and adding functionality to their existing systems. There is also a strong focus on repeatable measurements in these areas.
The Industrial Internet of Things (IIoT) or Industry 4.0 and changing customer requirements will lead to the adoption of new business models by test and measurement vendors. A&D companies are ready to support the latest technological developments with substantial investments in R&D as new technology adoption and migration is the order of the day. A&D has always been an early adopter of innovative technologies, with substantial government investments into programs designed specifically for R&D activities catering to the industry. Keeping pace with these developments, the changing technological and business landscape remains critical for T&M vendors that cater to the A&D industry to introduce new products or capabilities in line with the evolution of technology.
Market Overview and Trends
The A&D industry has seen renewed growth in recent times due to increasing defense spending and budget allocations by national governments all over the world. The United States still records the highest military expenditure in the world. Defense spending in the US is growing again, after multiple years of decline. Defense budgets and future growth are driven by the Trump government's increased focus on strengthening the US military. President Trump, in 2017, announced an increase in defense spending by about $25 billion; a further 10% increase is planned for 2018. In 2016, the US spent around $611 billion, which is more than the next top eight countries combined, according to the Stockholm International Peace Research Institute. The potential $80 billion increase in military spending for 2018 will surpass the total annual military budget of any other country, except China.
In the Asia-Pacific region, tremendous growth opportunities are forecast in the near future, especially in China and India, along with increased defense spending in Japan and South Korea. A similar trend is observed in Europe, especially among the European member nations of the North Atlantic Treaty Organization (NATO) and Russia. As the A&D industry (both military and commercial) is again experiencing growth, the global electronic test equipment market for A&D is expected to record increasing annual revenue growth from 2017 to 2022.
The total electronic test equipment market for A&D, which includes general purpose test equipment, automatic test equipment (ATE), data acquisition (DAQ) test equipment, electrical testers, and environmental testers, reached $3.2 billion in 2017. It grew by 3.4% in 2017 over the previous year. Frost & Sullivan foresees sustained single-digit growth, resulting in a 3.7% compound annual growth rate (CAGR) from 2017 to 2024.
Radar and electronic warfare (EW) applications hold the highest market share of 54.4%, followed by military communications (public safety and private mobile radio); and satellite and intelligence, surveillance, and reconnaissance (ISR) signals intelligence (SIGINT) applications. Antenna technology has become and continues to remain a dominant segment, with advanced radar systems witnessing greater penetration than in the past. Testing such systems not only requires wider bandwidths, but also high resolution along with lower phase noise, lower pre-dynamic range, and higher signal fidelity.
Aerospace electronics and avionics continue to advance at a rapid pace, with few signs of slowing down. The demand for advanced test solutions is driven by compute-intensive, high-speed, and high-bandwidth avionics and electronics.
With the increased complexity of aerospace and defense systems, customers face challenges in the testing, validation, and verification of these modern devices. This trend is changing the face of test and accelerating the need for flexible and scalable test solutions. Aerospace and defense companies are also placing greater emphasis on test. The demand for accurate and effective testing is felt throughout the end-to-end aerospace and defense supply chain today. This trend is due to the increased pace of technology change, system complexity, and changing standards and regulations.
Research indicates that network-centric warfare systems are expected to be integrated, thereby connecting more platforms across the network to support high-volume data and cleared volume transmission. The need for high-throughput connectivity is expected to create a demand for upgrading systems that are compatible with the increased data rate needs. Moreover, one of the key requirements for A&D users is to emulate the capability of legacy instruments. Air forces maintain older fleets while investing significant portions of their budgets for upgrades in the area of avionics and electronic warfare. Avionics upgrades are considered one of the major enhancements for older aircrafts and are required to fully integrate into these aircrafts in order to optimize their mission capabilities. The increase in R&D investments as well as government spending in upgrading the systems and their capabilities creates significant revenue opportunities for T&M vendors during the forecast period.
A&D users select products and T&M vendors based on flexibility and upgradability, fit to application, performance, quality, support, and longevity. Leading companies have been focused on supporting the total life cycle management of test equipment capital assets for customers. Applications such as EW, radar prototype, spectrum monitoring, and signal intelligence use modular test equipment as it supports RF requirements at a low cost. Digital subsystems in A&D test systems are undergoing a change. Legacy high-voltage digital subsystems as well as low-voltage parallel subsystems are being replaced by higher-speed and serial interfacing platforms. The A&D community has started to incorporate this technology into their subsystems, increasing the ability to communicate with higher-speed serial interfaces. Vendor-defined instruments and off-the-shelf instruments with fixed capability will continue to be in the market, but increasing device complexity and time-to-market pressure will eventually lead to the growth of software-based instrumentation systems
Technology Trends in T&M for A&D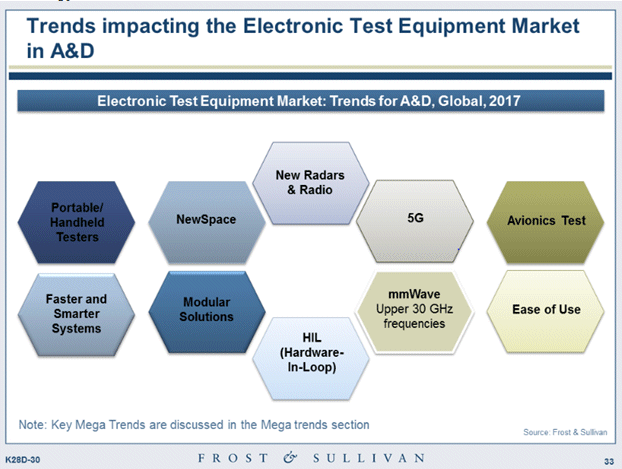 The general trend in the A&D industry is to have more technologically-capable and smaller platforms and military systems. The most important requirements regarding test equipment are the full capture of signals of greater bandwidth, wideband capabilities, architecture alignment with multifunction antenna systems, more software content, and greater ease of use.
mmWave
There is continuous adoption of ultraband radars, and GHz bandwidth is going to be a key requirement for signal intelligence and spectrum monitoring. There is growing research on millimeter-wave frequencies up from 30 GHz for special purpose radars and other equipment. While the trends toward millimeter-wave frequencies and higher modulation bandwidths impact the spectrum and signal analyzers market in manufacturing applications, their impact on market revenue is delayed for these instruments compared to R&D because of the need for cost-effective solutions. Therefore, one of the major challenges as well as opportunities is to enable the cost-effective testing of bandwidth-rich millimeter-wave frequencies in mass production.
Modular Solutions
Selection of test equipment by aerospace engineers is dependent on the system's accuracy, speed, and acquisition cost. However, evolving test needs have increased the importance of other parameters including scalability, flexibility, upgradability, interoperability, and total cost of ownership. Today, the challenges faced by most test organizations in the A&D industry include obsolescence management, rapidly increasing RF requirements, and the growing importance of design for test (DFT). A&D customers' test requirements are transforming from rack-and-stack box instruments and closed-architecture automated test equipment (ATE) systems to smarter test systems built on a modular platform that scales to meet current and future needs. Although change in the T&M industry takes time, especially in A&D, due to the long life of test systems, the A&D market is seeing replacement and migration of test program sets (TPS) from legacy systems to modular test solutions.
New Radars & Radio
There is an emerging market shift from A&D users using RF signal analyzers and generators to more radio prototyping equipment. Several users may adopt software-defined radios instead of traditional instruments. There is an incentive for adoption from the perspective of pricing and multifunction benefits. In civil aviation, there is a trend toward convergence of technologies—including VHF Omni Directional Radio Range (VOR), instrument landing system (ILS), communications, weather, radar, and global position system (GPS)—into a single radio. There is also a shift toward radar and other EW technologies that have more signal processing capabilities (such as cognitive radars), and these technologies require T&M equipment capable of processing large RF bandwidths. Demand for products that can address the high bandwidth and signal processing requirements for the high-bandwidth data is expected to grow.
5G
With the arrival of 5G, along with A&D applications pushing the requirements of signal and spectrum analyzers, new multi-channel applications will have a direct impact on bandwidth usage and frequency ranges. Drastic shifts in signal generators, signal and spectrum analyzers, network analyzers, and power meters segments of the electronic test and measurement market in R&D as well manufacturing applications are expected by 2020.
NewSpace
There are new trends and development in satellites. NewSpace is an emerging area that has driven the development of low-cost spacecraft, satellite launchers, and smaller satellites. SpaceX is the leading the initiative in the industry. In March 2017, SpaceX successfully re-launched a previously flown orbital-class rocket (Falcon 9) for the first time in history. It is now raising a further $507 million in a new round of funding in 2018, which has increased its valuation to a reported $25 billion, as per Forbes. Companies such as Blue Origin, Virgin Galactic, and Deep Space Industries and a number of startups such as OneWeb are generating demand for more accurate and cost-effective T&M equipment. Hence, there are significant opportunities for T&M vendors offering solutions focused on reducing risk and effective cost management to A&D customers. An increasing number of companies are focusing on the design of new commercial satellites, giving rise to a new test paradigm to maintain low costs and providing opportunities for T&M vendors.
Portable/Handheld Testers
Portable or handheld solutions hold significant potential in the aerospace and defense sector, as the end users are ready to invest in new technology. However, the accuracy of these devices does not match the needs of this sector yet. This represents an unmet customer demand and hence, an opportunity for test vendors to manufacture more accurate portable test equipment.
Competitive Landscape
A greater stream of product releases, effective promotional/marketing campaigns, software development, focus on SDR, penetration of ATE solutions, and continuous focus on improving functionality in each of the segments making up the A&D industry (radar, satellite, military, SIGINT avionics, etc.) has elevated the image of electronic test in aerospace and defense. Keysight Technologies is the market leader with a market share of about 45% in the general purpose test segment. Other leading participants are Rohde & Schwarz, Lockheed Martin, Boeing, National Instruments, and Cobham AvComm (now part of Viavi Solutions).
Last Word
The most important requirements for T&M in the A&D industry are adaptability to evolving technologies, ability to address greater bandwidths, and providing software-defined instrumentation. With the growing complexity of end-user systems and testing needs, upgradable and flexible platforms are the focus of leading companies for enhancing the longevity of test equipment and reducing the cost of test. Mega Trends such as Industry 4.0 or IIoT and evolving business models will change the market dynamics and test solution offerings by leading T&M vendors.
Mega Trends and the competitive landscape are discussed in details in the published Frost & Sullivan research study titled Global Electronic Test Equipment Market in Aerospace and Defense, Forecast to 2024. For comments or questions and inquiries about the study, please contact the author at sambaran.das@frost.com