By: Viroop Narla, Team Leader, and Venkata Balakrishnan, Senior Research Analyst, Mobility Practice, Frost & Sullivan
Fiat Chrysler Automobiles (FCA) has been in the news over the past couple of months because of its constant search for merger partners. It is no secret that the company has been looking to boost profits, expand its product base across other countries, share manufacturing costs and co-develop future technologies. A possible FCA-PSA (Peugeot Citroen Groupe) merger was being widely touted. Even a possible Hyundai take-over of FCA was being considered. So the announcement by FCA of a possible merger didn't come as a surprise to anyone. But what was surprising was the target – Renault.
Inherent Advantages and Growth
The benefits for FCA and Renault mirror most of the same advantages agreement that was being pitched initially. Access to newer markets for both the brands, cost sharing, boosting the bottom line and, more importantly, accelerating the development of electric vehicle (EV) and autonomous technology. The standout feature of the relationship is the development of the latter two technologies. Renault is a powerhouse in EV technology and this will provide a solid foundation for FCA and its vehicles in strong markets, even while kick starting future vehicle development.
On the other hand, Renault will get unrestricted access to the very lucrative North American market where FCA, with its Jeep and RAM brands, is exceptionally strong. The latter's pickup trucks are the third best-selling models in the US with over 600,000 in annual sales. These two brands could offer a robust platform for Renault vehicles to boost their product lines. Even though the advantages of this joint entity are quite clearly visible, there are challenges that need to be overcome before Europe can celebrate. The elephant in the room is, obviously, the Alliance.
Roadblocks Ahead
During the course of this merger discussion, it became clear that the Alliance's main partner, Nissan, had been blindsided, despite it owning 15% of Renault. To complicate matters even further, Nissan has a controlling stake in Mitsubishi so a decision will impact both companies.
Post the merger between FCA and Renault, Nissan is expected to continue being a partner in the Alliance, retaining the same status as it does at the moment. The merger would require the Japanese automaker to share its technology with the new merged entity.
With all the controversy the Alliance has been mired in, Nissan and Renault have not been seeing eye to eye on several aspects, especially with regards to the control of both companies. Nissan, which has been unhappy with Renault over the balance of power, is expected to suffer more after the merger. The merged entity of FCA-Renault is expected to continue holding a stake of over 43% in Nissan. On the other hand, Nissan's 15% stake is expected to drop further, considering that the merged entity will now have two major companies. This will obviously reduce the already limited control it had in the Alliance.
Exhibit 1: Existing and Possible Structure of the Alliance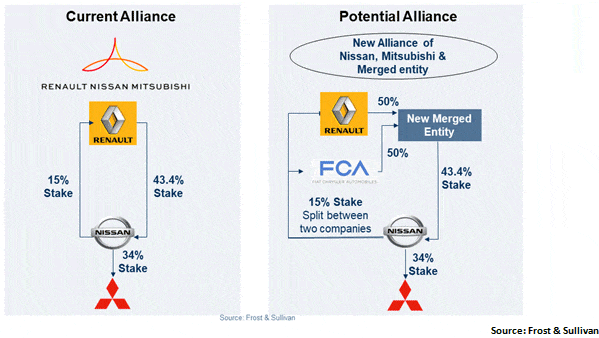 If FCA decides to go ahead with the merger talks with only Renault at the table, Nissan could end up being owned in part by FCA and the Italian government. This despite the fact that it is a larger financial entity and is present in more markets around the world.
Furthermore, Renault and Nissan co-develop electric vehicle and autonomous vehicle technology, and create their own products based on these technologies; FCA is more likely to share resources with Renault, reducing the dependency on Nissan and its technology.
An Uncomfortable but Necessary Relationship
Government regulations are getting much more stringent in terms of fuel efficiency and emissions. As a result, vehicle development is getting more expensive as OEMs try to bring in more advanced technologies to outpace the competition. But in trying to do this, they have to constantly battle the rising costs of raw materials and production. And just when they thought customers would be excited about these new technologies, new car sales across the world are dropping, putting further pressure on their profits.
If smaller companies don't work with partners in gaining significant cost and technology advantages, they run the risk of being overrun by much larger OEMs. This is especially true for Nissan and it may have no other choice but to stick with the Alliance to gain access to new technology and more markets.
FCA will have to ensure that its proposal satisfies both companies in the Alliance to make this merger even possible, and push Renault to persuade Nissan that it is in its interests to agree to the merger, thereby creating a super company that will produce over 15 million vehicles every year.
If this merger were to go through, Nissan is expected to continue being a partner in the Alliance, retaining the same status as it does at the moment. But it would require Nissan to share its technology and that of Mitsubishi's with the new entity, giving unrestricted access to FCA in the process.
A Twist in the Tale?
It is still too early to call the FCA-Renault merger a certainty and definitely too soon to say that it is going to be successful. But given the enthusiasm that both OEMs have shown in developing and discussing strategies to take the merger proposal forward, one shouldn't be surprised if, sooner rather than later, the terms of the merger are agreed upon and shareholders jump onto the bandwagon. But what if there is a sudden twist in the story line?
Generally overlooked in the loud chatter about the merger is the fact that PSA has still not opposed FCA's request for a merger. Could that still go ahead if PSA were to present an unbeatable offer? Or will the rug be pulled from under Renault's feet by Nissan proposing a merger with PSA? Anything could happen. PSA bought the failing Opel and Vauxhall brands from GM and turned them into profit making divisions in just over a year. This could have been a successful formula that FCA might have wanted to try to arrest the declining sales of its FIAT vehicles.
As of now it looks like FCA is keener than PSA to achieve this so it has motored down to Renault's doorstep.
For more information on this topic or to schedule an interview/interaction with our spokesperson, please email Priya George, Corporate Communications at priyag@frost.com.