As soon as Foxconn is mentioned, it is immediately related to Apple. Foxconn is the largest vendor, supplying components and assembling products for Apple. In 2020, it had a turnover of $193 billion and made a gross profit of $3.6 billion. As part of an ambitious diversification strategy, Foxconn decided to expand into three domains—electric vehicles (EVs), digital health and robotics— while zeroing in on three key technologies—AI, semiconductors and next-gen communication technologies. Foxconn believes that this 3+3 strategy will give it infinite growth potential.

The most interesting aspect for me is Foxconn's approach toward the EV market. While the jury is still out on whether this will be a successful gambit, I do not doubt Foxconn's ability to make a strong impact in the established mobility value chain and garner the attention of industry players.
One of the biggest weaknesses I foresee for Foxconn in terms of this approach is its lack of experience in mobility. The mobility value chain is undeniably complex. But instead of learning the rules of the game and trying to master them, Foxconn seems to have embarked on a path that involves radically simplifying the value chain and creating a place for itself. Irrespective of the result, its approach warrants closer attention.
As a mobility sector analyst, there are five notable points that I see anchoring Foxconn's EV strategy:
1. Targeting everything:
In analyzing the breadth of its EV initiatives, it seems that Foxconn is targeting every aspect of the value chain, from component supply and contract manufacturing to launching its own brand. It appears to be a simultaneous attempt to learn about the value chain and find a position for itself. What makes Foxconn such an unpredictable player ties into where it finds a strong foothold; it may emerge as a competitor, supplier or even a partner.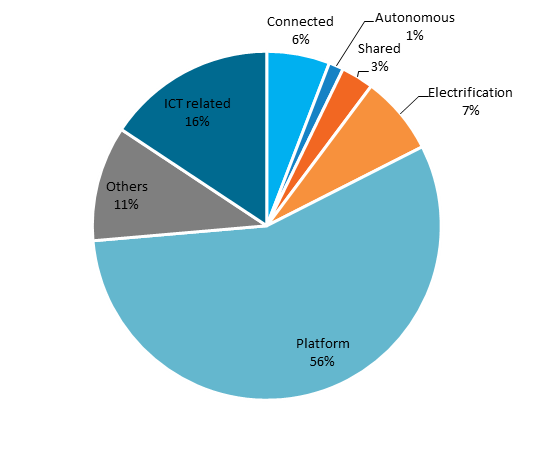 2. Creating a value chain
: Foxconn does not quite fit into the current mobility value chain. Instead of trying to overcome this challenge, it has turned this weakness on its head, identifying and allying with thousands of companies facing similar struggles in finding their position in this rigid value chain. The MIH Alliance established by Foxconn has over 1,000 partner companies with the following break up. The objectives of the MIH Alliance are quite interesting:
Open up the value chain.
Lower the barriers of entry.
Provide ready resources for growth.
After its first membership meeting, the Alliance declared its intention to reduce the development time for a new EV model from four years to two years. For a conventional automotive player, this would appear to be a moonshot. However, VinFast has taught the automotive industry that there are no sacred cows. As the mobility value chain takes shape, everything—including product development lifecycle times—will be questioned. A disruptor like Foxconn will force the traditional automotive industry to take a long, hard look at its development processes.
3.Selling the tools: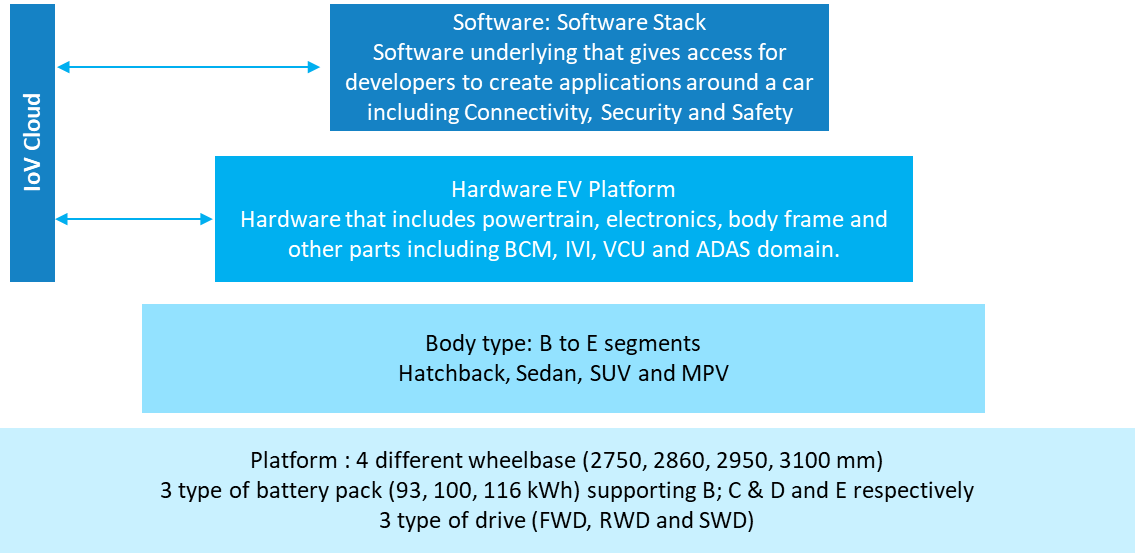 Of the several products and services that Foxconn is attempting to develop, the most interesting is the skateboard platform. It aims to offer a platform that is available in four different wheelbase configurations with three different battery packs and three different drives. In addition, it will provide the hardware and software needed to run the platform. To understand the importance of this strategy, consider Apple versus Android. These represent two contrasting approaches to the value chain. Apple designed its own operating system (OS), developed and manufactured the components, and created a closed value chain. Android provided a free OS and encouraged cellphone manufacturers to assemble their own cellphones based on configurations suited to their particular target markets. Tesla's strategy is similar to that of Apple, while Foxconn is attempting to be the Android of EVs. By providing software, hardware and a mechanical platform on a ready-to-use basis, it is attempting to target several medium- to small-sized EV assemblers. These budding EV assemblers are looking at exploiting niche opportunities related to purpose-built vehicles. These would provide highly customized mobility solutions such as parcel delivery vehicles or dedicated e-hailing vehicles, among others. Currently, limited volumes have meant that incumbent automotive players lack the motivation to invest in developing new products for these applications. But once product development is democratized, we will see the emergence of purpose-built vehicles for various niches. In such a scenario, Foxconn and similar players will come out winners.
4. Teaming up with disruptors:
Foxconn has a clear strategy to partner with potential disruptors in the market. It has partnered with Fiskar in the US and Byton in China to contract manufacture their vehicles. It has also partnered with PTT, Thailand's national oil producer, which has EV ambitions. PTT is expected to focus on the downstream value chain, including retailing, charging infrastructure, charging services and managing the customer lifecycle, while Foxconn is set to bring its expertise on the upstream value chain, taking responsibility for sourcing, supply chain management and production. It would be a perfect symbiotic relationship where both partners focus on their core competencies and benefit from each other's synergies.
5. Hedging its bets:
Such aggressive strategies notwithstanding, Foxconn seems to be hedging its bets by partnering with established automotive players such as Geely and Stellantis. It has a 50:50 joint venture—Mobile Drive—with Stellantis that focuses on smart cockpit solutions. Mobile Drive is also a tier 1 supplier for Stellantis. The partnership with Geely will focus mostly on providing supply chain and sourcing management services to other OEMs by combining Foxconn's expertise in electronics component sourcing with Geely's know-how in conventional automotive components.
There are two business models at loggerheads in the smartphone market—Apple and Android. Apple has created a closed value chain where it has control over every link. Android provides a platform that anyone can use to build their products and solutions. Tesla has followed Apple's guidebook to reach a commanding position in the EV market. The question is: will Foxconn, which is following in the footsteps of Android, be able to make a dent?