In a coming together of two heavyweights in the commercial vehicle (CV) arena, Cummins Inc., a leading manufacturer of diesel, natural gas, electric and hybrid powertrains, and powertrain-related components, has acquired Meritor Inc., a supplier of drivetrain, mobility, braking, aftermarket and electric powertrain solutions for CVs. The $3.7 billion deal, which was announced on February 22, 2022, has been described by the signatories as being a "milestone" and "transformational".
As part of its expanded portfolio, Cummins will combine Meritor's axle and brake technology with its engine and transmission offerings. This will give Cummins a competitive edge in terms of being among only a select few with the ability to offer fully integrated powertrain solutions across both the internal combustion engine and electric power applications.
Today, there is growing recognition that the CV industry – a major contributor to air pollution and climate change – will need to step up the pace on decarbonization. We are seeing a flurry of activities in alternative power innovations that highlight low-carbon technologies, including battery, fuel cell, and hydrogen solutions. Cummins has a dedicated New Power business focused on future energy technologies.
Against this backdrop, it is worth noting that Meritor is only the most recent in a spate of acquisitions by Cummins. In 2017, it acquired battery pack provider Brammo; in 2019, it acquired fuel cell systems provider Hydrogenics; in January 2022, it acquired a 50% stake in Momentum Fuel Technologies which has competencies in compressed natural gas (CNG) fuel delivery systems, and in February 2022 it acquired Jacobs Vehicle Systems (JVS) intending to leverage its cylinder deactivation (CDA) technology that improves fuel consumption while reducing tailpipe NOx emissions.
Far-reaching Business Impact
"While the increase in revenue from the integration of Meritor to Cummins is expected to be in the 20% range – which coincidentally also corresponds to what the cost of a tandem of rear axles represents in comparison to a heavy-duty diesel engine – the value of this acquisition is not so much related to these additional sales but rather to the possibility of offering integral powertrain solutions."
"In the longer term – and assuming that Cummins will also make inroads in integrating electric motors, inverters, battery engagement systems, and all electronics related to EVs – Cummins' offer could well in the future exceed in value the current value of its engines – and much more on applications for which fuel cells, that Cummins is already developing, would be a better solution than a battery."
– Jean-Dominique Bonnet, Consulting Director, Commercial Vehicles, Mobility Practice, Frost & Sullivan
Our Perspective
The recent COP26 declaration will accelerate electrification initiatives in the CV space. Across leading markets, we expect 100% EV penetration in the LCV segment by 2035 and in the MCV and HCV segments by 2040.
Even as incentives are phased out, our research indicates that eLCVs will attain total cost of ownership (TCO) parity with their ICE counterparts by 2023-2024, while eMCVs/eHCVs will achieve this landmark by 2026-2027.
Meanwhile, technological advances will continue to boost performance and reduce cost, particularly in the battery (improved energy density, cycle life, and safety) and motors (magnet-less reluctance motors) domains. Similar trends will play out in the power electronics arena such as wide band-gap semiconductors with SiC/GaN that improve efficiency, lower power consumption, and enhance temperature tolerance.
Recommended Reading:
North America and Europe Commercial Vehicles Electric Drivetrain Supplier Profiles and Growth Opportunities
North American and European Commercial Vehicle Electric Drivetrain Growth Opportunities
Heavy Duty Truck Electrification Technology Roadmap
Exhibit 1: Electric Drivetrain Market – HD Truck Electrification Technology Roadmap, NA and EU, 2021-2030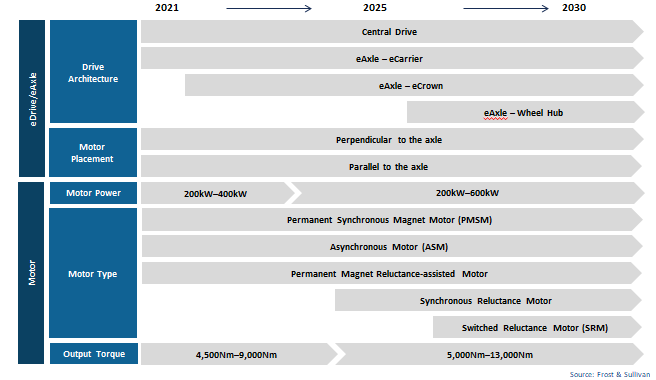 Trends reveal that eDrive solutions are consolidating around Central Drive and eAxle architecture.
Exhibit 2: eDrive Solutions – Pros and Cons of the Two Main Architectures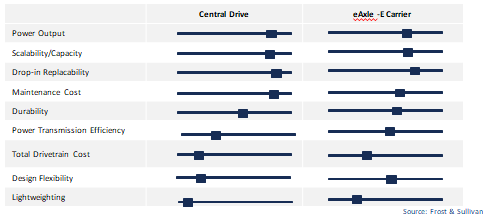 In this context, the Meritor acquisition will endow Cummins with core competencies in the axle, suspension, and braking, while complementing its 2017 acquisition of battery pack developer Brammo.
The acquisition will enable Cummins to do two key things: one, provide an integrated eAxle and battery solution to OEMs and, two, develop a modular solution leveraging its newly acquired suspension and braking capabilities, subsequently complementing this by developing or acquiring X-by-wire capability.
Indeed, X-by-wire and power electronics capabilities are critical gaps in the Cummins portfolio, which we expect to be filled through targeted acquisitions in the near future. For the time being, the Meritor and Brammo acquisitions will enable Cummins to become a one-stop-shop supplier of eDrive solutions to its widespread global customer base as they transition to EVs.
However, even as Cummins' New Power business takes off and it positions itself as a developer and supplier of integrated eDrive and battery management solutions, we believe its legacy products like diesel engines, axles, and brakes will continue to be its cash cow through to 2035 at least.
Schedule your Growth Pipeline Dialog™ with the Frost & Sullivan team to form a strategy and act upon growth opportunities: https://frost.ly/60o.