This is not an easy time to be in the fleet business. Fleet managers are struggling with a host of challenges ranging from volatile fuel costs, supply chain uncertainties, and labor shortages. Meanwhile, the increasing shift towards electrification and autonomous technology in the commercial vehicles arena, paralleled by greater automation in workflows and operational processes, are creating immediate challenges but are set to yield long-term benefits. Amidst this profound technology-driven disruption, stakeholders are looking for ways to maximize growth, optimize productivity, and boost resource and operational efficiencies.
Germany's largest trade fair dedicated to fleets – "Flotte! Der Branchentreff" or "Fleet! The Industry Meeting" – attempted to answer some of these pressing concerns. Organized by the fleet specialist magazine, Flottenmanagement in collaboration with the Bundesverband Fuhrpark (Federal Association of Fleet Management), the annual two-day fleet trade fair/exhibition/networking event was held on June 1-2, 2022, in Dusseldorf.
It attracted an array of stakeholders across the spectrum of passenger and commercial vehicle fleets, including vehicle manufacturing companies, tier-1 organizations, rental and leasing providers, fleet management service (FMS) providers, telematics service providers (TSPs), new-age tech firms, and start-ups. A notable aspect was the presence of decision-makers from larger fleets; about two-thirds of all fleet decision-makers this year were responsible for fleets averaging more than 100 vehicles.
Interestingly, while the event was focused on fleets of all types and sizes, cars and light passenger vehicles appeared to be the key target segment for most participants. Nevertheless, commercial vehicle segments (light, medium, and heavy-duty), utility and service fleets, government fleets, and heavy passenger vehicle segments (buses and coaches) were also well represented.
Beyond deepening productive engagements between these varied stakeholders, the event also focused on knowledge-sharing activities. This year there were over 3,500 experts and, as an attendee, I had a ringside view of specialist programs, Q&A sessions, keynote speaker seminars, and round table conferences. Carefully curated supporting programs covered specialist lectures, workshops, and one-on-one expert discussions.
Another integral part of the event was the exhibition stalls. Over 270 exhibitors showcased their latest products, services, and solutions to a wide-ranging audience, including fleet owners, fleet operators, and key fleet decision-makers.
For more information on the latest trends and growth opportunities in the connected fleet industry, please access our latest research report – Global Connected Truck Telematics Outlook, 2022, or you can get in touch with Sathyanarayana Kabirdas at sathyanarayanak@frost.com or Kamal Shah at kamal.shah@frost.com for information on a private briefing.
Participation of Diverse Stakeholder Groups, Start-up Area a Standout
Indicative of the multiplicity of participants across the fleet value chain, 'Flotte! Der Branchentreff' had a remarkable diversity of stakeholder groups, including rental & leasing companies like ALD, Arval, Sixt, and LeasePlan; technology providers including Alphabet, Mobileye, Vodafone, and Carano; OEMs such as Audi, Stellantis, BMW, Hyundai, Tesla, Toyota, Volkswagen, Volvo, and Ford; tier-1s including Continental, Shell, Dekra, and Jacobs Group; telematics service providers like Geotab, Solera, Webfleet, and Kuantic; fleet management service providers such as MobilityOne, Fleet-Hub, FleetOne; e-mobility providers encompassing a plethora of electric vehicle charging solutions providers like BÖHM E-Mobility, Bikeleasing-Service, chargecloud, ChargePoint, Digital Charging Solutions, e-mobilio, and Charge-ON; and, car sharing and new mobility companies like Insurance, Total Consulting, Hop-On Sharing, Openclaims, and ViveLaCar.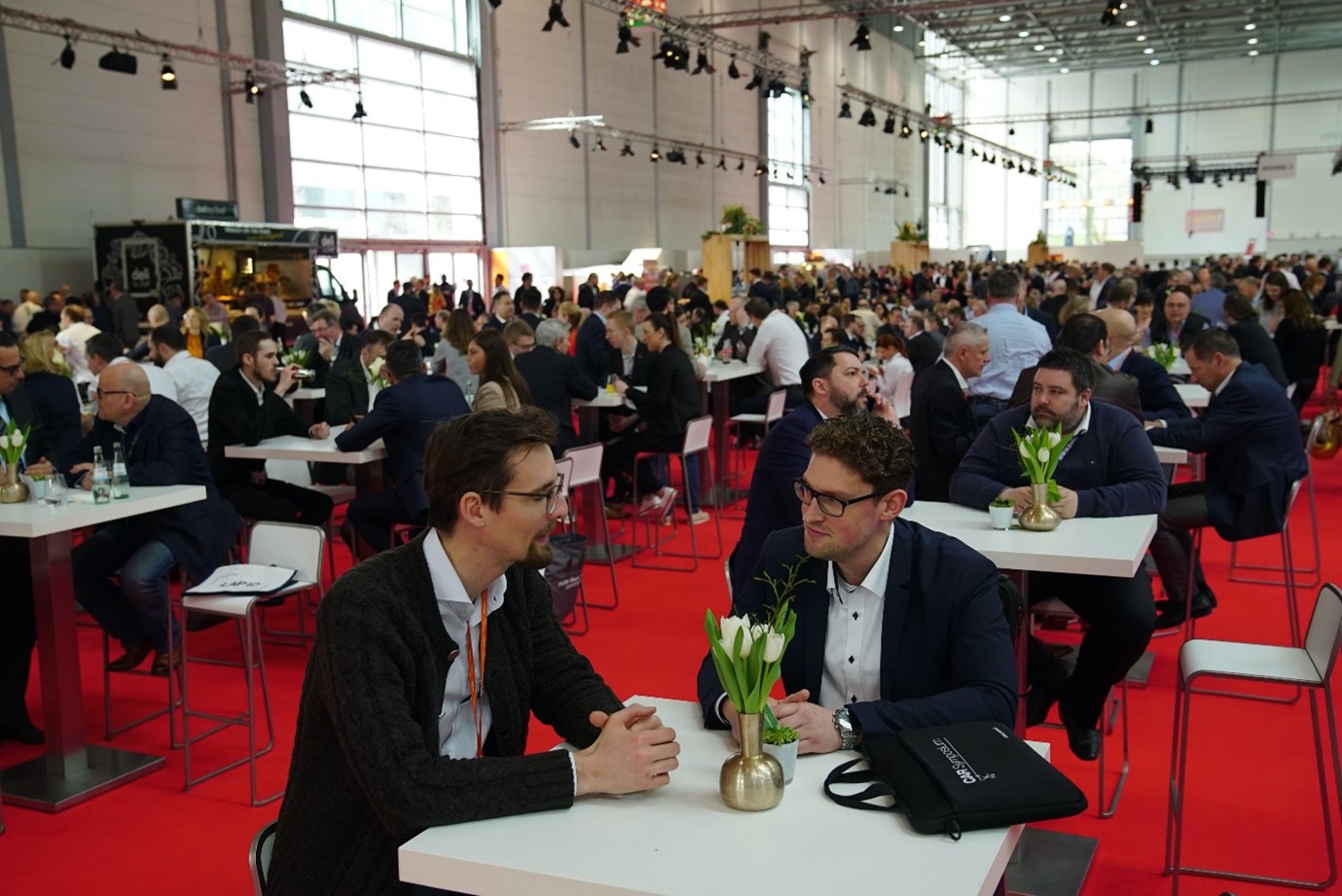 One of the highlights for me was the area dedicated to innovative start-ups that spotlighted their unique solutions targeting some of the most pressing problems faced by the fleet industry. Among the companies that stood out for me were IO-Dynamics, WeGo, ChargeX, Finn, and Caruso. Their clarity of vision, growth orientation, and market penetration strategies were commendable.
Knowledge Sharing in Focus
Knowledge sharing is a key element in industry events of this nature.  A series of informative and insightful seminars, lectures, and knowledge-sharing sessions examined themes that reflected the current state of the fleet industry while evaluating possibilities and prospects for the future. Stimulating sessions led by industry thought leaders, CEOs, key decision-makers, media, and government policymakers delved into several intriguing topics, including opportunities and risks in mobility management after the pandemic, trends and developments in fleet management, and the future of the used car market.
Today, there is growing awareness that the fleet industry must step up the pace on decarbonization. We are seeing a burst of activity in alternative power innovations, including battery, fuel cell, and hydrogen solutions. Accordingly, the other big themes – sustainability and electrification – were covered in-depth over the course of discussions on the road to electrification, policies for electric vehicles, the conversion of fleets to carbon neutrality, electromobility from the point of view of occupational safety, intelligent energy and fleet management in the electric fleet, the bicycle as an essential part of sustainable operational mobility, and hydrogen as a type of propulsion.
Underscoring the depth and extent of topics covered, we also got to hear experts weigh in about legal and cost accounting issues related to electric vehicles in the fleet, tax aspects of e-mobility, and data-driven decisions for new challenges in fleet management.
With this year's event being a success, participants and exhibitors are already gearing up for "Flotte! Der Branchentreff, 2023" which is scheduled to take place in March 2023.
Schedule your Growth Pipeline Dialog™ with the Frost & Sullivan team to form a strategy and act upon growth opportunities: https://frost.ly/60o.