For the past several months, it would appear that India's electric two-wheeler (E2W) dream is under threat of going up in smoke with at least six reported cases of E2Ws, powered by lithium-ion batteries catching fire. What went wrong in a market that saw sales shooting up five times over CY 2020 to CY 2021 and where penetration rates are projected to surge from current levels of 1% to almost 10% by 2025?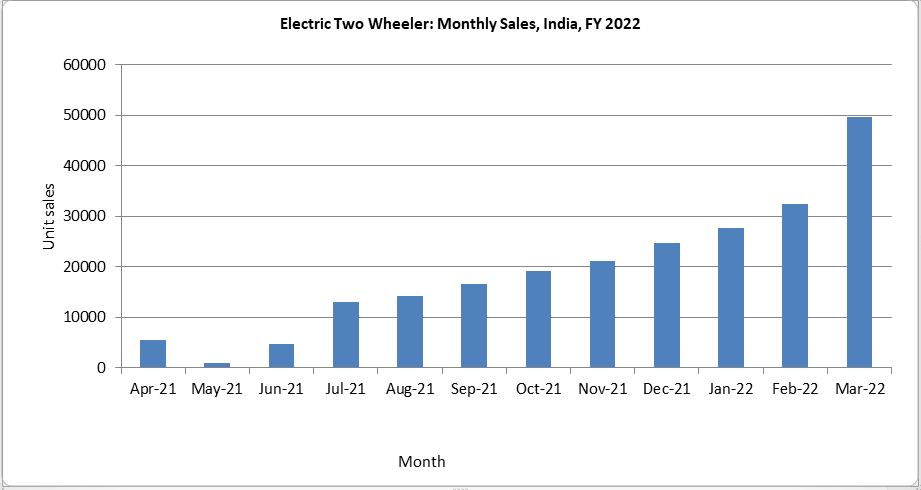 Source: Frost & Sullivan
Flaming Out
Today, more than 95% of E2W models on sale in India are low-cost imports, primarily from China, that have undergone limited to zero testing under local riding conditions before being sold in the market. Consequently, they have not been truly tested in India's highly challenging driving environment, where summer temperatures regularly top 40°C and congested roads further limit air flow, resulting in substantial thermal abuse to E2Ws' battery systems. Such temperature conditions are unfavorable to lithium-ion batteries – a technology to which Indian E2W OEMs are increasingly shifting – highlighting the need for effective battery packs and intelligent battery management system (BMS) algorithms.
These low-cost Chinese imports have not been designed for Indian riding environments and lack proper certification. Consequently, they are unlikely to withstand mechanical and thermal abuse. In addition, our research underlines that multiple factors may contribute to E2Ws catching fire:
Imported offerings from China have been designed for a maximum speed of 25kmph to 45kmph, depending on their battery and BMS capability. The ability to attain these maximum speeds in Indian conditions, combined with harsh driving environments, means there are higher chances of inducing thermal load on the battery.
The lack of trained mechanics and misconceptions about E2Ws needing zero maintenance could lead to improper handling of electricals which are a crucial element in trouble-free performance.
Challenging road environments could test the limits of chassis and suspension systems, with extreme shocks, vibrations, and water likely to impact the battery system.
Short circuits due to improper wiring or cheap components could rupture the cell, leading to the gradual build-up of heat over time, eventually resulting in thermal runaway.
Faulty or incorrect charging socket with incorrect Amps could lead to sparks and short circuits in the battery and controller system.
Inefficient BMS could fail to monitor thermal efficiency and limit diagnostics capabilities causing the battery system to overheat.
External impacts due to accidents could inflict physical damage on the battery system.
Accelerating product testing and R&D in a bid to fast-track market entry without adequate real-world testing could severely compromise product performance.
An increase in the number of fly-by-night imports reaching showroom floors could aggravate the absence of coherent SOPs between suppliers, sellers, and buyers.
Industry experts believe E2W battery management technology is at a nascent stage, meaning there is still substantial scope for improvements in monitoring and control. Similar to the advancements seen during the last decade in battery management within the electric car and mobile phone arenas, which also witnessed instances of exploding batteries and subsequent OEM driven improvements, we are confident that India's E2W industry will overcome the issue of exploding batteries by steadily enhancing the component quality and testing standards.
To learn more about all the latest developments in India's electric two-wheeler market, please access our research report on India's Electric Two-Wheeler Growth Opportunities, or contact sathyanarayanak@frost.com for information on a private briefing.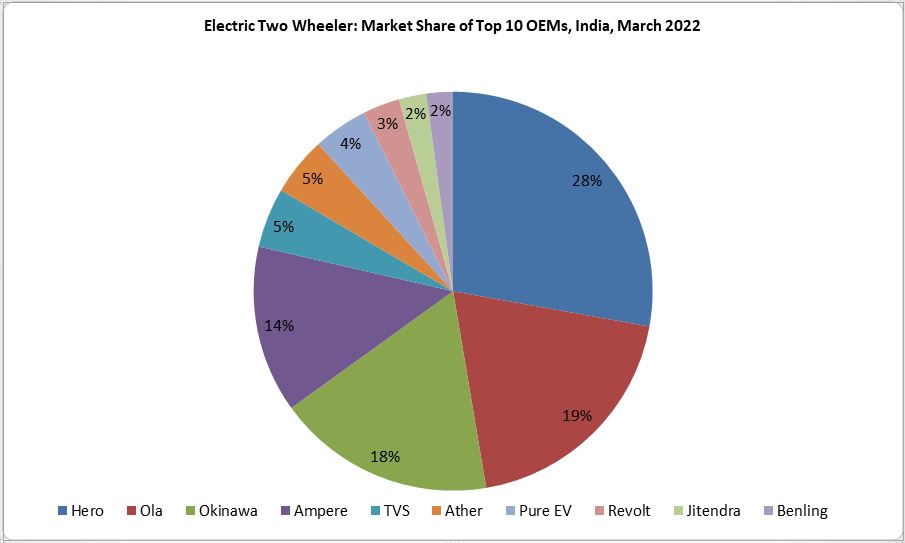 Source: Frost & Sullivan
Mitigating Strategies
India's E2W OEMs are, literally, in the hot seat. They must recognize that ultimate product safety arises from proper R&D of key components such as cells, battery packs, BMS algorithms, motors, controllers, chassis, and suspension. Startups and OEMs that import completely knocked down kits from China – mostly the same product from the same vendor, assembled and rebadged at their facilities in India before being sold in the domestic market – must invest time and resources in comprehensively testing over tens of thousands of kilometers in actual riding environments to validate product reliability and certification before going to market.
"India's EV ecosystem is at an embryonic stage and the industry lacks battery-technology know-how, with almost all OEMs relying on imports of battery and battery-related components. The county's current EV policy focuses primarily on subsidies and incentives to get more EVs on the road. That said, testing and certification standards in India remain basic and fail to cover all real-time scenarios. Accordingly, OEMs must set benchmarks in E2W manufacturing with a focus on meticulous product testing and R&D that will allow them to match or even surpass global competitors in terms of offering high quality, proven products." – Joe Praveen Vijaykumar, Research Manager, Mobility Practice, Frost & Sullivan
Simultaneously, OEMs need to start reinforcing the knowledge and capability of their sales teams and dealerships. Ensuring that customers are well informed about SOPs and are equipped to respond appropriately in case of smoke, fire, or any other emergency should be another priority. In tandem, educating customers about the importance of periodic self-checks, coupled with offering regular checks at the customers' doorstep by tying up with third-party service providers, will also be crucial to building consumer confidence. Exploring cheaper cooling solutions for batteries such as fans, heat sinks, and air dams, instead of expensive liquid-cooled setups, is another area for OEMs to consider.
Unlike electric cars, E2W OEMs must account for a greater multiplicity of factors like the wide variety of customers, the need to achieve a much smaller product footprint and the criticality of realizing intelligent weight bias management and smart component packaging.
Competition in India's E2W market is intensifying with companies like Hero Electric, Ampere, Okinawa, Revolt, Pure EV, Bajaj, TVS, and Ola all in the fray. Meanwhile, EV startups like Ather Energy have shown the way, investing time, money, and resources towards ensuring rigorous product R&D and testing. With the Indian two-wheeler market shifting towards electric power trains and the recent trend in consumer preference for high-speed E2Ws, competitive success will hinge on offering quality products, conducting complete testing in Indian driving conditions, and setting new benchmarks in new product development.
Raising consumer awareness is another key area on which OEMs should focus. This could take the form of improving rider and traffic safety through information dissemination on SOPs and leveraging digital marketing channels to strengthen consumer sentiment about product capability and safety.
Schedule your Growth Pipeline Dialog™ with the Frost & Sullivan team to form a strategy and act upon growth opportunities: https://frost.ly/60o.